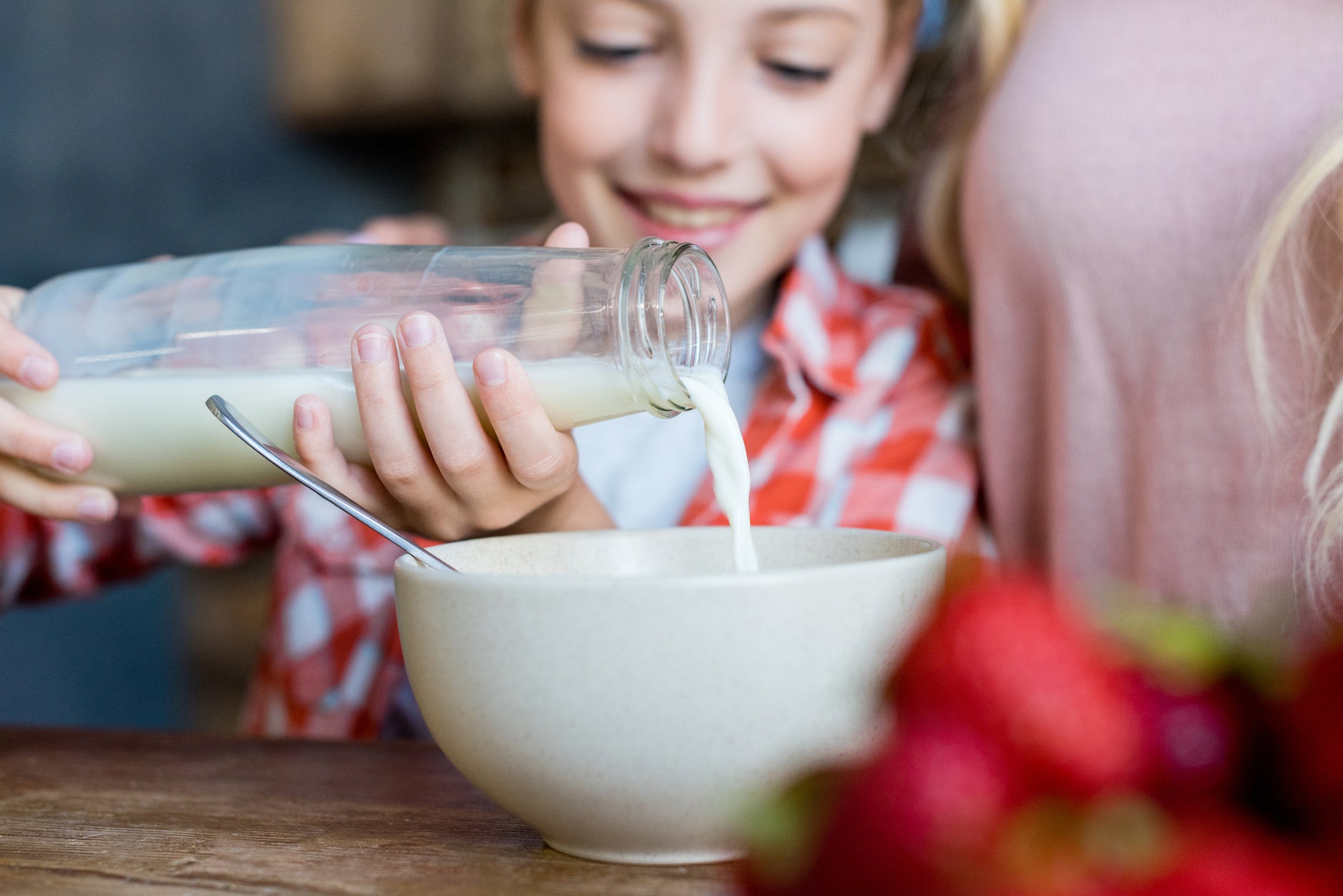 Many people believe that consuming milk that's low-fat or dairy-free is better for your health than opting for whole-fat varieties.
However, a major study has concluded that including full-fat dairy in your diet can actually be extremely beneficial for the wellbeing of your heart.
Researchers from McMaster University in Canada carried out a study of 136,384 people aged between 35 to 70 years old from 21 countries, that was published in The Lancet journal.
The participants were assessed over the course of nine years, during which their daily dairy intake and overall health were recorded.
They were split into four separate categories: those who ate no dairy at all, those who had less than one serving a day, those who had one or two servings a day and those who ate more than two servings a day.
Furthermore, the type of milk that they consumed, whether they had whole-fat or low-fat dairy, was also taken into account.
Those who had around three portions of dairy a day had lower rates of mortality and reduced risk of cardiovascular disease or stroke than those who had no dairy at all.
On top of that, the people who consumed three servings of whole-fat dairy a day were reported as being less likely to experience heart disease than those who only had half a serving of whole-fat dairy a day.
Lead author of the study Dr Mahshid Dehghan explains why past advice given about the benefits of solely eating low-fat dairy foods may have been misguided.
"Focusing on low-fat is predominantly based on the assumption that saturated fat increases LDL cholesterol," she says, according to TIME.
"But dairy contains many other components [which may be healthy] – amino acids, vitamin K, calcium, magnesium. They can be fermented and have probiotics. We should not focus on a single nutrient."
Dr Dehghan, a senior research associate in the Department of Medicine at McMaster University, believes that the research team's extensive study indicates the need for regular dairy consumption to be encouraged.
"Our findings support that consumption of dairy products might be beneficial for mortality and cardiovascular disease, especially in low-income and middle-income countries where dairy consumption is much lower than in North America or Europe," she says.
The data regarding the participants was accumulated by the Prospective Urban Rural Epidemiological (PURE) study.
According to the researchers, regular consumption of milk and yogurt had a greater impact on mortality and overall wellbeing than butter and cheese.
In the past, health professionals have suggested avoiding whole-fat dairy due to the apparent detrimental effect of eating too many saturated fats.
In the opinion of Anna Rangan, associate professor of the School of Life and Environmental Sciences at Sydney University in Australia, people should take these particular findings with a pinch of salt.
"The results from the PURE study seem to suggest that dairy intake, especially whole-fat dairy, might be beneficial for preventing deaths and major cardiovascular diseases," she says.
"However, as the authors themselves concluded, the results only suggest the 'consumption of dairy products should not be discouraged and perhaps even encouraged in low-income and middle income countries.'
"Readers should be cautious, and treat this study only as yet another piece of the evidence – albeit a large one – in the literature."
Apple is unveiling not just one iPhone, but three – including the biggest and most expensive one ever. Follow here for all the latest coverage