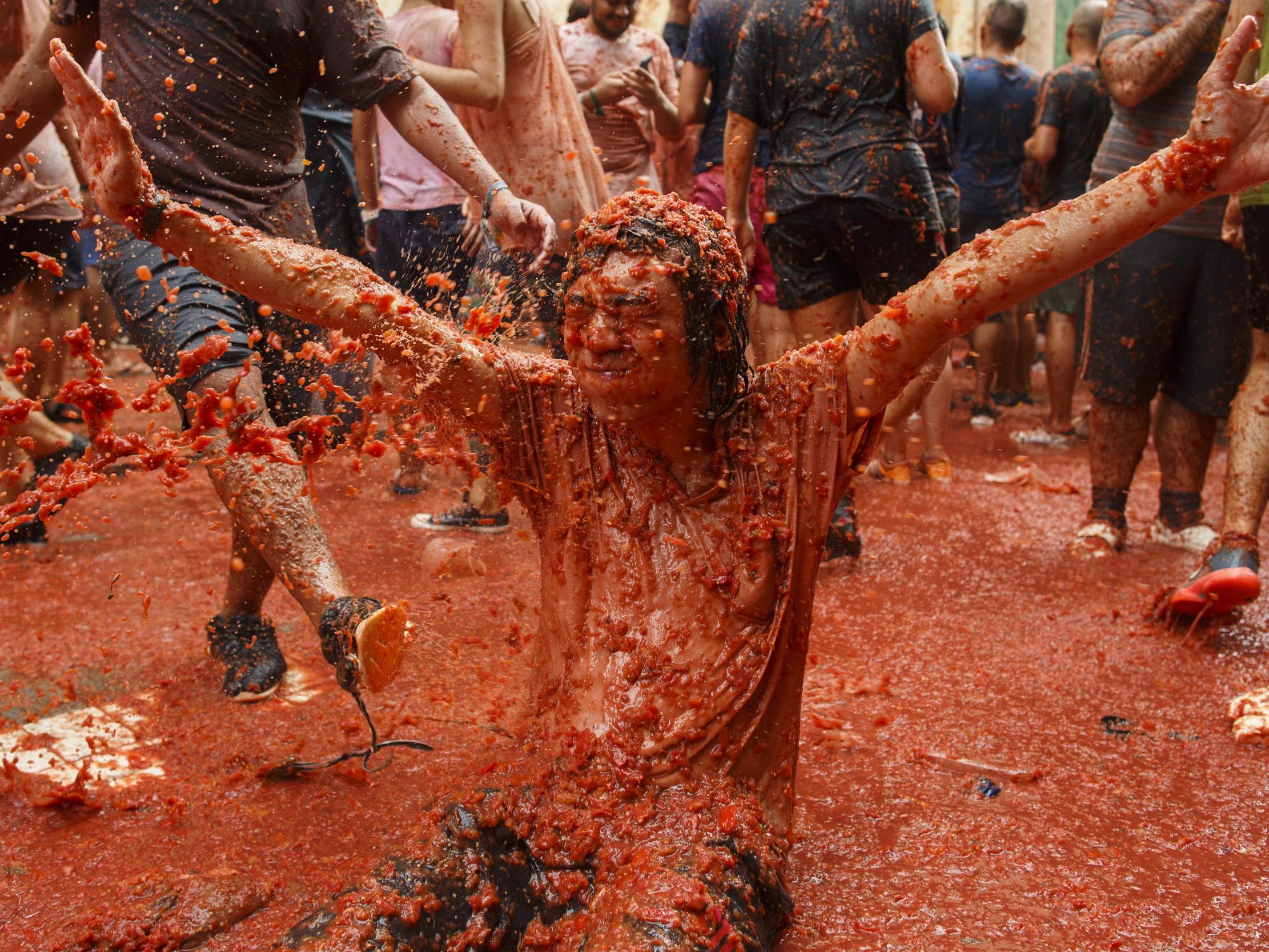 For foodies who have a particular affinity for tomatoes, the idea of slipping and sliding down a street covered in the fruit is one that they would gladly make a reality.
And indeed, for thousands of people in a town located in the east of Spain, it is a yearly occurrence, thanks to the tradition of La Tomatina food festival.
Here's everything you need to know about La Tomatina, the festival widely regarded as being one of the world's greatest food fights:
We'll tell you what's true. You can form your own view.
From
15p
€0.18
$0.18
USD 0.27
a day, more exclusives, analysis and extras.
What is it?
La Tomatina is an annual, globally-renowned Spanish festival.
As the name suggests, tomatoes feature heavily during this day-long celebration, as thousands take part in a mass tomato-fuelled food fight.
The reason for painting the town red with numerous tonnes of the juicy fruit? Pure, unadulterated enjoyment.
Revellers who attend La Tomatina don't hold back as they join in the crowds swimming in, wading through and throwing tomatoes.
Where is it held?
La Tomatina is held in the Valencian town of Buñol, which is situated in the east of Spain.
Buñol is located approximately 30km away from the Mediterranean sea.
Approximately 9,000 people live in the town, which is surrounded by mountain ranges.
However, thousands of tourists visit the region especially to take part in La Tomatina festivities.
How did it begin?
La Tomatina can trace its roots back to the mid-1940s, when the first public tomato food fight accidentally took place in Buñol .
According to the official website for the festival, a parade was taking place in the town square on the last Wednesday of August in 1945, which featured individuals dressed as giants with big heads (gigantes y cabezudos).
A group of young people apparently caused the big head of one of the parade's participant's to fall off, a mishap which led the costumed individual to become irate.
The unfortunate individual began to cause havoc along the parade route, colliding with a market stall selling tomatoes.
This series of events resulted in spectators picking up the tomatoes and throwing them at one another, sparking the origin of La Tomatina.
The following year, a group of people in the town orchestrated an organised tomato fight, bringing their own tomatoes from home for the occasion.
In the early 1950s, La Tomatina was banned from taking place in Buñol by the local authorities.
According to a La Tomatina travel website, the festival was banned by Spanish dictator Francisco Franco for having no religious significance.
However, after a tomato burial was held in 1957 in protest of the decision – during which those in favour of the festival carried a coffin containing a large tomato – La Tomatina was allowed by authorities and made an official festival.
In 2002, La Tomatina was declared a Festivity of International Tourist Interest by the Spanish Secretary of the Department of Tourism.
When is it due to take place?
This year's La Tomatina is taking place on Wednesday 28 August.
The festival is held annually on the last Wednesday of August.
What does the day entail?
On the day of La Tomatina, trucks arrive in Buñol's Plaza del Pueblo with hordes of tomatoes at 11am, states latomatinatours.com.
The messy food fight usually begins when water cannons are fired, and lasts for around an hour.
Following the festivities, trucks are driven around the town which clean the streets by spraying them down with water.
Due to the high levels of acidity in the tomatoes, the streets of Buñol are typically extremely clean once they have been rinsed of tomato residue.
How can you obtain tickets?
Up until 2013, anyone could make their way to Buñol to take part in La Tomatina.
However, for the past six years, only those who have purchased tickets have been permitted to take part in the event, which last year drew more than 20,000 people.
Ticket packs which include travel from cities including Madrid and Barcelona can be bought from official ticket partner sites.
According to Spain's official tourism website, general admission for La Tomatina is €10 (£9).
For more information, visit the official La Tomatina website here.