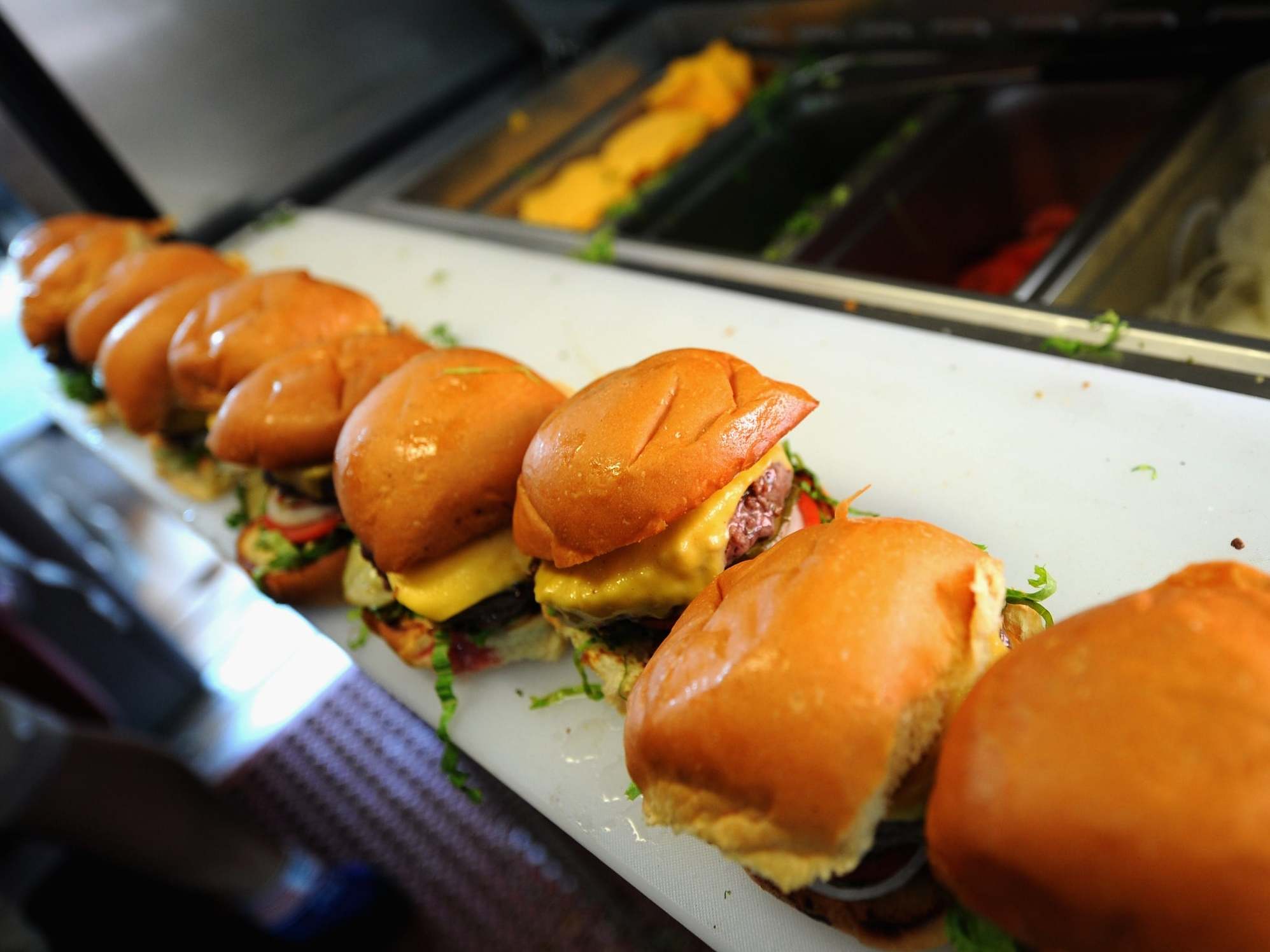 How much labour is acceptable in the service of a pun? I think "Wahlburgers", if your surname is Wahlberg, probably justifies a WhatsApp group about a barbecue. "Come to Wahlburgers," it could say, with a little picture of you in an apron. If you're a famous actor, like Mark Wahlberg, perhaps you could get away with the self-indulgence of calling a pop-up Wahlburgers, on the condition that it raised money for local charities. But an international burger chain with more than 30 sites? Absolutely not.
And yet, as with so many recent events to which you would have said "absolutely not", here we are. Wahlberg, the actor, model, Marky Mark, the guy from The Departed and Three Kings, the celebrity whose life provided the inspiration for the celebrity-mocking drama, Entourage, produced by Mark Wahlberg, has an international burger chain called Wahlburgers. The first branch outside North America has opened in Covent Garden, and, apparently, there are plans for 15 more in the UK. The site was under wraps for so long that I wondered if Mark Wahlberg was making it himself, hod to his shoulder, Black and Decker in hand, plastering for the half-hour per day permitted by his infamous daily routine.
It's a joint venture with two of his brothers, Donnie, another actor-musician-etc, and Paul, a chef. They made a reality show about running the restaurant, called Wahlburgers, of which there have so far been 86 episodes. Nice advertising if you can get it. The question is, why would anyone eat there? Are there really people who loved Mark Wahlberg's performance in Boogie Nights so much that they would pay to eat his meat? Actually, that's a bad example. But I am confident nobody who saw his turn as Cade Yeager in Transformers: Age of Extinction would have felt moved to buy a chicken salad off him.
We'll tell you what's true. You can form your own view.
From
15p
€0.18
$0.18
USD 0.27
a day, more exclusives, analysis and extras.
I went with a couple of my own siblings for lunch last Monday. Wahlberg's long year of painting and decorating has wrought at a bright two-storey space opposite Covent Garden tube station. Rather than a maître d' there is a gift shop, where you can buy "WahlGear", T-shirts saying things such as "MOM'S FAVORITE". A shop is never a reassuring sign in a restaurant.
We were seated downstairs, where a team of waiters in uniforms with headpieces swarmed around. There's table service, but I have no idea why. Perhaps the idea is that you have longer to admire the decor: green chairs and posters of Wahlberg films. My brother and sister had ordered just before I arrived, so the waiter, when I finally got the attention of someone permitted to take my order, explained that he couldn't guarantee the food would all come at the same time. It turned out that what he meant was my food would arrive a full 35 minutes after I ordered and 10 minutes after my siblings' food had been delivered, eaten and cleared away. Unacceptable at a proper restaurant, unthinkable in a half-empty hamburger restaurant.
The menu consists of burgers, sandwiches, salads and sides, with milkshakes, soft drinks and booze to wash it down. It boasts that its burgers are a "signature blend of short rib, brisket and chuck". The standard patty size is a 1/3lb, presumably to signal their generosity relative to McDonald's. A smaller burger would be better. In fact, as with Marmite, the ideal amount of Wahlburger would be the smallest measurable quantity. The "Our Burger" I was presented with, "Paul's Choice", was a dry, salty puck of spam-coloured mystery meat, the colour of sunburned English flesh, between a bun that flaked and crumbled in my fist, with a single lonely slice of tomato and a little flap of lettuce.
"Mark's Choice", the "Thanksgiving Turkey Burger", presumably because the leaner meat suits his regime better, was not much to be grateful for. The "Original Melt", sadly not named as a Love Island tie-in, was slightly better, a burger wedged between two slices of fried bread with cheese, onions, bacon, pickles and "mustard sauce", tasty in a "how much lard can I fit in one hand" kind of way, but really if you can't make that list of ingredients at least edible, what business do you have in opening a restaurant? Fries were fine. Tater tots, little testicles of soggy hash brown, were not. I had a Diet Coke that was 80 per cent ice and cost £4.
Wahlburgers is easy to hate, but what's to like? Even by Hollywood standards, it is the height of narcissism to open a chain of average fast-food restaurants dedicated to your own celebrity. Wahlburgers is a theme park restaurant where the theme is one family, but more than that it is a monument to the idea that people care more about a recognisable "name" than anything else. Perhaps it's meant as a joke, but at whose expense? There's no humour here, no warmth. If more proof were needed that the family has a compulsive addiction to puns on their own name, there is a list of cocktails called "Wahlcoctions", sickly-sweet, fruity sounding drinks. Does the pun even make sense? I can't work it out.
Nor is it as if London has any shortage of decent good value burgers. Patty & Bun, Shake Shack and Five Guys are all better and cheaper, and the last two are equally child-friendly. The only hope is that Wahlberg's fame is less potent in the UK than in the US, where he and his brothers represent a kind of tough-talking Irish-catholic Bostonian archetype that hardly exists any more. The good burghers of London will not be fooled.
Should you go? No.
Would I go back? No.
Could you take your parents? No.