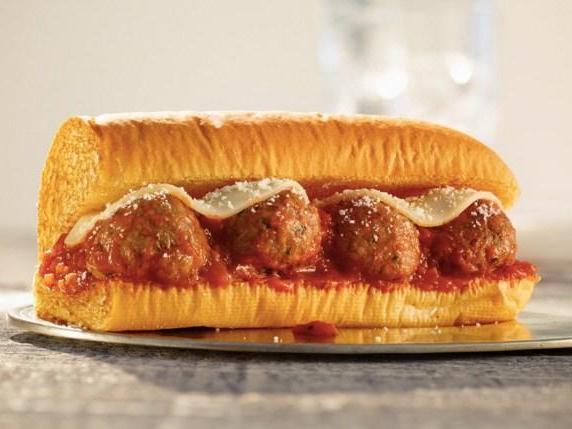 Subway has launched a vegan version of its popular Meatball Marinara sub – but there's a catch.
The meat-free sandwich is not a permanent addition to Subway's menu and is currently being trialled in selected stores in Birmingham and Manchester until 20 November.
However, the food chain wants to introduce the new sub in all stores from next year.
We'll tell you what's true. You can form your own view.
From
15p
€0.18
$0.18
USD 0.27
a day, more exclusives, analysis and extras.
"We are currently trialling an exciting new vegan product, our Meatless Meatball Marinara, in a number of stores across the UK," a Subway spokesperson said in a statement.
"We are hoping to introduce these nationwide early next year, so keep your eyes peeled, and we'll let you know once we have more information!"
So, what is the Meatless Meatball Marinara made from?
The six-inch version of the meat-free option has four vegan meatballs covered in marinara sauce topped with a layer of vegan cheese.
Vegetarian fans can choose to swap out the vegan cheese for a dairy options, including American cheese and a grated mozzarella and cheddar blend.
Earlier this year, Subway launched a vegan version of the sub in 685 stores in North America and plans to roll it out across the US and Canada pending demand.
The sandwich giant isn't the only retailer to increase its meat-free offerings this year.
Earlier this month, Pret a Manger launched vegan versions of its most popular sandwiches, including a vegan take on the age-old BLT and a "chuna" mayo baguette.
Hannah Dolan, global head of food innovation at Pret, said the firm has worked "really hard" to mimic the "tastes and textures of the original sandwiches" in its Vegan Classics range.
"This is all part of our mission to make it easier for customers to eat less meat, by offering delicious vegan and vegetarian food," Ms Dolan said.
In April 2018, it was reported that the number of people in the UK who identified as vegan had soared to 3.5m.
In 2016, 540,000 people in Britain over the age of 15 were following a plant-based diet, according to statistics published by The Vegan Society and Vegan Life.