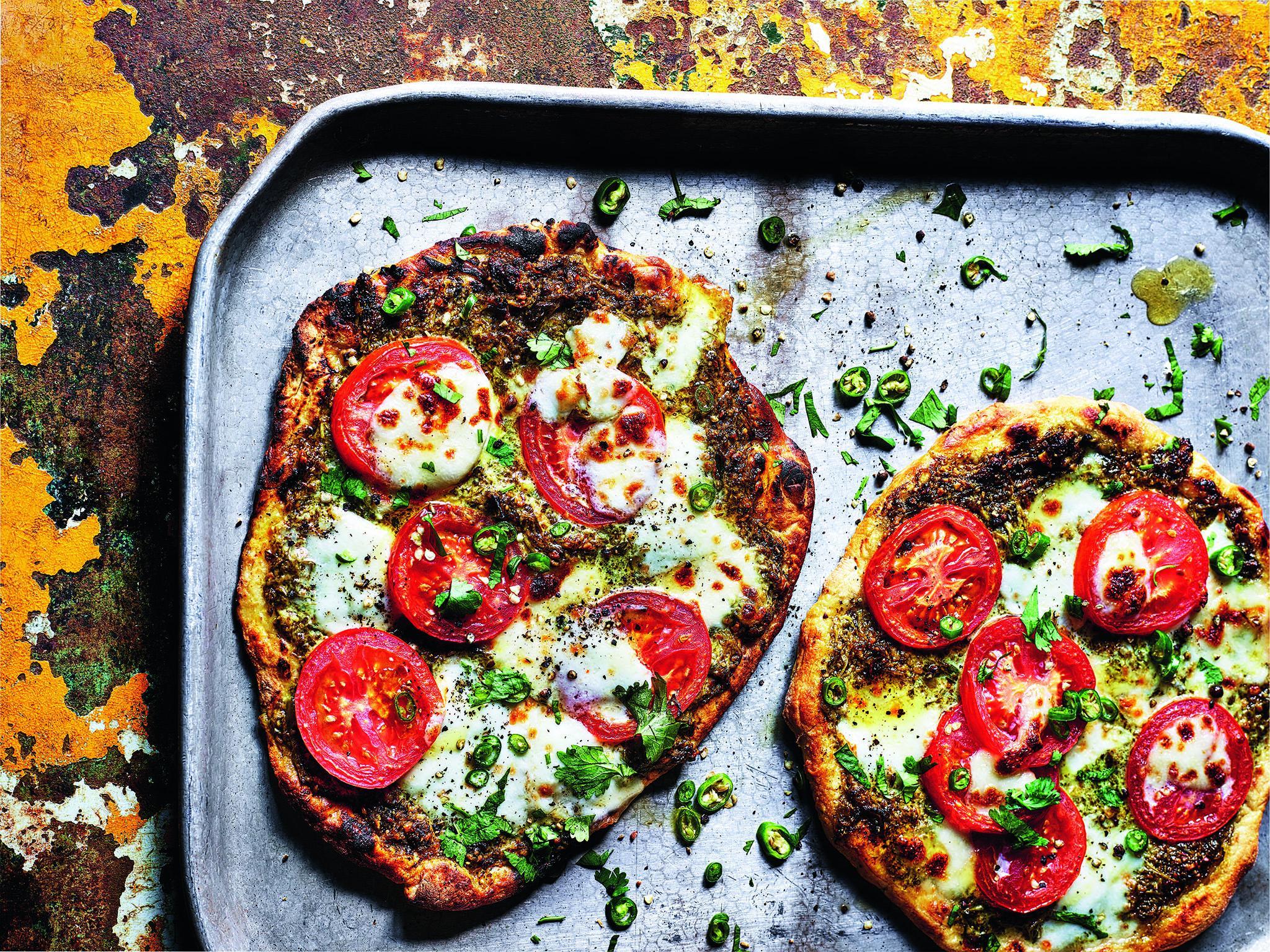 Coriander pesto, chilli and fresh tomato naan pizza
I'm a big fan of pesto pizzas and this coriander version is a real crowd-pleaser. You can easily double or triple the recipe. The pizzas cook quite quickly on the barbecue but you're going to be busy. I can only fit one pizza on my kettle barbecue so I cook one, place it on the table and repeat. This easy recipe is great for hot summer weekends. All it needs is some good music and ice-cold beer – or whatever your poison happens to be – and you can fill your day, grazing with friends.
Prep time: 10 mins, plus preparing the dough
Cook: 5 mins per pizza
We'll tell you what's true. You can form your own view.
From
15p
€0.18
$0.18
USD 0.27
a day, more exclusives, analysis and extras.
Makes 4 x 25cm (10in) pizzas
Serves 4-6
1 recipe quantity naan dough (see below)
Plain flour, for dusting
250g (9oz) fresh buffalo mozzarella
2-3 very fresh tomatoes, sliced
For the pesto
200g (7oz) chopped coriander leaves and stalks
3 garlic cloves
1-2 green chillies
30g (quarter cup) roasted, unsalted cashews
30g (scant half cup) grated parmesan (optional)
125ml (half cup) extra virgin olive oil
Salt
Set up your barbecue for indirect heat cooking. I usually use about 3 shoeboxes full of charcoal. You need to get your barbecue as hot as possible. Meanwhile, to make the pesto, place the coriander, garlic, chillies, cashews, parmesan and oil in a blender and blend into a pesto. Season with salt to taste and set aside.
Divide the dough into four balls and let rest, covered, for about 5 minutes. Lightly dust the surface with flour and then, using a rolling pin or your hands, roll or stretch the dough out thinly until you have four pizza bases around 25cm (10in) in diameter.
I find it a lot easier to pre-cook my pizza bases in a pan, as with my stovetop garlic naans. Pre-cooking the crusts makes them easier to work with outside. Pizzas need a lot of heat, which is difficult to achieve on most kettle barbecues, so this headstart helps give them that delicious-looking char as if they came right out of a pizza oven.
When your barbecue is flaming hot, spread the pesto equally over the pizza bases and top with the mozzarella and tomato slices. Place one or two of the pizzas on the cooler side of the grill and cover. Cook for about 5 minutes or until the cheese is soft and the crust nicely browned. Repeat to cook the remaining pizzas and serve hot.
Make it vegan: you could leave the cheese off but there is good-quality vegan mozzarella on the market that melts well and is very convincing.
For the naan dough
600g (4.5 cups) plain white flour, plus more for rolling out
1 tbsp salt
1 tsp baking powder
7g (0.5oz) dried yeast
2 tbsp sugar
Sift the flour, salt and baking powder into a large mixing bowl. Set aside. Bring 210ml (scant 1 cup) water to a rapid boil. Pour it into a jug and top with 210ml (scant 1 cup) cold water. This should be the perfect temperature to wake up the dried yeast. Stir in the yeast and sugar and leave to froth up for about 10 minutes.
When the yeast water is nice and bubbly, make a well in the flour mixture and pour it into the well. Mix it all together with your hands for a minute or so, then leave to rest for 2 minutes. Then knead the dough as best you can for about 5 minutes. It will be very sticky but don't be tempted to add more flour. Form into a ball, cover and leave to rise for an hour in a warm place.
When the dough has risen (it should double in size, but don't worry if it doesn't) divide it into six equal-sized pieces. Dust each with a little flour and form into smooth balls. Place on a high-sided tray and cover with a clean tea (dish) towel. Let the dough balls rise for another hour.
Crispy fried spinach chaat
Crispy fried spinach chaat is usually made with large palak leaves, which is a variety of spinach seen a lot in India that's available at Asian shops in the UK. I usually use baby spinach leaves, which are easier to come by, but it takes more time to prepare because of all the chopping. I tried my first fried spinach chaat at a great little restaurant in London called Thali. The delicious chaat was one of their signature dishes so, understandably, they weren't quite ready to give me their exact recipe. I have experimented a lot with this one and think I've got it pretty close to that chaat I enjoyed so much.
Serves 2, or more as part of a multi-course meal
Prep: 20 mins
Cook: 10 mins
250g (9oz) fresh spinach leaves, big stems removed
Rapeseed oil, for deep-frying
Salt
1 onion, finely chopped
1 tomato, diced
For the batter
65g (half cup) gram (chickpea) flour, plus extra if needed
2 tbsp rice flour
Half tsp ground turmeric
1-2 tbsp chilli powder
1 tsp garam masala
To serve
4 tbsp mint and coriander sauce (see below)
4 tbsp tamarind sauce (see below)
4-5 tbsp yoghurt sauce (see below)
Fine sev
Wash and dry your spinach leaves and remove the large stems. You will be shredding the majority of the leaves but hold about 8-10 large leaves back for dipping in batter. I find that it is quicker to stack the leaves to shred them. Shred the leaves finely. If you have ever tried fried seaweed at a Chinese, that is the look you are going for with this spinach.
Heat about 10cm (4in) of rapeseed oil in a large pan or wok for deep-frying. When a piece of spinach instantly sizzles when added to the oil, you're good to go. If you have an oil thermometer, aim for 200C (400F).
It is a good idea to cook the spinach in batches. Fry each batch until the leaves become darker and are beginning to turn crispy, about 1-2 minutes. Transfer to paper towel to soak up any excess oil. The shredded spinach will become crispier as it dries out.
To make the batter, whisk all of the batter ingredients in a bowl with just enough water to make a thick, smooth batter. Dip the large, whole leaves in the batter. It should coat them. If you find the batter is too runny, whisk in a little more gram flour. Fry the battered leaves in the hot oil until crispy and brown, about 1-2 minutes, then transfer to paper towel to soak up any excess oil. Season the shredded and battered spinach with salt to taste.
To finish, place a big mound of shredded spinach on two plates. Top with the chopped onion and diced tomato followed by the battered spinach leaves, then garnish generously with the sauces. To serve, top with a couple handfuls of fine sev and a little more salt if you like.
Mint and coriander sauce
Makes 250ml
2 tsp cumin seeds
1 very large bunch fresh mint, about 100g (3.5oz)
1 very large bunch fresh coriander, about 100g (3.5oz)
6 green chillies (more or less to taste)
4 garlic cloves
5cm (2in) piece of ginger
Juice of 2 lemons
150g (scant third cup) plain yoghurt
Salt
In a dry frying pan, roast the cumin seeds over medium-high heat until warm to the touch and fragrant but not yet smoking. Pour the roasted seeds into a blender or spice grinder with the mint, coriander, green chillies, garlic, ginger, lemon juice and 2 tablespoons of the yoghurt, if using. Blend to a paste. If you are having trouble getting the ingredients to blend, add a little more lemon juice or a drop or two of water until you have a thick green paste.
You could now use the sauce to spread over sandwiches and wraps but if you are making chaats or like a smoother, thinner sauce, whisk the remaining yoghurt into the paste until very smooth. (You could even add more yoghurt if you prefer.) Season with salt to taste. I like to store this sauce for up to 3 days in restaurant-style squirt bottles for squeezing over lots of different dishes.
Yoghurt sauce
Makes 500ml
500g (2 cups) plain natural yoghurt
Juice of 1 lime
1 tsp chilli powder (or to taste)
Chaat masala and/or salt to taste
Place all the ingredients in a mixing bowl and whisk until creamy smooth. Taste and add more salt or spices to your liking. Keep it in the fridge until required.
Tamarind sauce
Makes 250ml
200g (7oz) block of tamarind pulp
1 tsp ground cumin
1 tsp chaat masala (optional)
Half tsp ground ginger
Half tsp chilli powder (or to taste)
1 tbsp sugar or jaggery (or to taste)
Salt
Break the block of tamarind into about 6 pieces, put in a small saucepan and cover with 375ml (1.5 cups) water. Bring to a rolling simmer over medium-high heat, stirring often, for about 5 minutes, then remove from the heat and let it cool for another 5 minutes.
Using a wooden spoon or potato masher, smash the tamarind in the water. The sauce will become thick, like ketchup. Run this through a sieve into a bowl, pushing against the solids with a spoon as you do. You should end up with a thick paste. This is like shop-bought tamarind concentrate but less concentrated.
Discard any solids that remain in the sieve. Return the tamarind paste to the saucepan and add the cumin, chaat masala (if using), ginger, chilli powder and sugar. Bring to a simmer for about 3 minutes, until the sugar is completely dissolved. You can add a drop more water if you prefer a runnier sauce or reduce it more if you prefer a thicker sauce. Taste the sauce and add more sugar, salt or other spices to taste. (You will need to dissolve any additional sugar over medium heat if added.)
Vegetable franky with corn koftas
This one is juicy! It might have a lot of sauce but the corn koftas can stand up to it. You could use any veggie koftas. The most important thing is that you wrap it all up tightly so you don't get it all on your lap! I should probably mention that when I made these corn koftas during the photoshoot for this book, they were a real hit!
Serves 4
Prep time: 10 mins
Cooking time: 20 mins
Oil, for deep-frying
Gram (chickpea) flour, for dusting
4 tortillas, chapattis or rumali rotis
Yoghurt sauce
Mint and coriander sauce
Lettuce (optional)
Sliced onions (optional)
For the koftas
1 large potato (about 300g/ 10.5oz), peeled and diced
1 x 400g (14oz) tin of sweetcorn (or 2 large corn on the cobs from fresh)
1 tsp chilli powder
1 tsp ground cumin
1 green chilli, finely chopped
3 tbsp finely chopped coriander (cilantro)
Salt
To make the koftas, boil your diced potato in water for about 10 minutes, until fork tender. Drain and mash.
Pound the corn in a pestle and mortar into a paste. Mix the corn and mashed potato with the chilli powder, cumin, green chilli and coriander. Season with salt to taste and form the mixture into short sausage shapes or small ball shapes.
Heat about 10cm (4in) oil in a wok or large pan to 170C (338F). If you don't have an oil thermometer, drop a piece of the corn mixture in the oil. If it sizzles and rises to the top immediately, you're ready to cook. When it reaches this heat, dust a kofta in the gram (chickpea) flour and place it in the oil. Repeat with the rest. (You may need to cook them in batches, depending on the size of your pan.) The koftas are ready once nicely browned and heated through, about 3 minutes.
To finish, smother the tortillas with a good dose of yoghurt sauce and mint and coriander sauce and divide the koftas between them. If you like, you could also add some lettuce, sliced onions or whatever you want. Then wrap it all up to serve.
Make it vegan: use vegan yoghurt alternatives in the sauce recipes.
'The Curry Guy Veggie' by Dan Toombs (Quadrille, £15) Photography © Kris Kirkham