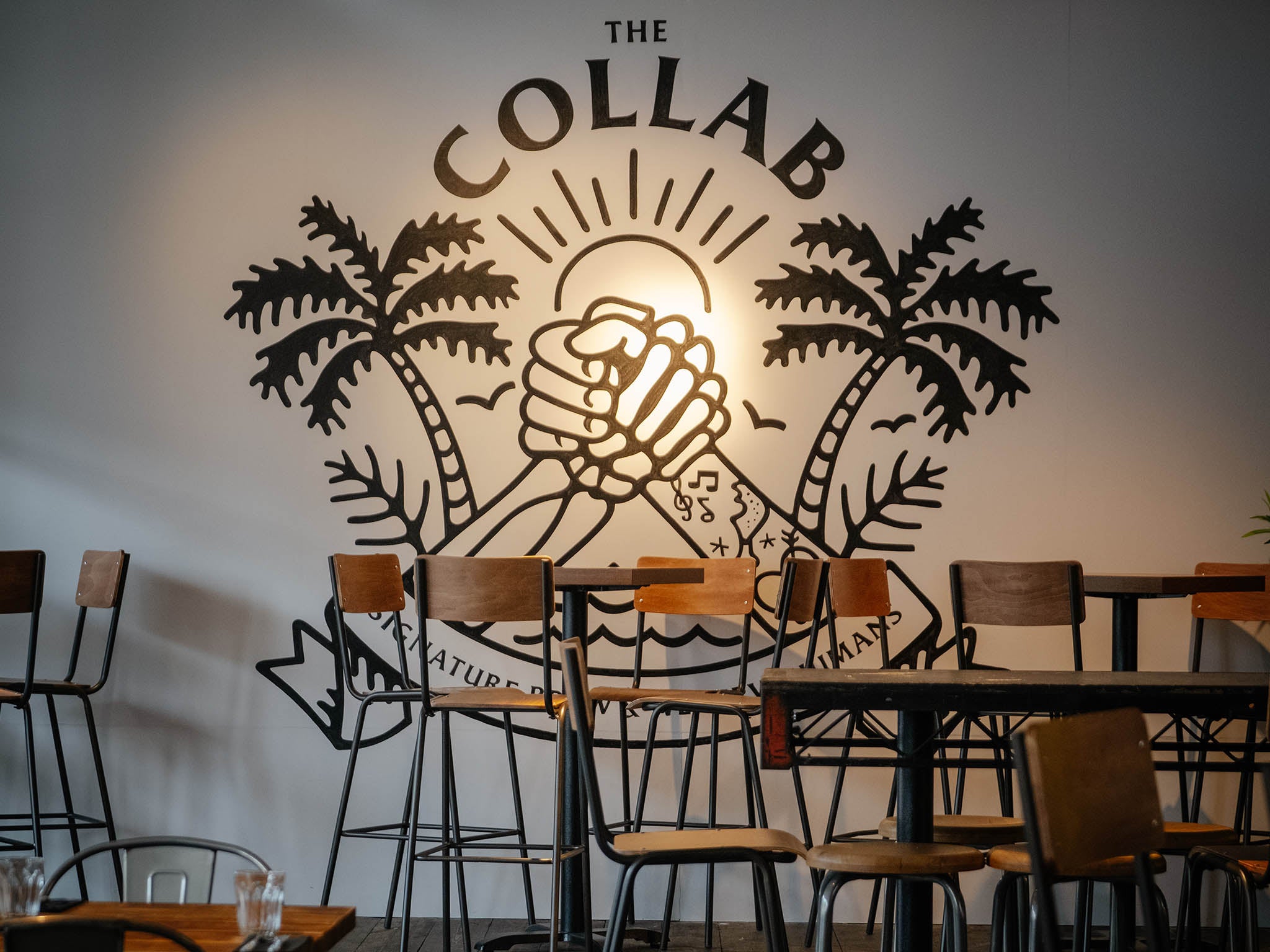 The idea that two heads are better than one is what underpins The Collab in Walthamstow, opened in March as a joint venture between northeast London-based Signature Brew and burger outfit We Serve Humans.
Both have impressive credentials – the former having scooped the Society of Independent Brewers' Brewery of the Year award in 2018, among others; the latter taking Inapub Magazine's Best Burger in Britain and Wing Fest's Best Buffalo Wings.
An ideal combo, then, to join forces for a burger and beer restaurant.
We'll tell you what's true. You can form your own view.
From
15p
€0.18
$0.18
USD 0.27
a day, more exclusives, analysis and extras.
It's been a busy year for Signature, which opened its Haggerston taproom last autumn and is in the middle of trebling its size with a new brewery, while We Serve Humans has taken over menus at two Leytonstone pubs just down the road for its latest residency.
Walthamstow too is enjoying a moment at the epicentre of this year's London Borough of Culture, Waltham Forest.
The area near the Tube station has seen considerable regeneration as more Londoners move out to E17, and is peppered with chains – in among a few local institutions, more on which later – so for a casual bite, The Collab makes a great homegrown alternative to the Nandos and Turtle Bays.
The sizeable premises is busy when we arrive on a Friday evening, with a delicious smoky haze from the grill hanging in the air.
It's spacious with stripped-back decor: as "part taproom, part restaurant", it's the taproom vibe you pick up on first, but a variety of seating means it's equally suitable for families, solo diners and groups of lads, all of which are present.
Alongside Signature's headline beers on tap, there's an impressive guest roster and a wide choice of cans and bottles. Roadie IPA and Studio Pilsner make refreshing first pints; later, to my dismay, the brewery's Festival Saison isn't available, but the bartender finds me a lovely alternative from Brew By Numbers.
So, to the burgers – besides wood-fired pizza, of course, the dominant food offering when it comes to craft beer joints – 'Humans is holding the menu down here with six meat options and four meat-free; something of a revelation for this vegetarian.
My companion opts for The Chairman, the house's classic beef burger, which is simple but effective; cooked to medium-rare with cheese and red onion jam. Extra points are awarded for a bun that successfully contains the components within.
Tempted as I am to go for the plant-based version (I'm a big fan of the B12 patty) I decide to set myself up for a heart attack and pick the truffle mac and cheese burger. If it's comfort and/or carbs you want, look no further than this rich and tasty patty, held together by a crispy crumb.
There's plenty to accompany the main event. As well as four varieties of fries, highlights from the sides include a house kimchi with just the right level of funk and, for more crunch, nicely charred baby gem lettuce with dijon vinaigrette and parmesan.
My companion found the Stoner BBQ wings a little overpowered by the pineapple in the sauce, and conceded Buffalo might have been a better choice.
By the time we head out the door there's a DJ playing and the lights are low; on top of an existing lunch deal and The Collab's newly launched weekend brunch menus, it's looking to become something of a destination venue in Walthamstow.
In this neck of the woods I'd usually move on to the excellent Wild Card brewery, but it's a bit of a walk, and it's raining, so we head a couple of paces down the street to The Victoria, which is packed to the rafters, despite seeming like a relic from a bygone era. Just be sure to come when the karaoke's on.
The Collab, 198 Hoe St, Walthamstow, London E17 4BF; 020 8521 2948; open daily; thecollablondon.com