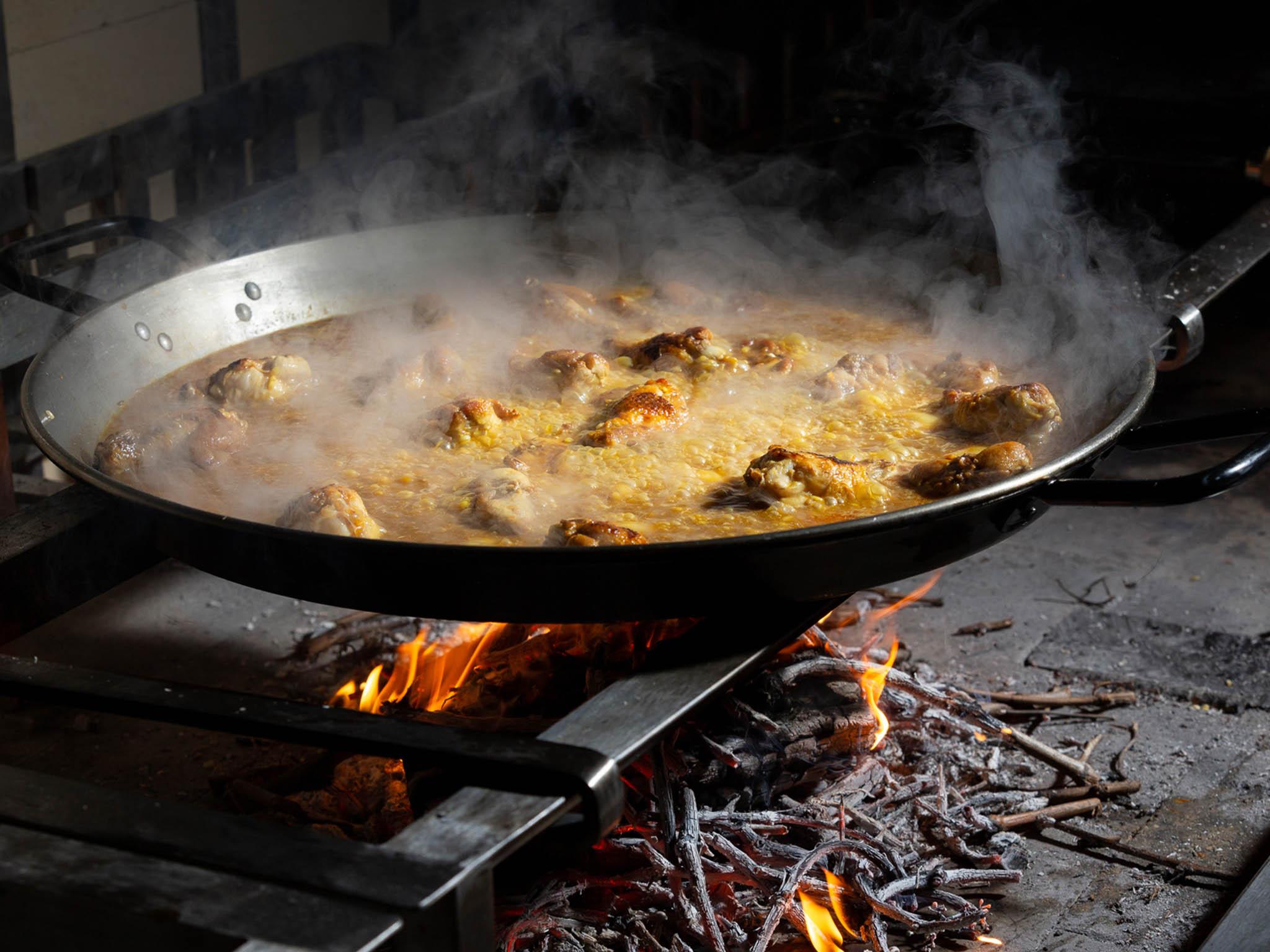 Why has Britain been a paella desert for so long? Given the popularity of Spanish food, and the fact that paella was the forerunner decades ago, it's odd. PVSS is one theory: Post Vesta Stress Syndrome, the industrial Vesta paella packets of the Seventies having trashed – for a generation – any possible association of the dish with chic gastronomy.
And then, paella's identification with package tourism to Benidorm finished off the job.
Now there's a resurgence, with fashionable restaurateurs like Nieves Barragan of the restaurant Sabor in London's Mayfair doing brisk business with the paellas on its menus.
We'll tell you what's true. You can form your own view.
From
15p
€0.18
$0.18
USD 0.27
a day, more exclusives, analysis and extras.
But that's mere appetite whetting compared to the arrival of Arros QD, just off Oxford Street, from one chef named Quique Dacosta; the king of rice, proprietor of five restaurants around the paella heartlands of Valencia and Alicante- including a Michelin-starred, best of world-ranked flagship restaurant, author of Arroces Contemporaneos (Contemporary Rices) –one of the bibles of rice cookery – and regular performer alongside your Adrias, Blumenthals and Redzepis in the gastronomic showbiz events of the international star chef A List.
Two years ago Dacosta, famed primarily for comestible art statements like the foie gras Cuba Libre, announced he was bringing his interpretation of classic Valencia rice cookery to London.
The day of the opening last month the big glossy black showroom-styled restaurnat, Arros QD in Fitzrovia – arros is the Valencian version of arroz, rice, plural arroces – was a bustle of elegant besuited waiting staff, metal rice receptacles, traditional round pans for the communal paellas, special Dacosta-designed shallow trays called chapas for the individual "contemporary rice" dishes, garnished with smoked eel, sesame and black garlic aioli or wood pigeon, mushroom and porcini aioli.
The dishes arrive from an open kitchen with a long shelf-hearth of trivets over burning logs down one side and on the other a row of smart black pan devices with small computer screens on the other.
Richard De La Cruz, head chef, explains the hybridized Dacosta paella method, substituting pre-made stocks and multi stage cooking for the classic Valencia recipe of water added to fried meats and rice, and demonstrates the computerised paellas (a paella is the pan for cooking the dish) with sensors and screens to guide the cooks.
This is the first time these have been deployed in action, and other Arros QD innovations include brand new UK dishes such as the wood pigeon rice, which are already transferring back to the menus of the Spanish restaurants, so London can technically claim to be global leader in cutting edge paella. Or at least on par with Denia in Spain.
No student of paella should forego a visit to Denia, a pleasant Costa Blanca fishing and yachting port famed for its giant red prawns  – a vermilion Denia prawn is the town's logo. A mile out along the coast road in the suburb of El Poblet is a large white house, with a small tower on the roof, used, as Dacosta's Madrid PR man shows me, for wind-drying octopus.
The years and Michelin stars have transformed the former bourgeois dwelling with additions like a glass cube lounge filled with white sofas in the garden and a glass sided kitchen laboratory. This is where Juanfra Valiente, Dacosta's Head of Creativity, meets me, while the boss drops in and out, answering a question, adjusting a dish, tasting, posing for a photographer.
Dacosta, who worked his way up from an 18-year-old year old kitchen novice (he's now 47) is essentially a meticulous analyst of the cooking process, and though given to flights of extravagant menu prose, he's not a purist. On the endless Valencian disputes over permitted paella ingredients, he's pragmatic. People have always cooked what's available with their rice, he says. So the Jamie Oliver gaffe of adding chorizo to his paella would be perfectly OK for an informal fry-up. But not if it's described as paella Valenciana, which is Denominacion de Origen protected; rabbit, chicken, beans, artichokes only.
I almost overlook my first taste of Dacosta paella, or arroz – paella is merely one form of the wider field of arroz dishes – as it appears amid an intricate multi course tasting menu, commentated continuously by waiters and sommeliers. The very antithesis of rabbit-crammed iron skillet, it's a dinky little confection of unctuous rice, truffle butter, shredded turnip, pumpkin and roast chestnut. It's very difficult to fit an arroz into a long tasting menu, Dacosta tells me, as it takes 20 minutes to cook and the timing must be exact.
In fact the best Dacosta rice is still to come, as a rapid circuit of the paella land demonstrates. Starting point, the office at the centre of the albufera rice region of Santos Ruiz, who is head of the professional regulating body of Valencia rice producers, confidant and rice guru to Dacosta.
As we drive across the flat albufera paddy fields, dotted with isolated farmhouses, hawks and herons, Ruiz explains how early paellas were made here, by local rice farmers using whatever ingredients were to hand: vegetables, ducks, eels, crabs, and how variants arose as rice was traded to neighbours, like the fishermen of Alicante and Denia, who used seafood, or the hill dwellers of the interior, who created the rabbit and snail variant.
The different varieties of rice, albufera, bomba, senia, bahia and marisma are suitable for different rice dishes, from the dry styles, including paella Valenciana, to the meloso or creamy dishes and even wetter caldosos. Dacosta's importance, says Ruiz, was to apply the intense experimentation of the Spanish culinary great leap forward – first created by the team at the El Bulli restaurant on Catalonia's Costa Brava in the Nineties – to a dish regarded until then as lowly home cooking. "When I starte", Dacosta told me earlier, "I used to ask other chefs what variety of rice they used for their paellas. Often, they told me the brand – they'd never bothered to think what type of rice they were buying."
From the Albufera, it's a two hour drive south past Denia, then Benidorm (still purveying both paella and fish and chips) to the harbour of Alicante, where the Darsena restaurant, all nautically themed wood panelling, brass and panoramic windows, has established itself as a temple of traditional Alicantino paella. Or arroz, as we prefer to say, corrects the owner Cristina De Jan Company, as she explains the distinct Alicantino style, involving the use of rich pre-made stocks in place of Valencia's water, and a wider range of combinations. Of the several I try including an arroz a banda (served separately from its accompanying fish), a soupy arroz meloso with oxtail, and an arroz of salt cod en costra (gratinated layers of potato, fish, rice and aioli) the last is so delicious, it has to be almost evil.
The tour terminates in Valencia to try the food at llisa Negra, Dacosta's previous opening before Arros QD, and the model for the London restaurant. Though first taking up his suggestion to experience one of the best old school hardcore Valencian paellas at Casa Carmela where the proprietor sweats like a Victorian stoker manning a range of roaring log fires, from which he extracts bubbling pans of rich russet rice which we scrape up with wooden spoons, savouring the crisp gooey socarrat burnt at the bottom. Llisa Negra is more decorous in its cream black and gold elegance, and with slightly less primevally fierce fires, but they do a good paella too, set in a long tempting menu of excellent local produce and clever little flourishes. In the case of the paella, a little dish of fried rabbit livers served as entrée, a reference to the old Valencia home cooking tradition of serving the paella minus the livers, which are fried and eaten in the kitchen as cook's perks.
For all its sophistication, the Spanish arroz market is not confined to top end gastronomy, and industrial products exist, including evolved equivalents of Vesta like the Club del Gourmet range of the department store El Corte Ingles. As for the UK, incidentally, Vesta paella is still out there in the supermarkets. Has Dacosta ever worked on such products? I ask him. No he replies, looking amused. Well maybe not yet. But instant paella must surely be ripe for an upgrade, and Vesta doubtless have deep pockets. And there's really only one man for the job.