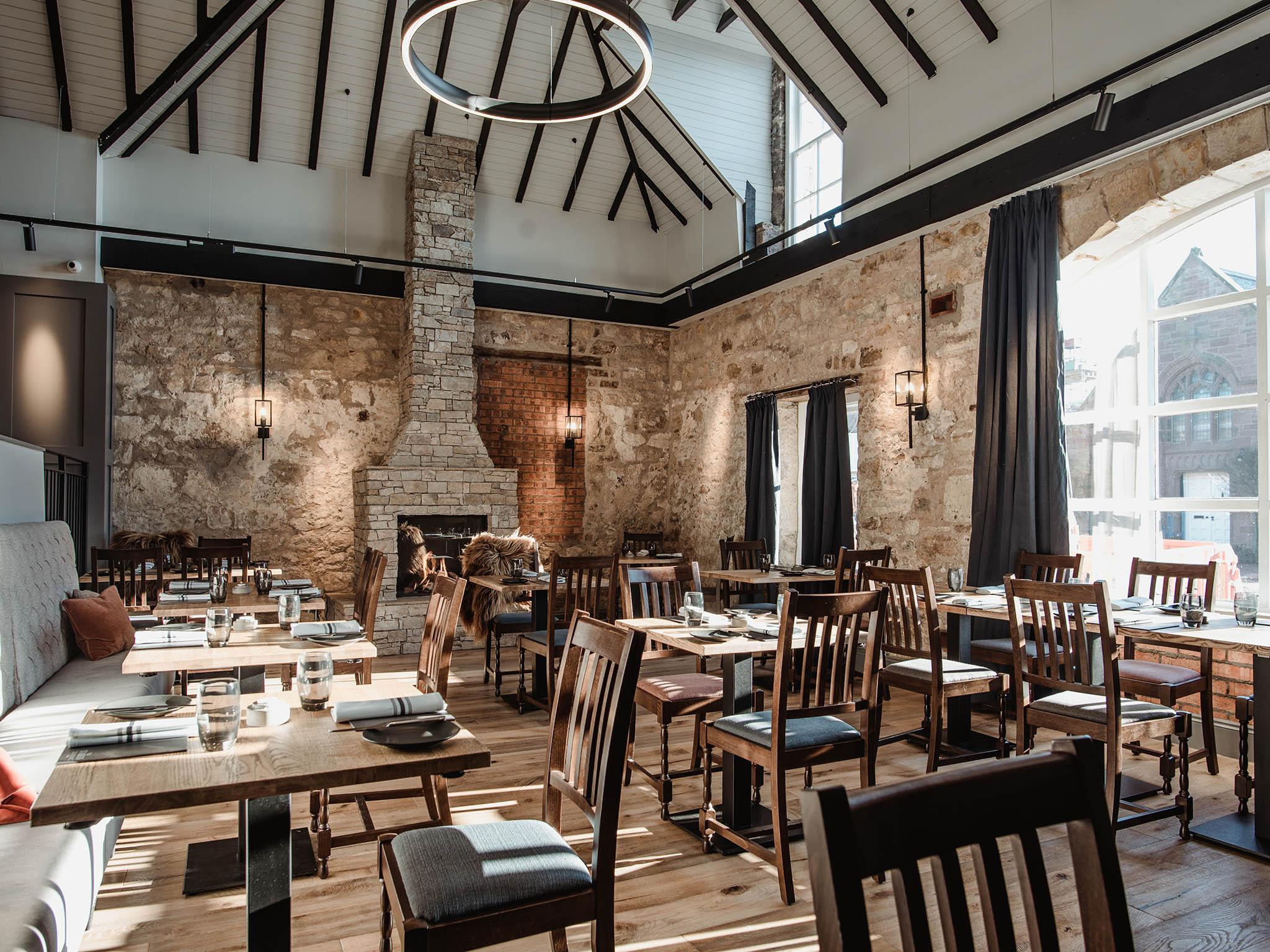 Restaurants with rooms are nothing new in 2019. But this is the first of its kind from one of Scotland's most celebrated chefs, Tom Kitchin.
Before, he's stuck to opening restaurants firmly within Edinburgh: Castle Terrace, Scran & Scallie, the Michelin star The Kitchin and Southside Scran, the newest opening of the Kitchin Group. Sounding a bit like Rick Stein and Padstow to anyone else?
Here, a good 40 minutes outside of Edinburgh city centre, the Bonnie Badger has very "of its time" decor, and by that I mean mid–century. Which is everywhere… and hardly nouveau either.
We'll tell you what's true. You can form your own view.
From
15p
€0.18
$0.18
USD 0.27
a day, more exclusives, analysis and extras.
But that doesn't mean it's not been done well. The beauty of it is thanks to Michaela Kitchin – business partner and wife of the chef – with many fabrics being made locally too. Low orange mid–century armchairs welcome you in the reception area, while another seating area is the same with greens and greys is super Insta–worthy.
It was formerly the Golf Inn, a rather tired nondescript pub, surrounded by a huge golf course – unsurprisingly. But there are rather handsome views over to the water.
It's like the countryside you move out to when you're old enough to have a few kids and keep talking about "needing more outside space" and finding that "forever home". Although after peering in the estate agents windows, it aint that cheap to buy in Gullane.
Despite it's easy commutable distance, it still feels a rather remote – and dated – actually, making the Bonnie Badger stand out like a sore thumb. But one you want around.
Its location doesn't stop people coming. When we go to eat, the whole restaurant is full. Some people seem to be staying – although there's only 14 rooms – and others are obviously coming just to eat (they're the key customers), to celebrate with families and friends.
The dining room – the old stables, which has kept its name – is an impressive double height room. During the renovations they found the original ceiling and removed the false one. Chairs are draped with faux fur skins, and there's more mid century furniture with a Scandi feel, with muted tones. It's cosy, but aesthetically cool.
Just like the interiors that do little to steer away from trends, the menu is much like Kitchin's other restaurants. It's traditional pub fair with plenty of Scottish and French touches, but modern.
In the kitchen its head chef Matthew Budge, alongside Kitchin, and of course the menu tells of all things seasonal and local (that's easy in Scotland and being near the water) with sustainable fish, so no surprises there. But it does take pride in cutting out the middle man and supporting small businesses – hear, hear.
There's actually two menus (no, not a tasting menu): a classics section and an a la carte. From the former to start dishes include Cullen sink, Loch Fyne oysters and haggis neeps and tattis. But don't think these are bog-standard and are simply just a lump of haggis and some root veggies. Instead, it's a perfectly formed, deep fried ball, sitting on a little pureed potato and topped with courgetti-like strips of turnip.
While the roe deer terrine – a pleasing richly gamey large portion with fresh apricot slices – comes from the a la carte menu and sits alongside the likes of dressed crab with avocado and toast, and king scallops with pea puree. It's not reinventing the wheel – but as the saying goes, if it aint broke, don't fix it.
The mains follow the same pattern. The classics include Aberdeen Angus burger, fish and chips, steak pie and bone marrow, ham egg and chips and homemade beef sausages and mash which comes with a bloody cracking onion gravy – the thick and sweet type that can almost stand a spoon. It's, er, classics, but done well.
The monkfish wrapped in pancetta with coco beans from the a la carte is oh–so salty as if someone in their 80s was let loose with the salt when it was plated up. Order the roast carrots with honey and mustard side and you'll never look at carrots the same way ever again. I promise. Finish up with a chocolate fondant pud and you'll go home with a smile on your face.
It's a breath of fresh air to the area, both for those who don't want to venture into town for good grub, and a reason for others to come here. It's made itself a destination restaurant with great rooms – even better bathrooms and breakfast, so it's also worth staying over too. And best of all, it's also a new hangout for locals. Hats off to the Kitchins. Your formula seems to be unbreakable.
Food ★★★★☆
Service ★★★☆☆
Value ★★★★☆
The Bonnie Badger, Main St, Gullane EH31 2AB: 01620 621111; bonniebadger.com