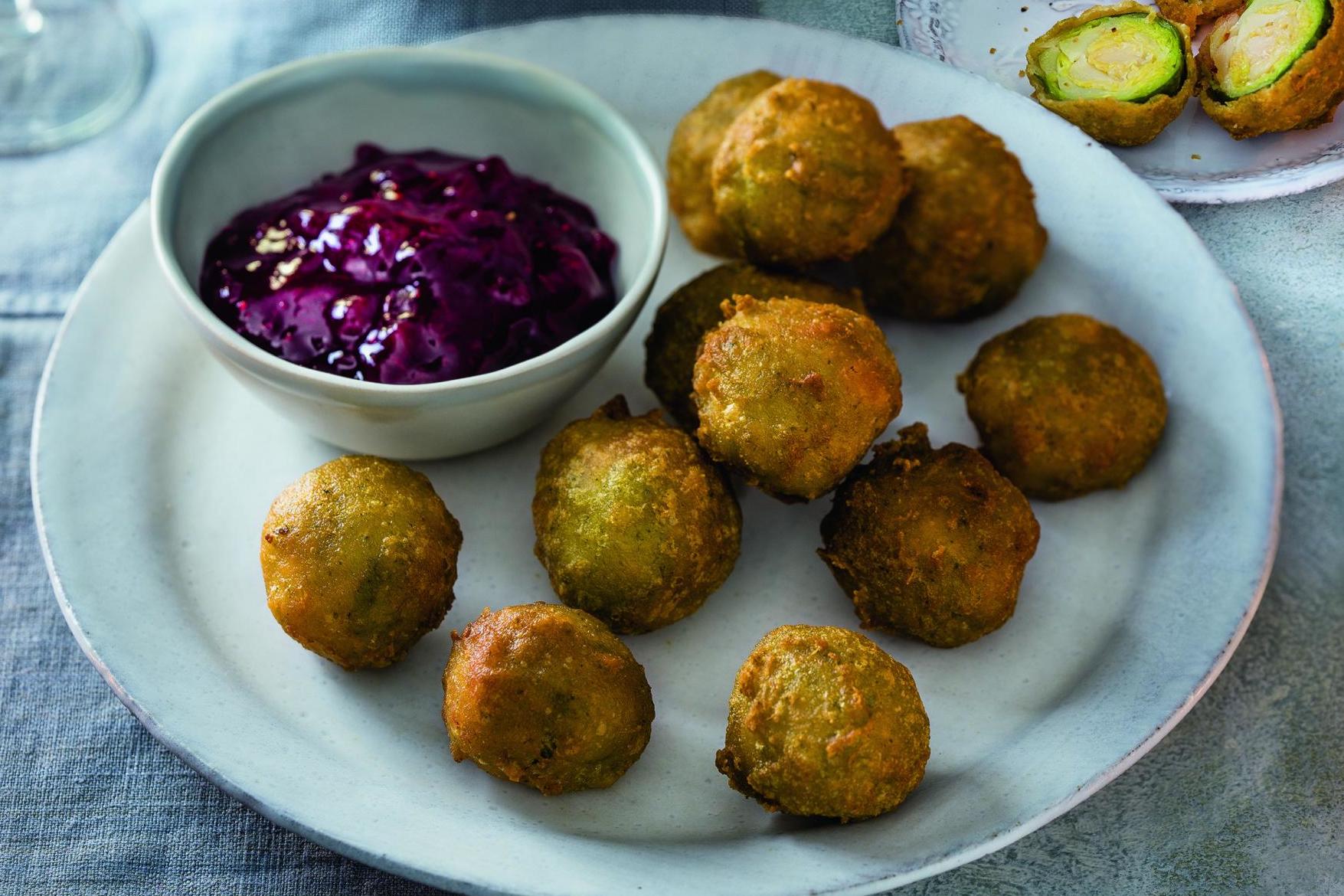 You might have only just invested in a new pair of sunglasses and flip flips for the summer – but it looks like Tesco already has Christmas on the brain if its latest food offering is anything to go by.
This week, the British supermarket chain unveiled its Yuletide menu that features dishes including mozzarella and pesto arancini balls, barbacoa beef tacos, and prawn roses.
An unlikely addition among the festive offerings include vegan battered Brussels sprouts.
We'll tell you what's true. You can form your own view.
From
15p
€0.18
$0.18
USD 0.27
a day, more exclusives, analysis and extras.
The sprouts are coated in a light, crispy vegan batter and will be available to purchase for £3 (for 240g) from 9 December online and in store.
Better yet, the offering – dubbed Brussels sprouts bites – will be sold with a cranberry dip.
While the festive vegan option will delight sprouts lovers, British farmers warn that the beloved Christmas dinner staple might be under threat this year following "unprecedented" heavy rain.
Earlier this week, The British Growers Association said that farmers were struggling to meet demand for brassicas – cauliflowers, sprouts and cabbages – as a result of flooding in June and record temperatures across Europe ruining back-up supplies.
A spokesman for the farm group told The Grocer: "Crops can withstand a reasonable amount of variation in weather but the conditions in June were too much. As a result crops have suffered and this is leading to a shortage of supply."
Tesco's festive vegan option is one of countless meat and dairy-free options on offer from Tesco in recent years.
Last November, the retailer launched a vegan "Beyond" burger that "bleeds".
The supermarket hoped the burger option, which costs £5.50, would "help people on their journey to eating more plant-based by allowing them to purchase plant-based foods in the section of the store where they are already purchasing other forms of protein".
The burger is made entirely from plants using a combination of yellow peas, coconut and rapeseed oil, potato starch and beetroot juice to create the burger's signature "beet blood".
Meanwhile, in June, Sainsbury's launched a three-day vegan butchers pop up in London.
The "meaty" cuts, joints and strings of sausages found in the Bethnal Green-based shop looked like meat but were in fact made of mushroom, jackfruit and even pea protein.
The launch followed a report that found that the majority of meat people eat will not come from animals by the year 2040.
Consultancy firm AT Kearney conducted the report based on interviews with industry experts, who predicted that 60 per cent of the meat products we consume in 2040 will either be plant-based replacements or cultured alternatives grown in vats.
The report suggests that the transition will be the result of a growing awareness of the environmental consequences of conventional meat farming methods and the rising demand for vegan alternatives.
It defines cultured meat as a type of meat that is created "through exponential cell growth in bioreactors" and does not involve animal slaughter.