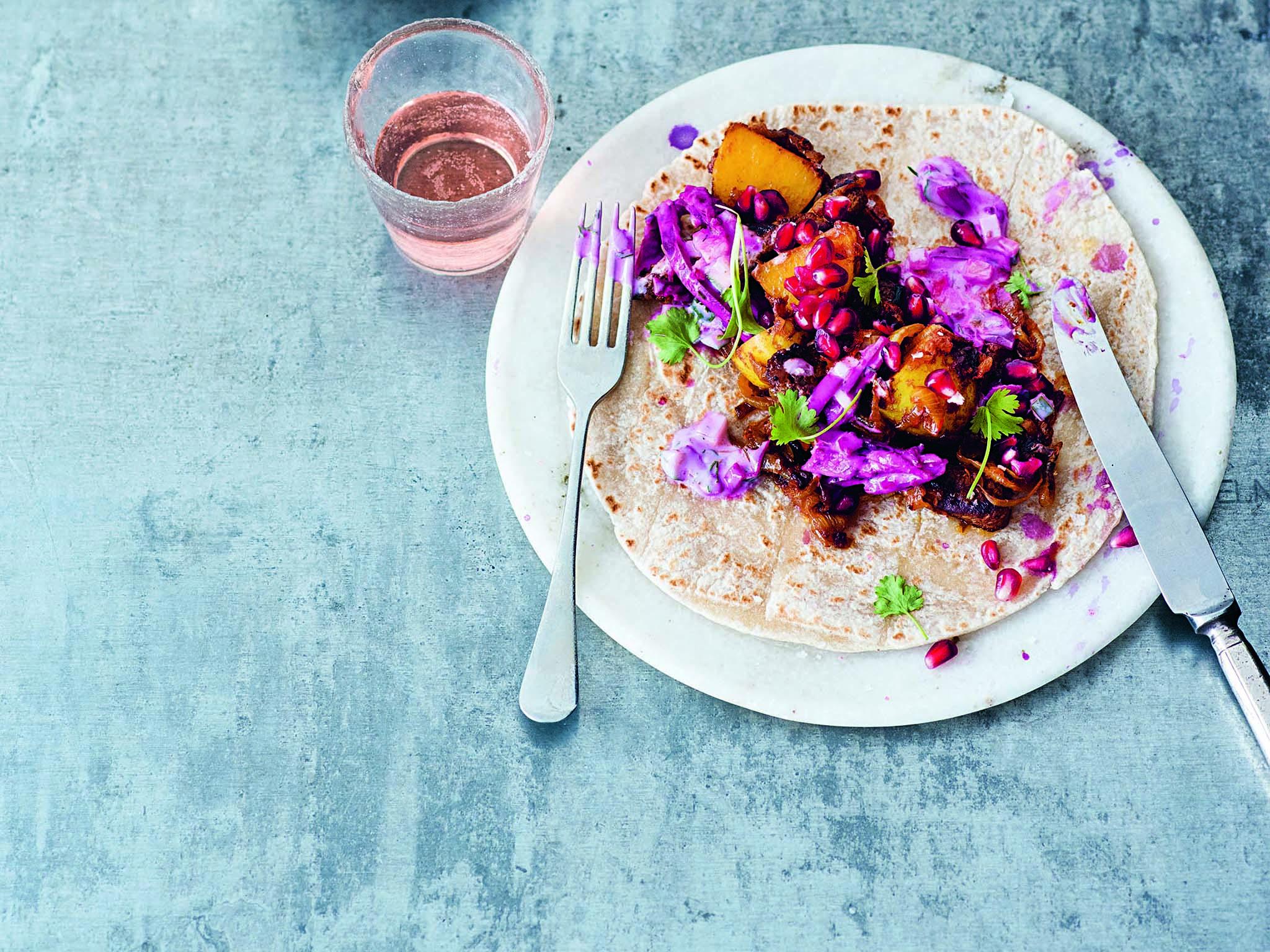 Goan chilli beef fry
Serves 4-6
1kg sirloin steak
2 tbsp coconut or cider vinegar
2 garlic cloves, finely grated
1cm fresh root ginger, finely grated
2 tsp salt
Flatbreads and raita, to serve
Coriander leaves and pomegranate seeds, to garnish (optional)
For the masala
4 tbsp oil
2 large onions (about 400g), thinly sliced
4 green chillies, finely chopped
1cm fresh root ginger, finely grated
4 garlic cloves, finely grated
200g baby new potatoes, quartered
2 tsp chilli powder
1 tsp ground turmeric
1 tsp ground cumin
1 tbsp tomato puree
1 tsp freshly ground black pepper
Salt
Many Hindus in India avoid eating the holy cow, and its slaughter is also banned in several states following the rise of Hindu nationalist politics. But it's enjoyed by a vast cross-section of people, including Goans, Keralans and bad Hindus like me.
This recipe for steak sauteed with onions and chillies is easy to put together, despite its deceptively long list of ingredients. Normally, the beef in this recipe would be cooked in a pressure cooker but here the use of sirloin speeds things up, as it is quickly fried. While the new potatoes are optional, they do add heft to the dish and don't need peeling. Make sure you have warm pitta bread or rotis handy, and a raita.
Trim any excess fat off the steak and then cut it into bite-sized strips. Put the steak strips into a bowl with the vinegar, garlic, ginger and salt. Mix well and leave to sit while you prepare the masala.
Pour the oil into a wok and place over a high heat. When it's hot add the onions and saute for 5 minutes until they start to colour. Then add the green chillies, ginger, garlic and potatoes. Cook for another 5 minutes until golden. Now add the marinated beef, along with the chilli powder, turmeric and cumin. Saute the lot for 2 minutes and then mix in the tomato puree and black pepper. Cook until a fork pierces a potato easily – this takes 15-20 minutes.
Add salt to your taste and serve hot, piled on flatbreads with raita (the beetroot raita on page 180 looks especially pretty) and garnished with coriander leaves and pomegranate seeds, if using.
Baghare baingan – peanut, sesame and coconut aubergines 
Roasted aubergines slathered in a peanut, sesame and coconut curry is one of my most popular party dishes, and it's no surprise why. This regal dish is most closely associated with the Hyderabadi Nizams, the Mughal administrators who declared their independence as the Empire crumbled. Without their rebellion we may have never experienced the tantalising Hyderabadi cuisine. 
Baghare means 'tempered', so the name of the recipe actually refers to the spice tempering. Despite the long list of ingredients, this is actually a very simple recipe using store cupboard basics: tinned coconut milk, peanut butter and tahini. Serve with flatbreads for scooping up the curry.
Serves 4-6
For the tempering
2 tbsp oil
½ tsp mustard seeds
½ tsp nigella seeds 
½ tsp fennel seeds
10-12 curry leaves
For the curry
700g baby aubergines
1 medium onion, chopped
1cm fresh root ginger, finely grated
3 garlic cloves, finely grated
4 green chillies, finely chopped
1 tsp ground coriander
½ tsp chilli powder
½ tsp ground turmeric
3 tbsp smooth peanut butter (with no added sugar or salt)
1 x 400ml tin coconut milk (at least 75 per cent coconut)
1 tbsp tahini
1 tsp tamarind paste
Salt
Small handful of peanuts, roughly crushed, to garnish
First soak the aubergines in a large bowl of cold salted water for at least 1 hour. Pre-heat the oven to 200C/fan 180C/Gas 6 and line a baking tray with baking parchment. Drain the aubergines and pat dry with kitchen paper. Make slits in them, keeping the tops intact, and roast on the tray for 20 minutes. 
Meanwhile, temper the spices. Pour the oil into a wok or heavy-based pan and place over a medium-high heat. When it's hot, toss in the seeds and the curry leaves. As they sizzle up, add the onion and cook for 5 minutes, stirring to coat in the spices. Then add the ginger, garlic and green chillies and cook for another 5 minutes. Now add the coriander, chilli powder and turmeric and stir well for a couple of minutes. If the spice mixture starts getting stuck to the bottom of the pan, add a few tablespoons of hot water and scrape it off. 
If your peanut butter is a little stiff, give it a mix with some of the coconut milk in a hand blender before adding it to the pan, along with the rest of the coconut milk and the tahini. Cook for 5 minutes at a high simmer, then stir in the tamarind paste and add salt to taste. 
Finally drop the roasted aubergines into the pan and spoon the curry over them. Serve with a smattering of roughly crushed peanuts.
Murgh makhanwala – butter chicken 
Serves 4
For the chicken tikkas 
6 skinless chicken thigh fillets (about 600g)
2 tbsp Greek-style yoghurt
2.5cm fresh root ginger, finely grated
6 garlic cloves, finely grated
1 tbsp ground coriander
1 tsp ground cumin
1 tsp Kashmiri chilli powder
Juice of ½ lemon
½ tsp salt
For the curry
500g passata
4 tbsp soured cream
½ tsp chilli powder
½ tsp garam masala
75g salted butter
½ tsp dried fenugreek leaves, soaked in 1 tsp hot water
½ tsp salt
Chopped toasted cashews, to garnish (optional)
This dish is the mother of chicken tikka  masala. You'll find murgh makhanwala at every north Indian roadside restaurant or dhaba, as I discovered to my benefit while working in Delhi as a trainee journalist. Skewered chicken tikkas (kebabs) are first grilled and then nestled into a tomato curry laden with butter and double cream, which probably explains the enduring appeal of this dish!
Create that sublime, creamy texture here with a dash of soured cream, a chunk of butter and a jar of passata. The curry takes virtually no time to put together, so you can prepare the tikkas in advance and stir them through later. Make the chicken tikkas first. You'll need four wooden or metal skewers; if using wooden skewers, soak them in water for 20 minutes before using to prevent them to burning to a crisp. Pre-heat the grill to high and line a baking sheet with foil.
Chop the thighs into cubes (4-6 pieces per thigh) and put into a bowl along with the rest of the tikka ingredients. Mix gently, then thread onto the skewers, leaving a small gap between each piece. Place the skewers evenly spaced on the foil-lined baking sheet and grill for 20-25 minutes until lightly charred on top, turning them over halfway through the cooking time.
To make the curry, put the passata and soured cream into a heavy-based pan and stir well. Place over a medium heat, adding the chilli powder and garam masala and finally the butter. As it starts bubbling, remove the chicken tikkas from the skewers and tip them into the pan, along with their juices and the soaked fenugreek and its water. If the curry starts hissing and spitting, just loosely cover it with a lid.
Cover and simmer for 10 minutes until you see the butter oozing through the curry and the colour deepens to a rich red. Sprinkle with toasted cashews, if you like.
Extract taken from 'Masala: Indian Cooking for Modern Living' by Mallika Basu (Bloomsbury, £26) is out now