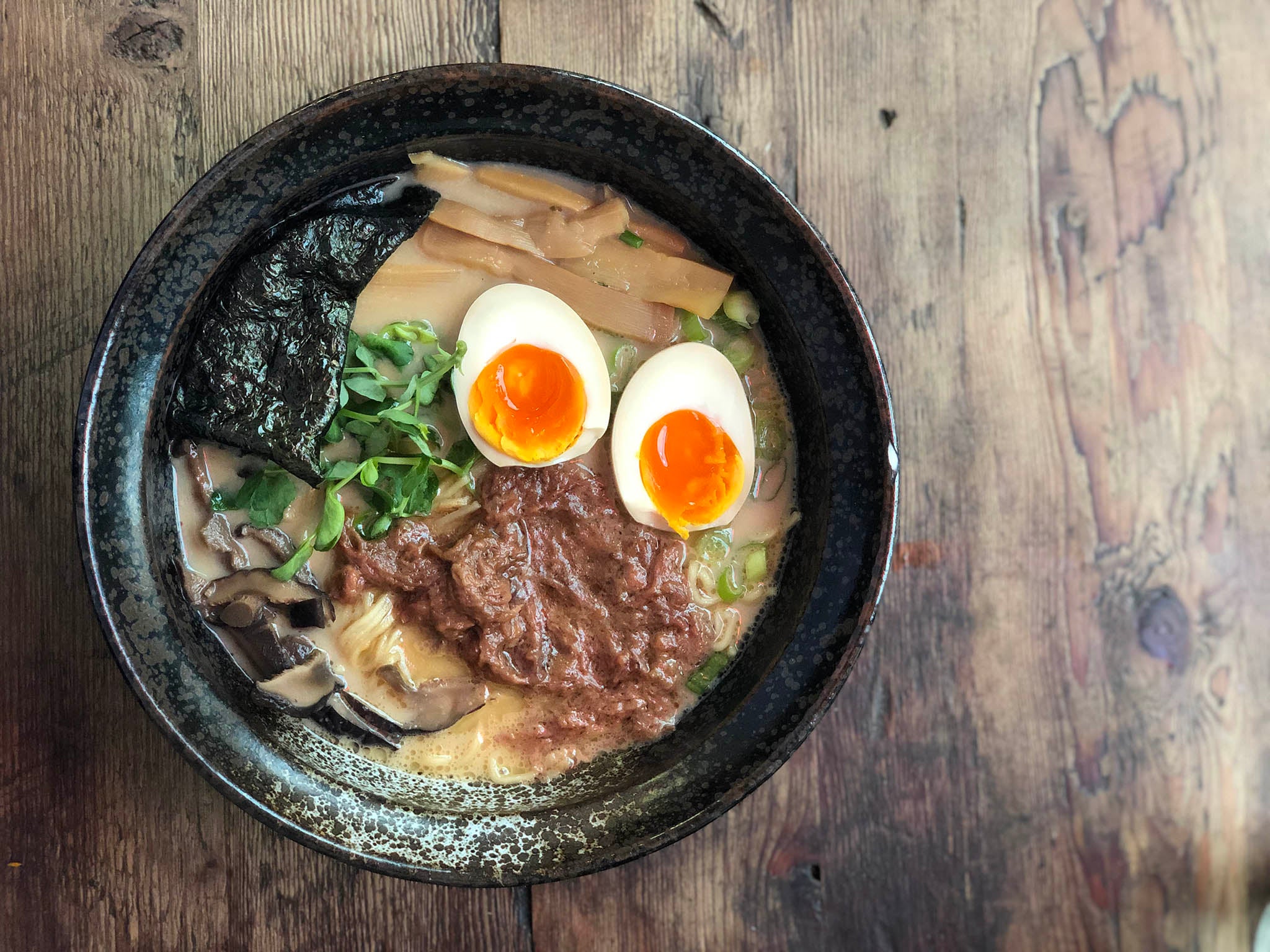 Getting stuck in the loo is one of those things that happens to other people in stories I tend to assume are made up. Yet here I am, an adult with a clean driving license and an almost-blemish-free tax history, in Kentish Town, in a ramen restaurant, stuck in the loo.
I slid the metal sliding bar across and now cannot unslide it. The mechanism is beneath the door. It will not reattach. I have tried to coax the bar across with my fingers but nothing is happening.
The door seems smashable but is that who I want to be, the man who explodes out of a toilet in Kentish Town in a cloud of splinters, like a Marvel character written by Alan Hollinghurst? No, it's not.
We'll tell you what's true. You can form your own view.
From
15p
€0.18
$0.18
USD 0.27
a day, more exclusives, analysis and extras.
I'm sure someone will come down in a moment. Quick maths: there are about 15 people in the restaurant, and I reckon all of them go to the loo once every two hours. Can't be long now.
Might as well get on with the review. I came here by mistake, after a long afternoon in the pub with my dad. I'm conscious the long afternoon means I may not be entirely blameless in the matter of getting locked in the loo.
I meant to go to Anima E Cuore, the fabulous little pasta shop just where Kentish Town starts turning into Camden, but it was closed, so I walked into the next-hearty-looking place, which was this.
It promised deep bowls of hot absorbent noodles and plates of dumplings, their skins golden and crispy from the frying pan. The menu only had seven snacks and six types of ramen on it. I didn't worry that the ramen seemed unfamiliar.  In my predicament it all sounded pretty mouthwatering: lamb tantanmen, chicken sopas, deep-fried king prawns in a tamarind broth, tempura shrimp and clams with padron peppers. To get away with such a short list, they must be good. Bubble tea was advertised, too: literally the last thing I wanted.
On the advice of the waiter I ordered the oxtail kare-kare ramen, which the menu announced was a "championship winner", with some chicken karaage to start and a lot of tap water.
It just goes to show that in 2019, being trapped in a toilet need not be an obstacle to expanding your knowledge of London's ethnic cuisines
The scotch-bonnet chicken wings were appealing but I didn't want to put too much petrol in the tank. The chicken was just what the doctor ordered: chunks of juicy protein scalding hot out of the fryer, encased in a dark golden crust, salt and sugar and bite, the kind of food designed to counteract cold lager. The noodles were more unusual.
Its base was a peanut and bone-marrow broth, so creamy it was almost sweet. The beef had been simmered down to the point of mushiness. It stirred evenly into the noodles, pushing around the shiitake mushrooms, pea shoots, nori seaweed and halves of soft-boiled egg that bobbed, their bright yellow bellies upright in the bowl.
The result was smooth and agreeable, although I have no idea where it sits compared to other ramens, because the circumstances were unusual, but at the time it was comforting, and I'm thinking of it fondly from my bleach-freshened gaol.
Perhaps I should always have four pints before eating noodles. At £12.50, it is not the cheapest bowl in town, especially given we are outside the West End, but it bears comparison with Bone Daddies and Tonkotsu, the usual ramen standbys.
Now, googling the place from my temporary prison in its basement, I can see that in fact this is a Filipino-Japanese ramen restaurant. That helps explain the unfamiliar ingredients. It's unfashionable to admit food ignorance these days. For some, not knowing your Sichuan from your Hunan can be tantamount to racism. I don't know anything about Filipino cuisine. I'm not sure I've ever eaten it before.
Kare-kare is apparently the classic stew, the kind of thing your grandma makes at home and you'd never order in a restaurant, so this ramen is a kind of audacious attempt to mix Filipino flavour and Japanese technique, and brings to mind the bacon and egg udon noodles at Koya in Soho. It just goes to show that in 2019, being trapped in a toilet need not be an obstacle to expanding your knowledge of London's ethnic cuisines.
Update: nobody came down but I managed to free myself at last. On the way out, slightly ruffled, I complained to the waiter about the broken door. "I've been down there for fifteen minutes," I said.
"Yes, it's broken, did you not see the sign on the door?"
I had not seen the sign on the door.
Would I go back? No
Should you go? In similar straits, why not
Could you take your parents? No