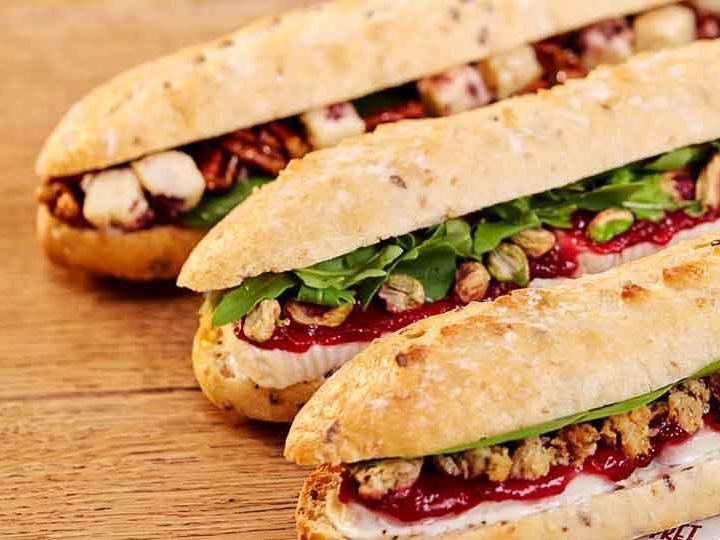 Pret a Manger is launching a new range of plant-based sandwiches.
'The Vegan Classics' will include vegan-friendly versions of four of the food chain's most popular items, although the exact sandwiches have yet to be revealed.
The vegan sandwiches, which have been carefully created to taste just like the originals, will be available in Veggie Pret in the coming weeks,
We'll tell you what's true. You can form your own view.
From
15p
€0.18
$0.18
USD 0.27
a day, more exclusives, analysis and extras.
The move is in response to growing consumer demand for more meat-free options on the high street.
"Veggie Pret is a space where we've had a great opportunity to experiment with vegan and veggie food," said Hannah Dolan, global head of food innovation at Pret.
"It's our mission to make it easier for customers to eat less meat, so we challenged ourselves to recreate the delicious flavours and textures of our meaty bestsellers, using only vegan ingredients.
"We're excited for everyone, (vegans and non-vegans alike), to try The Vegan Classics – and to see if they can tell the difference between the new vegan recipes and the originals."
While the team puts the finishing touches to the sarnies, Pret has asked its social media followers what they would like to see.
"Our chefs are busy developing vegan versions of our classic sandwiches, wraps and baguettes exclusively for Veggie Pret. Tell us below which recipes you'd like to see 'veganised'," the food chain wrote on Twitter and Instagram.
Hundreds of customers replied to Pret's post, calling for plant-based versions of everything from mac and cheese to croissants and cheese ploughmans.
"Veggie New Yorker would be a great vegan one for those of us lot cutting back on dairy," one person wrote.
Another added: "Mac and cheese, and falafel and halloumi would be amazing as then my dairy allergy daughter could eat something yummy too."
A third person commented: "Oh my god THE MINESTRONE. That was the best soup ever and could so easily have been vegan."
Veggie Pret started as a pop-up at the Pret on Broadwick Street, London, in 2016, following a dialogue with customers around how Pret should move forward with its vegetarian offering.
The pop-up proved so popular that Pret took the decision to make Veggie Pret permanent, and has since opened three more shops in locations in London and Manchester.
The fifth Veggie Pret will open in late October in Canary Wharf, London, following the company's acquisition of EAT.