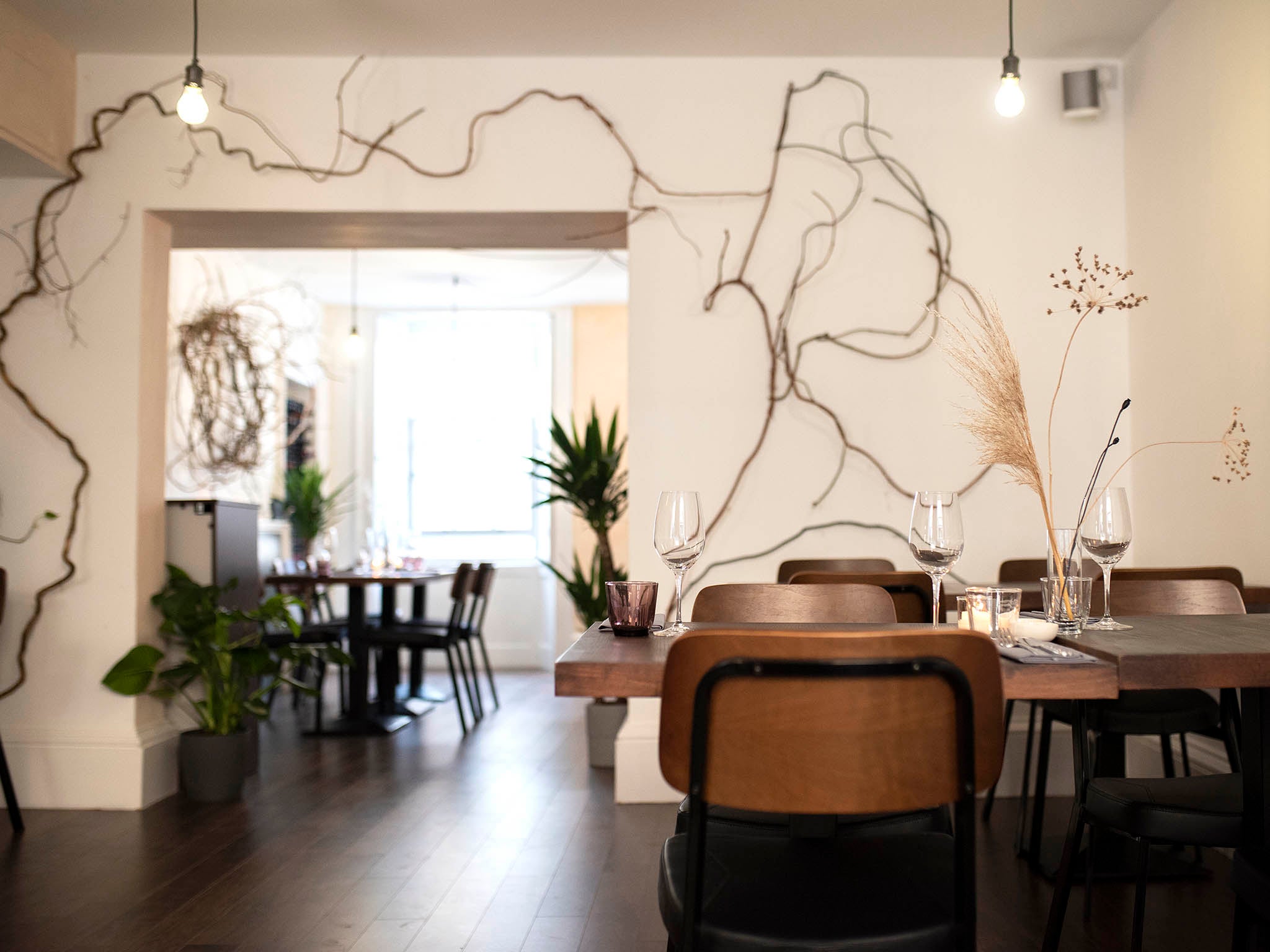 Having a great menu for most new restaurants isn't enough. You've got to look the part too. It needs to be all singing and all dancing and absolutely must be Instagram friendly, if you want customers to do your advertising for free as well.
But we've grown bored of velvet shell-shaped bar stools and chairs in millennial pink and emerald green, polished concrete floors, low pendant lighting and any sort of marble.
Now, (demanding) diners want something new to put on their grids. And Noto's interiors are just that. Muted, paired back, toned down. It's a refreshing change.
We'll tell you what's true. You can form your own view.
From
15p
€0.18
$0.18
USD 0.27
a day, more exclusives, analysis and extras.
Lightly coloured pale walls with contrasting dark wooden flooring, tables decorated with pots of grasses and dried poppy heads matched with beautifully arranged branches across the walls. It's simple, but oh it looks dreamy (especially on the gram).
The menu isn't so different to most of the new restaurants opening at the moment: small plates to share. But it's such a more enjoyable way to eat that chef Stuart Ralston isn't losing any points there.
This is his second restaurant in the city by Ralston, following Aizel, which is often regarded as one of the best places to eat in the city and offers a list of ingredients instead of a menu.
Noto opened during the final week of Edinburgh's Fringe festival, and we go just days afterwards. Not that you'd notice it had so recently opened. No hiccups and a full restaurant. Although during this time of year you'd be doing something wrong if you weren't busy.
Named after his late pal who took him under his wing in New York, Bob Noto, the menu is influenced by the New York food scene with generous pinch of Asian touches too. It's too subtle to call fusion – and that phrase is best left out of the equation too.
We pick a handful from the simple list of 16 dishes that range from sourdough and butter to larger plates and puddings. First off it's Berkswell cheese croquettes: little fried balls of gooeyness topped with fine, fluffy shavings of the same cheese that's quite Parmesan like that look an awful lot like Adam Handling's signature dish, cheese doughnuts. A good croquet should leave you wanting to eat a whole plate of them, as these absolutely do.
The take on a caeaser salad with the added bonus of tortilla-like shaped pieces of crisp chicken skin adds another layer of saltiness, which is already heavily salted from the anchovies and is probably best for the real anchovy lovers, but the cured trout (another signature dish of 2019's restaurants) is another level. Small tangerine segment sizes of the fish are topped with tiny pieces of green apple, mustard seeds, micro herbs and a wee drizzle of ponzu for a little hint of citrus. It's delectable with well paired ingredients and the mustard seeds adds another layer of taste sophistication.
It's followed by the fried potatoes with bacon; a couple of rather cakey dauphinoise-like thin slabs that are basically savoury versions of a Mr Kipling's slice with bacon sprinkles, and are no doubt tasty if a little heavy. The beef tartare is one of the larger dishes and much lighter than the previous. It's injected with a little more of the Japanese influence in the form of yuzu kosho, a paste made from chillis, that gives a nice heat to a classic French dish.
But the best of all comes in the form of a bao bun. But no, not the traditional doughy white steamed buns that we know, this is more of a burger bun. A pale, crispy little bun topped with seeds which encases the crispiest buttermilk chicken. I'm annoyed we only ordered one to share, but considering I can't eat anymore, it's probably a wise decision.
Its central location means its sure to be busy with passing footfall, but thankfully it doesn't fall into the category of hiding something disappointing behind its over the top interiors.
Food ★★★★☆
Service ★★★★☆
​Value ★★★★☆
Noto, 47a Thistle Street, Edinburgh EH2 1DY; 01312 418515; notoedinburgh