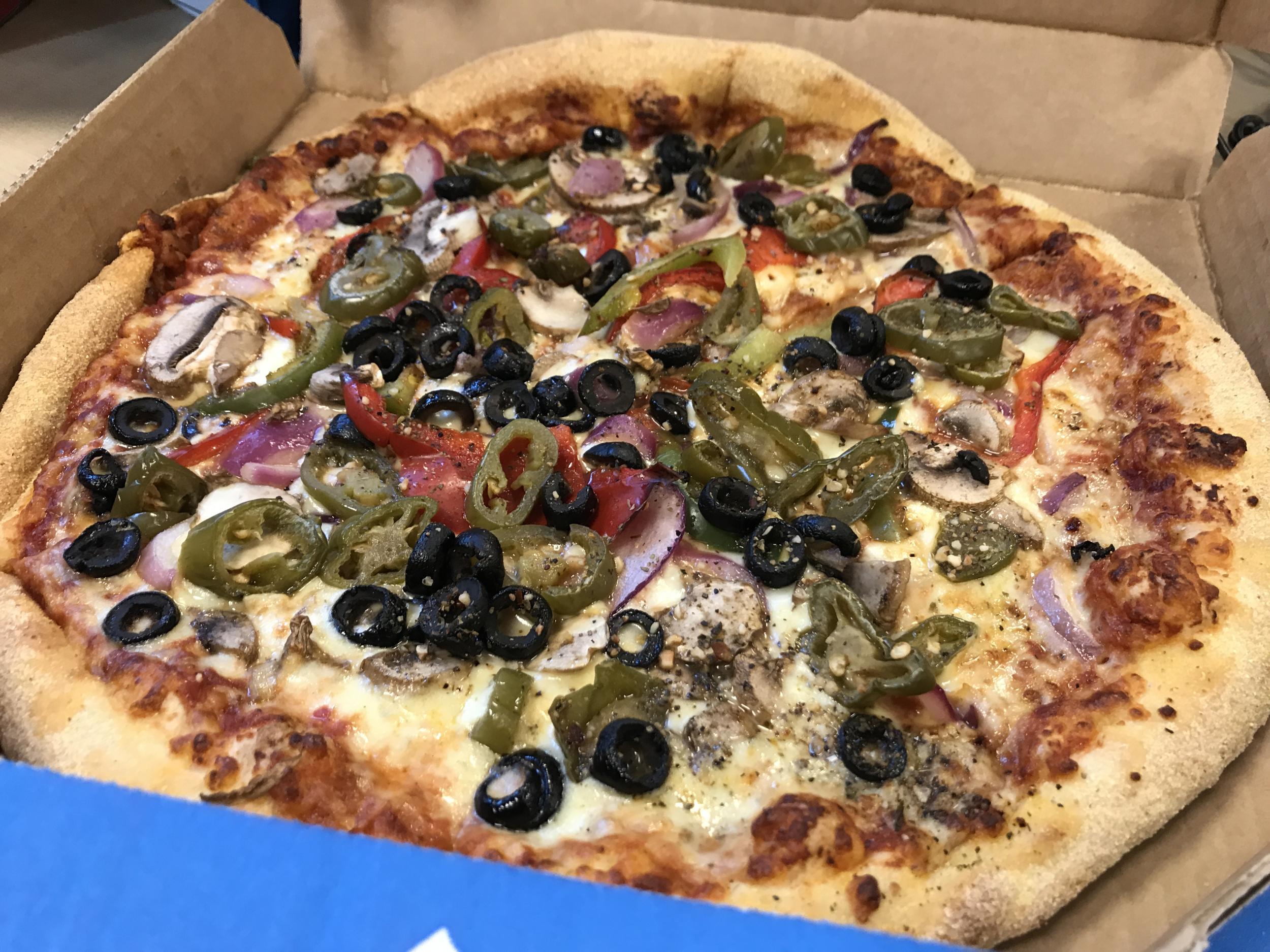 Domino's has announced that it is stockpiling ingredients in case a no-deal Brexit happens later this year.
In a report published on Tuesday, the company said that the probability of shortages of certain ingredients had increased since its last update in March.
As a result, the fast food chain has spent £7m on its inventory of toppings including the tomato sauce for its bases, frozen chicken and all long-life ambient products, such as tuna and pineapple.
We'll tell you what's true. You can form your own view.
From
15p
€0.18
$0.18
USD 0.27
a day, more exclusives, analysis and extras.
"A potential 'no deal' Brexit carries the increased risk of disruption to raw material supplies into the UK and foreign exchange volatility which could increase food costs," Dominos said.
"As the probability of this risk has increased, the Group has implemented a series of measures to minimise the impact of supply chain disruption."
Boris Johnson's government has committed to leaving the EU on 31 October with or without a deal.
The government estimates that half of lorries entering the country will be unable to cross the border smoothly and that the flow of trucks could drop by a third within a day of a no-deal Brexit, causing food prices to rise by more than 10 per cent.
Speaking on BBC Radio 4's Today programme, Tim Lang, professor of food policy at City University, warned that unless the government communicated its expectations regarding food supply in the case of a nno-deal, the public could panic and begin to stockpile goods at home.
"At the moment there is no planning for the public to be informed and yet people on low incomes will be affected," Lang said.
"The critical issue is that fresh food supplies will be disrupted. How on earth can the public prepare to have fresh fruit and vegetables when the supplies get disrupted?"
Mark Price, former managing director of Waitrose and former trade minister in Theresa May's government, agreed, adding that panic buying could pose an even bigger threat to food supply than complications surrounding imports.
"I know supermarkets will have done a lot of work in preparing to keep fresh food on their shelves but the thing you can't account for is how the public react," Price said.
Earlier this year, the chair of the Food and Drink Federation said he is "absolutely terrified" about the possibility of a no-deal Brexit and warned of "massive disruption" to the industry if the government applies tariffs to food imports from the EU.
Speaking on BBC1's Breakfast, Ian Wright said: "The real problem here is that the disruption that we would have from no deal would very quickly lead to empty shelves, it would lead to more expensive products, and it would lead to a real diminution of choice – particularly for people in poorer areas and at the end of distribution chains."
He added: "I'm absolutely terrified of the prospects for our economy and our food and drink industry by the prospect of tariffs.
"It will cause enormous amounts of disruption and enormous amounts of difficulty."
Despite concerns, a number of experts have condemned the calls for stockpiling as alarmist overreaction.
When asked if people should be keeping food aside in preparation, the British Retail Consortium (BRC) previously told The Independent: "The short answer is no."
For non-perishables like tins of food, Andrew Opie, the consortium's director of food and sustainability, explained: "There is no need for consumers to buy more than normal, because stores have been increasing their supplies a little, just to make sure they are ready for the initial period after March 29."
As for perishable goods like fresh fruit and vegetables, Opie adds: "It's not practical or particularly safe for anyone to store them.
"If there was any obvious way in which governments or businesses could solve the fresh produce problem in a no-deal Brexit, we would do.  The reality is, the solution is to avoid a no-deal Brexit."