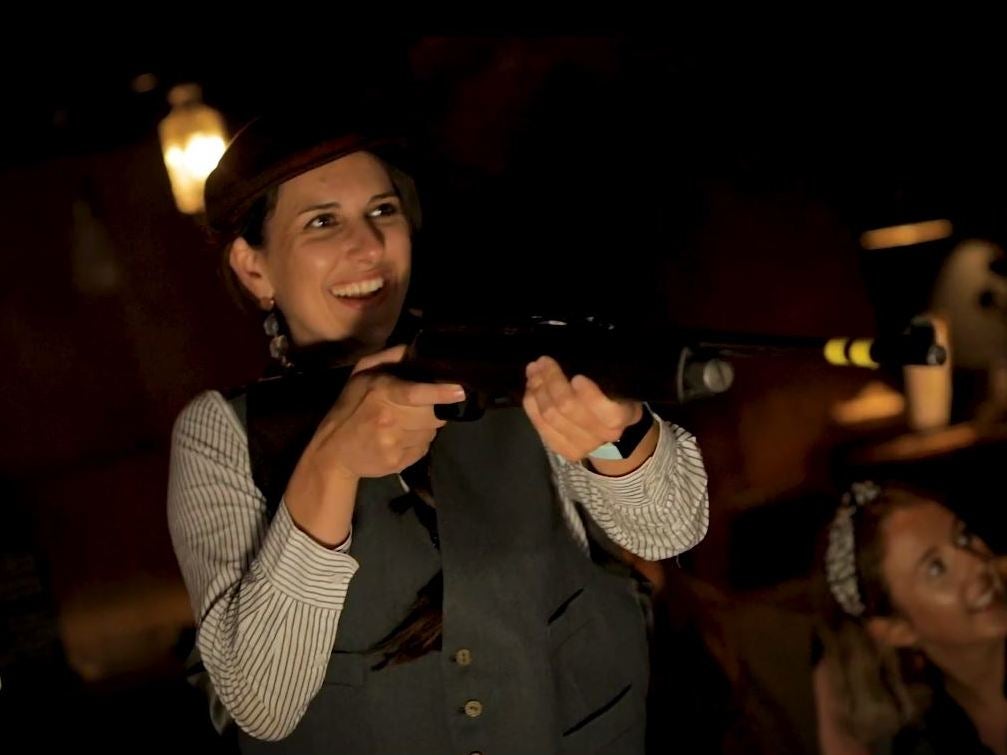 A bar in London that allows guests to virtually "hunt" wild animals has been condemned by an animal rights group as "near psychopathic".
Smoky Barrels, which is located in Devonshire Square and is owned by Scottish restaurant group Mac and Wild, is described as "the world's first virtual hunting and bar concept".
The establishment invites people to form teams and wear hunting attire as they shoot animals, including deer, boar, bears and birds, on a giant screen against a backdrop of the Scottish Highlands.
Download the new Indpendent Premium app
Sharing the full story, not just the headlines
While the hunting that takes place is virtual, the notion of finding enjoyment in playing a game that involves killing animals has been lambasted by animal rights organisation People for the Ethical Treatment of Animals (Peta).
"Peta opposes hunting video games because they glorify violence against the defenceless, encourage callousness, and desensitise young people to the suffering of others," a spokesperson told the Metro.
"With boundless opportunities for amusement, it's near psychopathic to get a thrill from gunning down other living beings, even in a virtual world."
A spokesperson for Smoky Barrels said that the company "does not condone violence against animals", describing the bar's activities as "lighthearted social entertainment".
"As such, we do not support the farming or consumption of unsustainable agriculture – both livestock and arable forms," they added.
"We believe in returning to a system where meat (and vegetation) is sourced from as close to natural ecosystems as possible."
In the UK, there are laws that regulate what wildlife people are allowed to hunt or shoot, when they can partake in hunting and what equipment they are allowed to use, the government outlines.
If people hunt illegally or cause unnecessary suffering to an animal, they can be fined or jailed.
The 2004 Hunting Act banned the chasing of wild mammals with dogs in England and Wales, which placed stricter restrictions on fox hunting, deer hunting, hare hunting, hare coursing and mink hunting, the League Against Cruel Sports explained.
In 2015, a report published by the American Psychological Association claimed that violent video games may be linked to aggressive behaviour.
However, a study published in February by the Oxford Internet Institute found that there is no evidence playing violent video games leads to aggressive behaviour exhibited by teenagers.
"The idea that violent video games drive real-world aggression is a popular one, but it hasn't tested very well over time," said lead researcher Professor Andrew Przybylski, director of research at the Oxford Internet Institute.