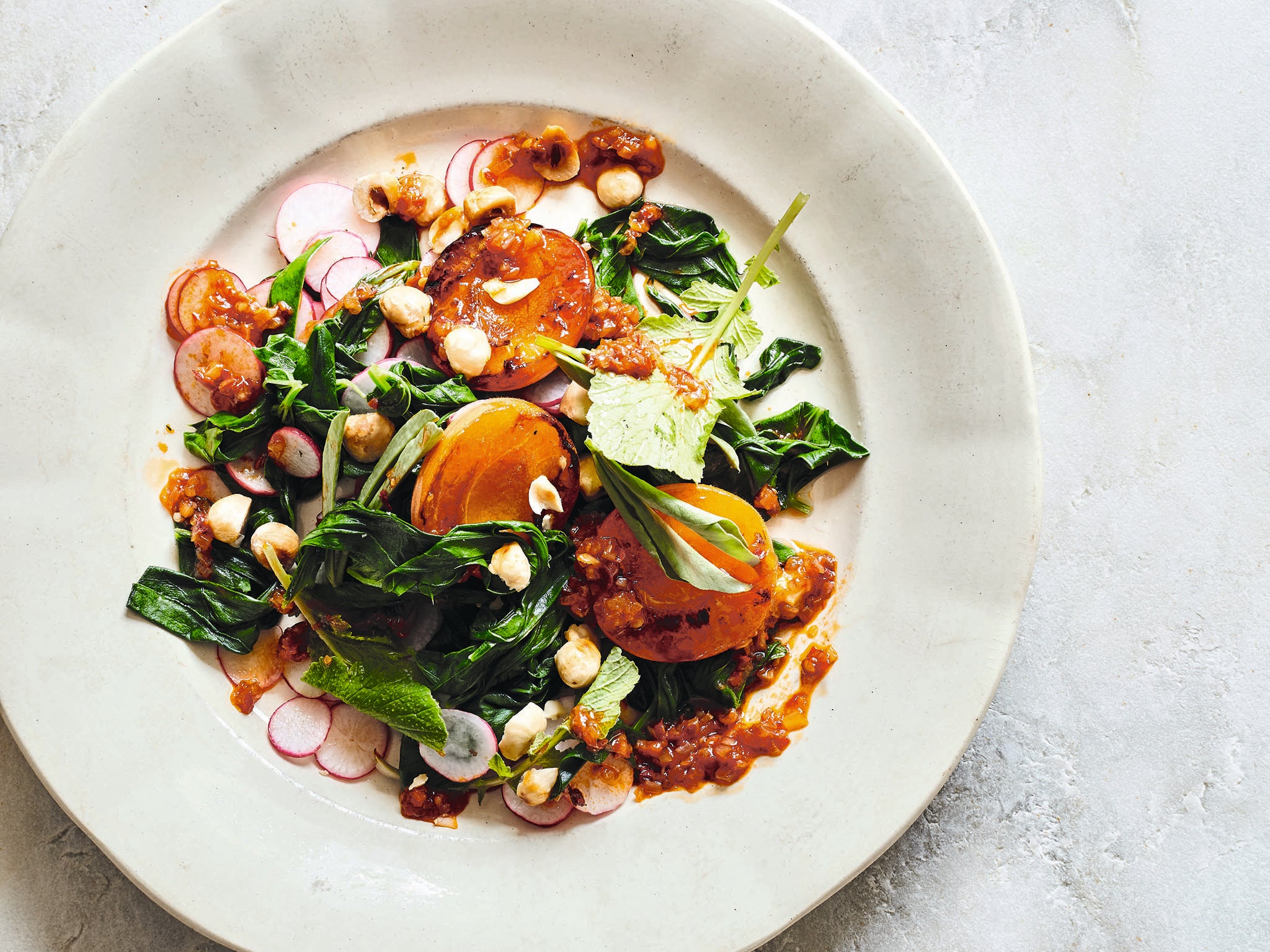 Warm bean tops salad
Broad (fava) bean tops and leaves are not normally available in shops – I don't think I've ever seen them for sale. However, most vegetable growers pick them out in early spring to guard against a black fly invasion, so if you have a friendly gardener or allotmenteer, get in quick. Pick the tops off and any tender leaves. The flavour is similar to broad beans but slightly greener. If you want to substitute it, you can use any salad leaves, but make sure you include something tart or peppery – rocket (arugula) or mitsuba (Japanese parsley), for example. I also like very young vine leaves, blanched for a couple of minutes and shredded.
Serves 4
We'll tell you what's true. You can form your own view.
From
15p
€0.18
$0.18
USD 0.27
a day, more exclusives, analysis and extras.
6 apricots or loquats, halved
Honey, for brushing
400g (14oz) broad (fava) bean tops and leaves
1 bunch of radishes, with their leaves, sliced into rounds
30g (1oz) hazelnuts, lightly toasted
For the dressing
2 tbsp olive oil
1 shallot, very finely diced
30g (1oz) 'nduja​
1 tbsp sherry vinegar
1 tsp honey
Sea salt and freshly ground black pepper
First, make the dressing. Heat the olive oil in a small pan and add the shallot. Cook over a medium heat until very soft and translucent, around 5 minutes – it should almost dissolve into the oil. Remove from the heat and stir in the 'nduja until it has melted into the oil. Whisk in the sherry vinegar and honey, and season with salt and pepper. Thin out with a very little water if necessary.
Heat a griddle until it is too hot to hold your hand over. Brush the apricots or loquats with honey and grill quickly – you don't want to cook them through, just get char lines on the cut edges.
Wash the broad bean tops thoroughly and remove any really small, delicate leaves to garnish. Put the remaining leaves into a large colander. Boil a kettle and pour the contents over the leaves – they will wilt down but still keep their shape. Drain thoroughly.
Arrange the cooked and reserved raw leaves on a plate with any nice radish leaves, the radishes, apricots or loquats and the hazelnuts. Drizzle over the salad dressing and serve immediately.
Bubble and squeak waffles
A very good cook I know called Jeni Hewlett told me about how she made savoury waffles using any typical bubble and squeak ingredients, so I tried them and was hooked. They offer a more robust density than a regular waffle but are still lighter than bubble and squeak, so no stodge. And while they are more time-consuming to cook, the process is easier as you aren't fiddling around with shallow frying. You can use any kind of greens for this, and you don't have to limit it to fresh greens either – substitute a small amount of it for any kind of sauerkraut or kimchi and you will give extra complexity to the flavour.
Makes around 16
50g (3½ tbsp) butter, melted
60ml (¼ cup) buttermilk
2 large eggs, separated
1 tbsp wholegrain mustard
500g (1lb 1½oz) mashed potato
500g (1lb 1½oz) cooked greens – anything robust (I like sprout tops, shredded sprouts, chard, kale)
100g (3½oz) Cheddar cheese, grated (optional)
85g (²⁄³ cup) plain (all-purpose) flour
½ tsp baking powder
¼ tsp bicarbonate of soda (baking soda)
Sea salt and freshly ground black pepper
Heat your waffle maker to medium. Mix together the butter, buttermilk, egg yolks and wholegrain mustard, then stir in the mashed potatoes, greens and cheese, if using. Whisk the flour, baking powder and bicarbonate of soda with a generous amount of salt and pepper.
Fold this through the batter, making sure you keep the mixing to a minimum. Whisk the egg whites to stiff peaks, then fold a tablespoon into the batter, just to loosen it slightly. Add the rest, again, folding in as gently as possible and keeping the mixing to the absolute minimum.
Spread some of the mixture over your waffle iron, making sure you don't overfill it – it should just barely cover the tips of the indentations. Cook until set and turning a rich brown on the ridges – often up to around 10 minutes, depending on your waffle iron. Keep the cooked waffles warm in a low oven while you make the rest.
Serve with anything you like – I spread them with butter and/or top with bacon and maple syrup.
Variation: You can of course just make bubble and squeak. Just mix the potato and greens together along with any additions you like, including the cheese. To cook, I often leave in one large round and cook it in a cast-iron pan, flipping over onto a plate and sliding back into the pan when I am absolutely sure I have left it long enough to form a decent crust. I will usually fry in a little lard or olive oil.
Braised chicken with coriander, chilli and orange
The alchemic combination of coriander (cilantro), chilli, garlic and orange is one I can't seem to leave alone. It is central to one of my favourite lamb dishes, but here I use it with chicken. The flavours are taken from a Peruvian recipe, so I serve it with quinoa, but it would be just as good with rice or potatoes.
If possible, start the day before. Mix the thyme with the sea salt and sprinkle over the chicken thighs. Leave uncovered or loosely wrapped in paper towel in the fridge, then remove 30 minutes before you want to start cooking.
If you don't have time for this, simply sprinkle with the salt and thyme before cooking.
Serves 4
1 tsp dried thyme
1 tsp sea salt
8 chicken thighs, skin-on, bone-in
1 tbsp olive oil
2 onions, thickly sliced
For the paste
1 large bunch of coriander (cilantro)
1 garlic bulb, cloves separated and peeled
150ml (²⁄³ cup) orange juice
100ml (scant ½ cup) lime juice
2 to 3 green chillies (I use jalapeno)
Sea salt and freshly ground black pepper
To serve
Coriander leaves
Sliced green chillies
Heat the olive oil in a large frying pan. Add the chicken thighs, skin-side down, and fry over a medium-high heat until they are a rich golden brown, around 15 minutes.
This will take longer than you expect it to, and you shouldn't stint at this stage – you want crisp, thin, skin, nothing thick or flabby. Turn the chicken thighs over and spoon off some of the rendered fat if there seems a lot of it – you can store this fat and use it for frying some other time.
Add the onions to the pan and continue to cook until the onions have softened and the chicken is just about cooked through, around 20 minutes.
Meanwhile, make the paste. Take two-thirds of the coriander and put it in a blender with the garlic, juice and chillies. Remove the leaves from the remaining coriander and add the stems to the blender, reserving the leaves for garnish.
Add salt and pepper, then blitz until fairly smooth – a very fine green flecking is fine.
When the chicken is just about cooked, pour two-thirds of the paste around the chicken. Bring it to the boil and let it reduce by half – it should thicken and it will turn a murkier colour, but this cannot be helped – it will be worth it for the flavour.
When you are ready to serve, stir in the remaining paste to enliven the colour, then top with the coriander leaves and sliced chillies.
LEAF: Lettuce, Greens, Herbs, Weeds by Catherine Phipps (Quadrille, £25). Photography: Mowie Kay