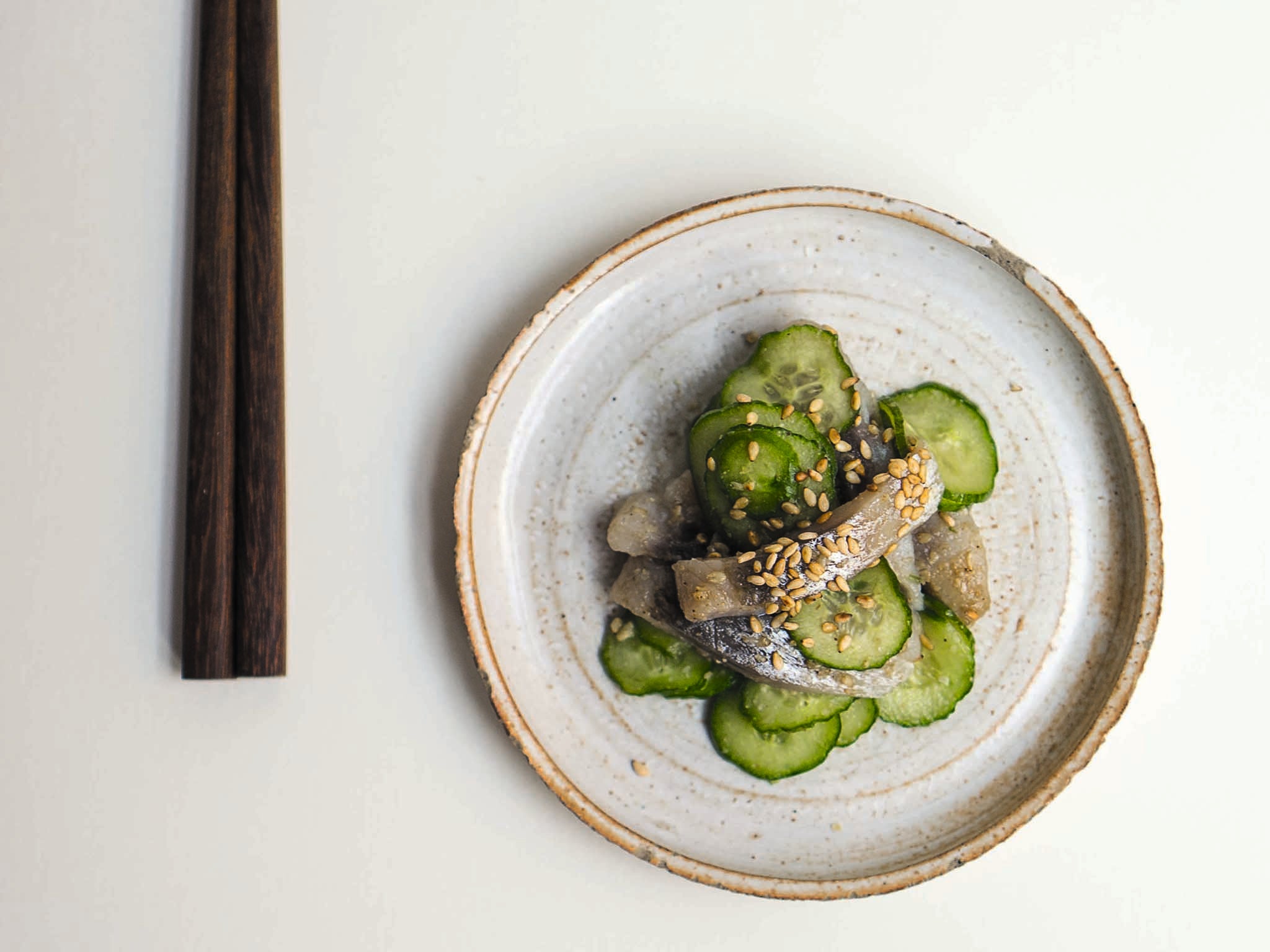 Pickled herring and cucumber sesame salad
Pickled herring is not really what you'd find at the Japanese table, I admit. However, it's one of those Swedish flavours, similar to some of the dishes I've come across in Japan – in particular, the marinated mackerel shime saba. I found that herring goes so well with other parts of the classic Japanese cuisine, too. This small salad tastes just as good served with rice as it does with new potatoes.
Serves 4
We'll tell you what's true. You can form your own view.
From
15p
€0.18
$0.18
USD 0.27
a day, more exclusives, analysis and extras.
½ cucumber
100g (3½ oz) pickled herring, preferably unflavoured or onion-flavoured, or you can substitute with shime saba​
1 tablespoon irigoma, or toasted sesame seeds
Wash the cucumber and slice into 1mm (1/32in) slices using a mandoline.
Cut the herring into 1 cm (½ in) pieces. Reserve a little of the irigoma for garnish, then roughly grind the rest using a pestle and mortar.
Mix all the ingredients in a bowl and divide into portions to serve, sprinkling with the reserved irigoma.
If you have time then let the salad rest for 10 to 20 minutes to allow the cucumber to start releasing liquid, making the whole thing deliciously juicy.
Tofu and sesame salad
This dish was a regular on the table at my former Japanese host family's house. Maybe Yukiyo, my host mother, kept making it because she realised how much I liked it – I love tofu, sesame and most things that are a little sweet. It's a simple little dish that isn't too demanding either in preparation or in flavour.
Serves 4
200 g (7oz) baby spinach, rinsed
3 teaspoons irigoma, or toasted sesame seeds
200 g (7oz) silken tofu
2 tablespoons mirin​
1½ teaspoons soy sauce or 2 teaspoons light soy sauce
⅓ teaspoon sugar
Bring a large saucepan of water to the boil. Blanch the spinach in the boiling water for 40 to 60 seconds, then immediately lift out and rinse under cold running water. When completely cool, use your hands to squeeze out any excess water, then set aside.
Reserve a few of the irigoma, then use a pestle and mortar to lightly grind the rest.
Put all the ingredients except the spinach and reserved irigoma into a bowl and mix together until smooth. Separate the spinach from each other and fold into the tofu mixture. Sprinkle with the last of the irigoma.
This is best served at room temperature. It keeps for a day or two in the refrigerator.
This dish should not be very salty, so rather underdo than overdo the soy sauce, and serve it with another slightly salty dish to make a nice contrast.
Tamagoyaki
Fluffy, soft and with a touch of saltiness, this omelette is just as perfect for breakfast as it is for lunch or dinner. In the same way scrambled eggs need a certain degree of care, so does this. It can seem tricky at first, but there's no need to set the bar too high; a few times in the pan and you'll get the hang of it. Trust me, it's worth two or three failures. The original shape of the tamagoyaki requires a special, rectangular frying pan (page 17), which is not a common thing to have at home unless you are Japanese. A small frying pan (skillet) should work, even if it makes the rolling part a little bit trickier. It will also mean you won't be able to get the traditional shape, but the flavour will still be splendid.
Serves 4
3 eggs
1½ tablespoons water
½ teaspoon dashi powder
¾ teaspoon soy sauce, light if available, plus extra for serving
Handful of flat-leaf parsley (optional), chopped
1 spring onion (scallion), sliced (optional), plus 1, sliced, to garnish
Vegetable oil, for frying
Crack the eggs into a bowl, add the water, dashi powder and soy sauce and whisk together. Add the parsley and spring onion (scallion), if using. Heat a small frying pan (skillet) – or a rectangular pan, if you have one – to medium/high heat and add a splash of oil (don't be too shy with this).
Pour a quarter of the egg mixture into the pan and roll the pan around so that it's evenly spread out. Leave to cook until the egg sheet has almost coagulated.
Now start the rolling process. Using a broad, thin spatula, fold over a small part of the egg and then roll the 'sheet' into a small roll.
Push to the opposite end of the pan, add more oil if the pan is dry, then add another quarter of the egg mixture. Lift the roll so that the new egg mixture flows under and glues together the old and new egg. When nearly coagulated, start rolling again, so that the new egg rolls around the old. When that is all rolled up, push it to the other side of the pan and start the procedure again.
Keep going until all the egg mixture is finished. Remove the roll from the frying pan and let it rest for a few minutes before cutting. Serve with a dash of soy sauce and a few slices of spring onion.
The Japanese Table by Sofia Hellsten (Hardie Grant, £18)