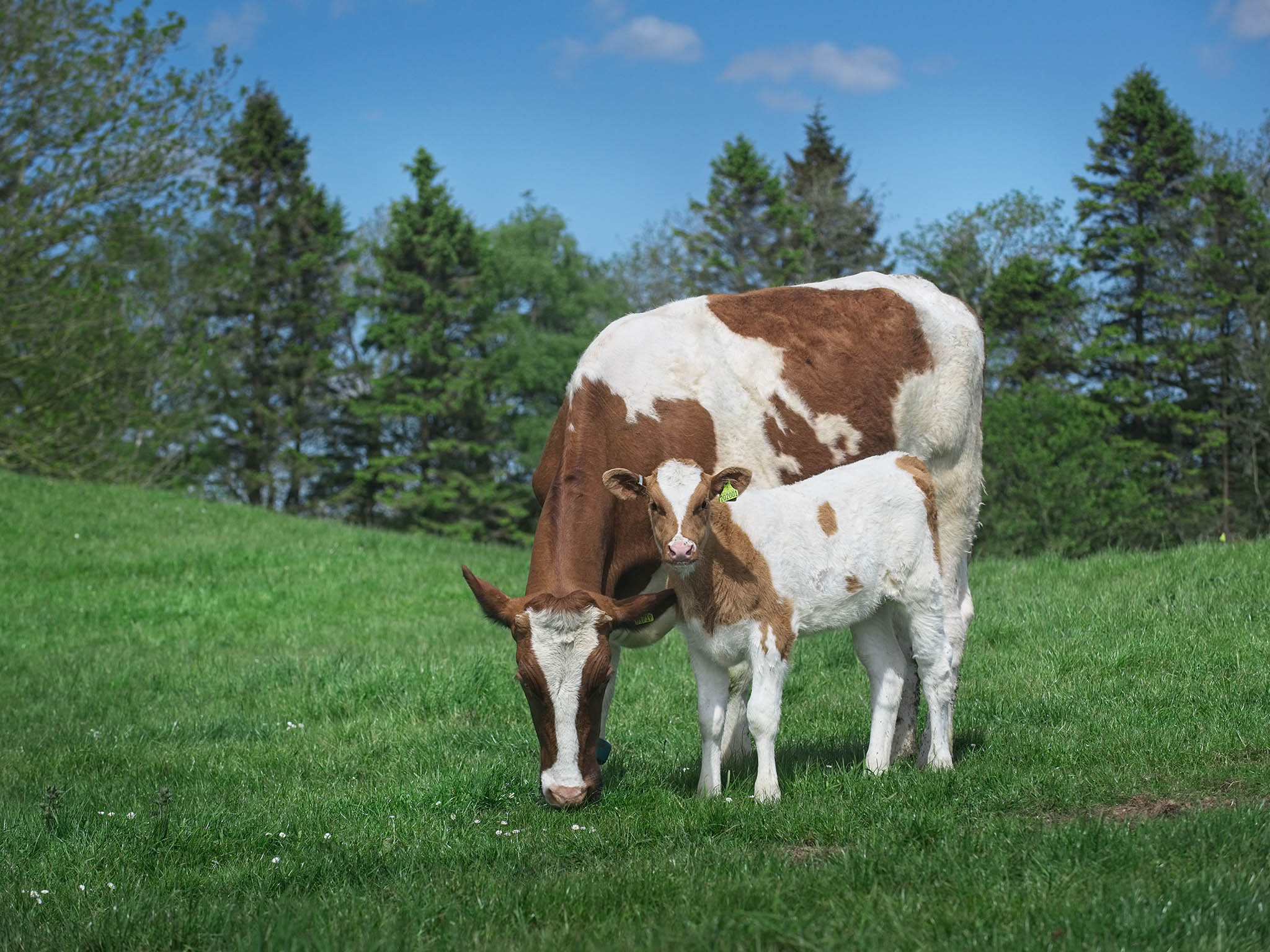 Veal is making something of a comeback in conscious foodie circles.
While ethical veal has been on the menus of acclaimed restaurants such as Edinburgh's Cafe St Honoré for well over a decade, it has only recently found its place among meat offered by food delivery companies that pride themselves on ethics, such as Abel & Cole and Farmdrop.
It caused an immediate stir when food writer Gizzi Erskine posted a picture of her pasta veal dish on Instagram earlier this week.
We'll tell you what's true. You can form your own view.
From
15p
€0.18
$0.18
USD 0.27
a day, more exclusives, analysis and extras.
But this meat is nothing like white veal from the 1980s, cruelly reared in crates and fed a low-iron milk-based diet designed to keep their flesh fashionably pale in colour.
In fact, it's not white at all – it's "rose".
Or, at its best, "ruby", according to Peelham Farm who coined the name to distinguish its organic and Pasture for Life veal from that produced as a by-product of more intensive dairy systems.
"There's more intermuscular fat because the calves are raised on mother's milk and grazing on grass, which means there's more flavour," says owner Denise Walton.
"The veal has a subtle hint of beef and a delicate grassy taste that has a seasonality to it."
Ruby veal
I'm considering whether I want to write this potentially contentious piece, as I watch the picture-perfect blue skies and green landscapes rolling by on a train back from the inaugural Ethical Farming Conference in Scotland.
Two of the co-hosts, The Ethical Dairy and Peelham Farm, served the ruby veal they produce between them to the 200 farmers, researchers, academics and students in attendance – so it's at the forefront of my mind. As a dairy consumer, I have has to consider fate of the male dairy calf.
"We have to join the dots – part of the dairy industry is veal," says Wilma Finlay from The Ethical Dairy.
The Finlays have developed Europe's largest calf-with-cow dairy in which cows and calves are kept together for five months, rather than being separated at around a day old, as is typically the case in dairy systems.
Walking across the lush green meadows of The Ethical Dairy farm on a beautifully bright day we watch as calves suckle from their mothers teats. It conjures such a natural image, but in reality, it's a highly unusual sight for a dairy farm.
Here, the female calves go on to become dairy cows and the bulls are sold to Peelham to become veal. This provides the Finlays with an additional revenue stream, as such, it is an integral part of their dairy system.
Peelham has been selling veal since 2004, when beef prices were at rock bottom because market demand had fallen due to BSE and foot and mouth crises. Selling calves as veal at 8-10 months old rather than beef at 24 months old, made economic sense.
"There's definitely growing interest there," Walton says. "We're seeing increased demand at farmers markets. People now wait to ask questions about our veal, rather than walk away in disgust as soon as they see the label."
Veal is now also the most viewed product on their website.
Euthanasia and export
Walton continues: "In the 1980s there was a very effective campaign that led to the banning of veal from calves reared in crates and that was absolutely right
"But the idea of all veal being cruel has embedded itself in the British psyche and there's a contradiction in that. That leads to the issue of euthanising bull calves or sending them on long journeys to Europe."
This challenge especially arises in more intensive dairy systems where cows have been selectively bred so that female calves go on to produce high quantities of milk but some bull calves do not fatten quickly enough to be of value to a farmer trying to grow and sell them for beef.
As veal is still not really eaten in this country, this broadly leaves the farmer two options: shoot the bulls at birth or sell them at auction to be taken as far as Spain, where there is more demand for veal.
Compassion In World Farming (CIWF) says that evidence shows young calves are particularly vulnerable to the stresses of handling and transport. They are unable to regulate their body temperature to cope with the extremes of heat and cold during the long journeys.
They often suffer bruising and weight loss as a result of the discomfort of transportation and lack of space and comfortable bedding. The longer the distance, the greater the stress; many calves become ill or die after they arrive at the rearing farms.
CIWF reports that,following major efforts by industry, the numbers of dairy bull calves killed at birth has substantially reduced. Nevertheless, government figures show that tens of thousands of bull calves born in dairy systems are still shot every year.
"Ethically, we must treat animals like calves as sentient beings. It is disrespectful to bring life onto this planet and then just discard it," says CIWF research and education manager, Phil Brooke.
"However, there are worse things than dying at birth, such as being exported or kept intensively."
According to BBC's Disclosure: The Dark Side of Dairy, a documentary available on BBC iPlayer for the next three months, around 5,000 calves were shipped from Scotland to Europe in 2017, in arduous journeys that can last for days.
The true cost
"If we regard milk as a quality food, and likewise veal, then we could more easily create a sustainable and more humane food system based on eating less but better animal products," says Brooke. "The problem arises when we treat these foods as commodities."
Reportedly, the movement within the dairy community to ban the slaughter of bull calves at birth is gaining momentum.
However, some farmers are concerned this will mean veal supply will outstrip demand, potentially lowering its market price. It could also put more pressure on beef prices, which are already in decline, which in part is because of an increase in supply.
When farmers are squeezed, it can force them into levels of efficiency they are not always comfortable with. The best way to ensure good animal welfare is to know the farm you are buying veal from. The Soil Association and RSPCA Assured certification schemes are also two of the best in the UK and require that male dairy calves are not exported to continental veal farms.
"We have to be careful," says Abigail Allan, a buyer for Abel & Cole. "We have to make sure we're only buying veal that supports higher welfare dairy systems, such as organic."
Peelham Farm's ruby veal has been available on Abel & Cole's website since January this year. It's more expensive than beef – £17.50 for two veal sirloin steaks weighing 350g, compared to £15.40 for two beef sirloin steaks at 440g – but this reflects the production costs because it takes the same time to butcher a calf as it does a cow, but it produces less meat.
Rather than pushing farmers down on price, Allan understands it needs to work commercially for them as well as customers. So far, feedback suggests customers are drawn to the ethical story and are willing to pay for quality produce.
From farm to plate
Naturally, veal has a softer texture than beef and because of this it's very quick to cook.
Walton's go-to method is to quick fry a steak on a medium-to-high heat without oil and simply serve with a squeeze of lemon.
Chef Director of Cafe St Honoré, Neil Forbes, says veal is "astonishingly" popular at their restaurant. Guests love to know how it is reared, details they're careful to include on the menu. But for Forbes the quality is of prime importance.
"First and foremost, it is reared beautifully and has a naturally wonderful taste," he says.
Throughout the summer Cafe St Honoré offer a simple roasted loin of veal with salsa verde.
Salt veal is also a speciality. This involves brining a breast of veal for four days in a heavily spiced concoction that includes mustard seeds, bay, thyme, and star anise before braising it in a fresh stock with fennel, onion, carrot, bay and thyme for three to four hours.
Lizzie Rivera is the founder of ethical lifestyle site BICBIM.co.uk