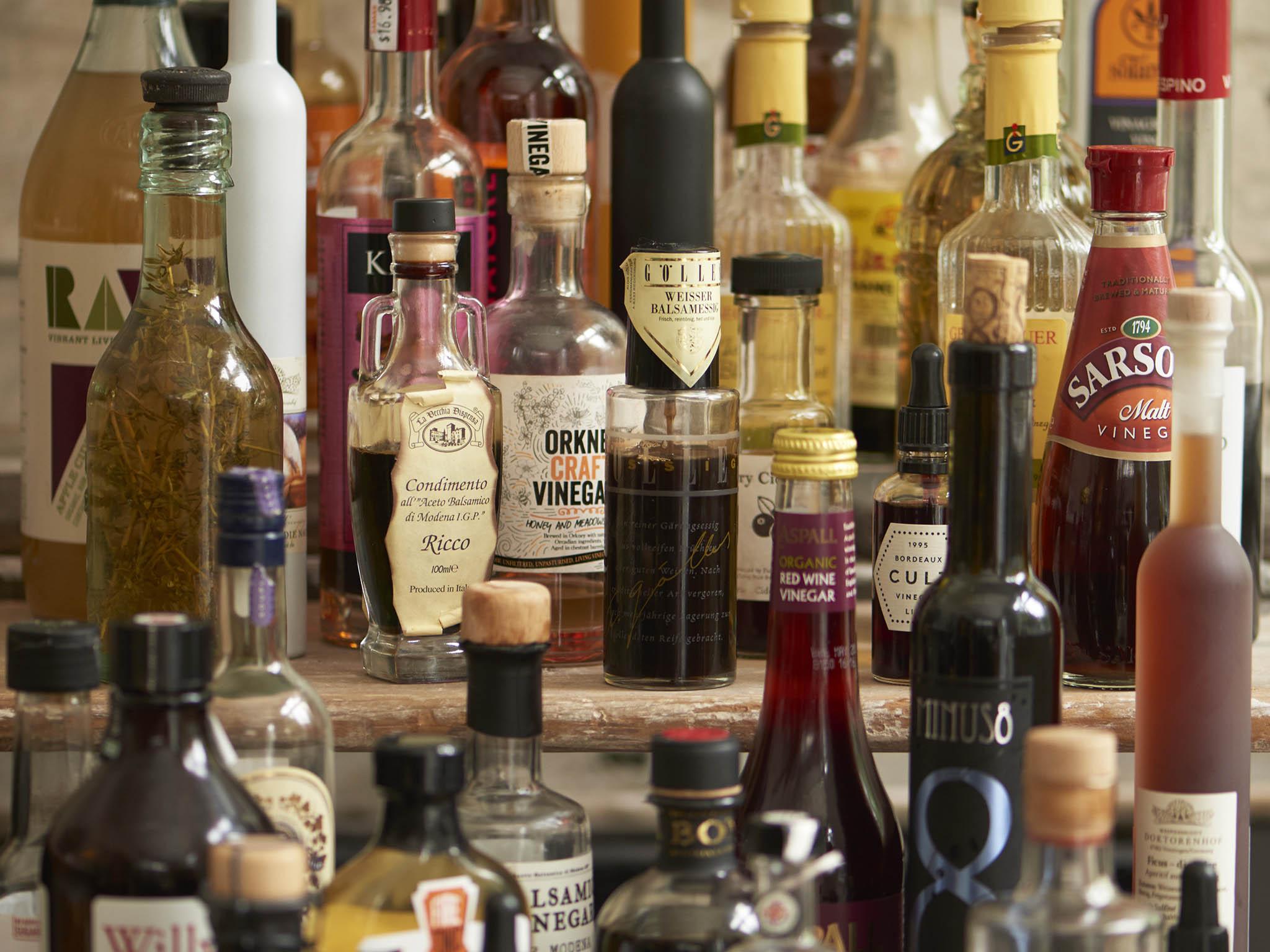 "You wouldn't think about cooking without salt; you shouldn't think of cooking without vinegar." So says Angela Clutton, food writer and historian and author of The+Vinegar%2Caps%2C522&sr=8-1″ data-vars-event-id="c6″>The Vinegar Cupboard: Recipes and history of an everyday ingredient. While most of us have at least a bottle stashed in our kitchen cupboard, vinegar is hardly treated with the reverence we'd show for say, a bottle of extra virgin olive oil from Liguria or a coarse sea salt from Brittany.
But Clutton thinks we should. Flicking through the pages of The Vinegar Cupboard – I have to agree.
It was the classic cookbook, Good Things in England by Florence White that started Clutton on what she calls "the rabbit hole of vinegar discovery". White's book, first published in 1932, includes recipes for primrose, rhubarb and gooseberry vinegars. "It became apparent to me when I was looking through old cookbooks that in the 1700s and 1800s, you have a lot of British cookbooks with loads of vinegar in them. But then you get to the 1900s and that stops," she says.
We'll tell you what's true. You can form your own view.
From
15p
€0.18
$0.18
USD 0.27
a day, more exclusives, analysis and extras.
What happened? "We changed how we produced our food. It became so much more commercialised and industrialised." In the process, vinegar became something more generic – simply a bottle to pull off the shelf. But Clutton thinks it deserves a lot more respect than that.
Vinegar creates a bit of culinary alchemy by balancing and lifting the flavours in a dish. If you're a doubter, Clutton suggests cooking duck breasts and deglazing the pan with cherry vinegar like the one she shared with me from Golles, an Austrian maker. Golles barrel ages its vinegars for at least two years, which can go up to as long as two decades. The result is a vinegar that has tartness but is also soft and well rounded. And once you've deglazed the pan, Clutton says, drizzle – or better yet spritz  – some over the duck meat and you'll see that vinegar isn't simply a background note, but it transforms a dish.
Clutton says that vinegar is a staple worldwide, whether it's cider vinegar in England or rice wine vinegar in Japan and China. What they share in common is that they're made by taking produce – grapes, apples, rice – and double-fermenting it, first into alcohol and then vinegar. It's an age-old method, Clutton says, of dealing with seasonal gluts – a perfect example of "waste not, want not". It also ties vinegar to the place where it's from, so that it has as much terroir as wine or olive oil.
The Vinegar Cupboard is scrupulously researched and includes sections on how vinegar is made, its history and the role of vinegar and health. Illustrated charts show how to match a vinegar with a specific use, while vinegar flavour wheels identify the profile and acidity level of different vinegars.
For example, champagne vinegar is lighter in acidity with citrus, floral and honey notes, while malt vinegar is more acidic with smoky, woody, sweet and beer notes.
But it's her recipes that make you appreciate how important – and often overlooked – vinegar really is. Sticky pork ribs marinated in black vinegar, muscovado and spices; octopus in red wine vinegar; or scallops in malted butter sauce, are all testament to the difference vinegar can make.
And vinegar isn't just for savoury dishes either. "I can't even think about roasting any fruit now without it," Clutton says. Vinegar serves a technical role in something like meringue, where a touch of vinegar makes them chewy on the inside and crisp on the outside. Clutton also adds a tablespoon of lavender-infused vinegar in her Victoria Sponge to keep it light and moist.
Clutton estimates she has around 25 vinegars in her own "vinegar cupboard" with a mix of wine, sherry, fruit, rice, malt, honey and cider vinegars, plus another 50 or so for research. "But you don't have to go crazy," she says.
If you're starting out, she recommends a good quality red wine vinegar "because you can do so much with it." Cider vinegar is a great one to have on hand, as well as Sherry vinegar – "It's my desert island choice." Clutton decants lighter, floral vinegars. "I put it in a spray bottle and if I'm doing something really simple like a piece of salmon or trout or a salad, as the very last thing, give it a spritz."
You don't need a cupboard full of vinegars but Clutton happily knows from personal experience that once you get started, you'll find yourself using vinegar more and more. It may be a rabbit hole but thanks to The Vinegar Cupboard, one that I'd gladly climb down too.
'The Vinegar Cupboard' by Angela Clutton is out now. Published by Bloomsbury Absolute, £26. Photography ©Polly Webster