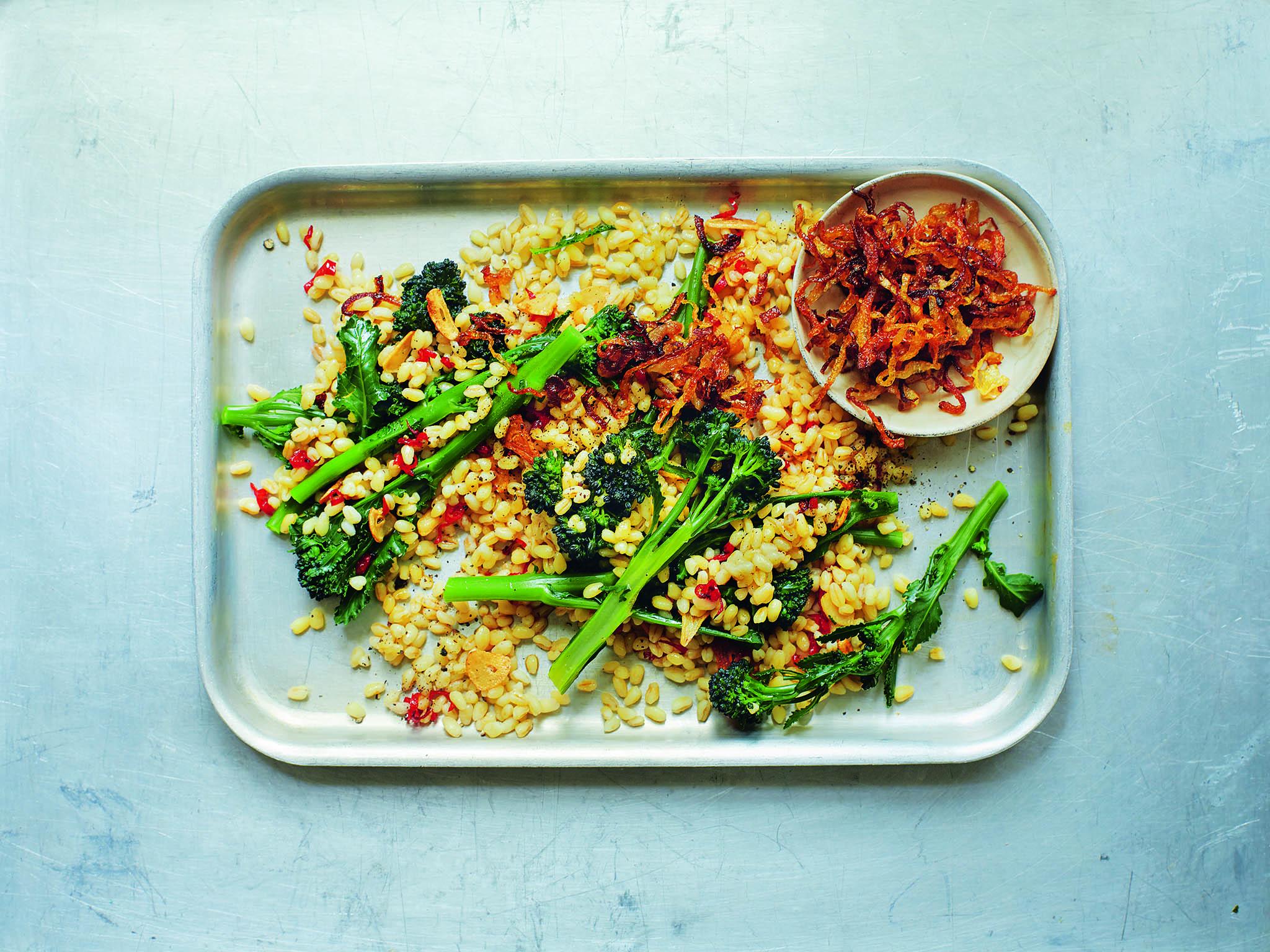 Wheatberries and purple sprouting broccoli with crispy garlic and chilli
A hearty and healthy lunch combining toothsome wheatberries, clean greens and crispy fried onions. Wheatberries are the entire wheat kernel except for the hull. They take a while to cook but have a good nutty texture, lending real substance to a dish.
100g purple sprouting broccoli, trimmed if necessary
100g wheatberries (or one of the alternatives below)
4 tbsp sunflower or vegetable oil
1 fresh red chilli, very finely sliced
2 garlic cloves, very finely sliced
Handful of crispy fried onions (optional)
Salt and pepper
We'll tell you what's true. You can form your own view.
From
15p
€0.18
$0.18
USD 0.27
a day, more exclusives, analysis and extras.
Boil the purple sprouting broccoli for three to four minutes until just tender. Remove with a slotted spoon and plunge into very cold water before draining. Add the wheatberries to the same water and cook for 25 minutes or until cooked but still chewy. Drain in a colander.
Wipe out the pan and heat the oil in a frying pan on a medium heat. Add the chilli and garlic and fry, stirring, until the garlic has turned golden.
Add the broccoli and fry for a couple more minutes, then add the drained wheatberries and a handful of crispy fried onions, if using. Mix everything together, check the seasoning and add a dash more oil if it seems dry. Serve warm.
Variation: pearled spelt or barley work as substitutions for the wheatberries. Alternatively, to save time, choose couscous or bulghur.
Recipe from Riverford.co.uk