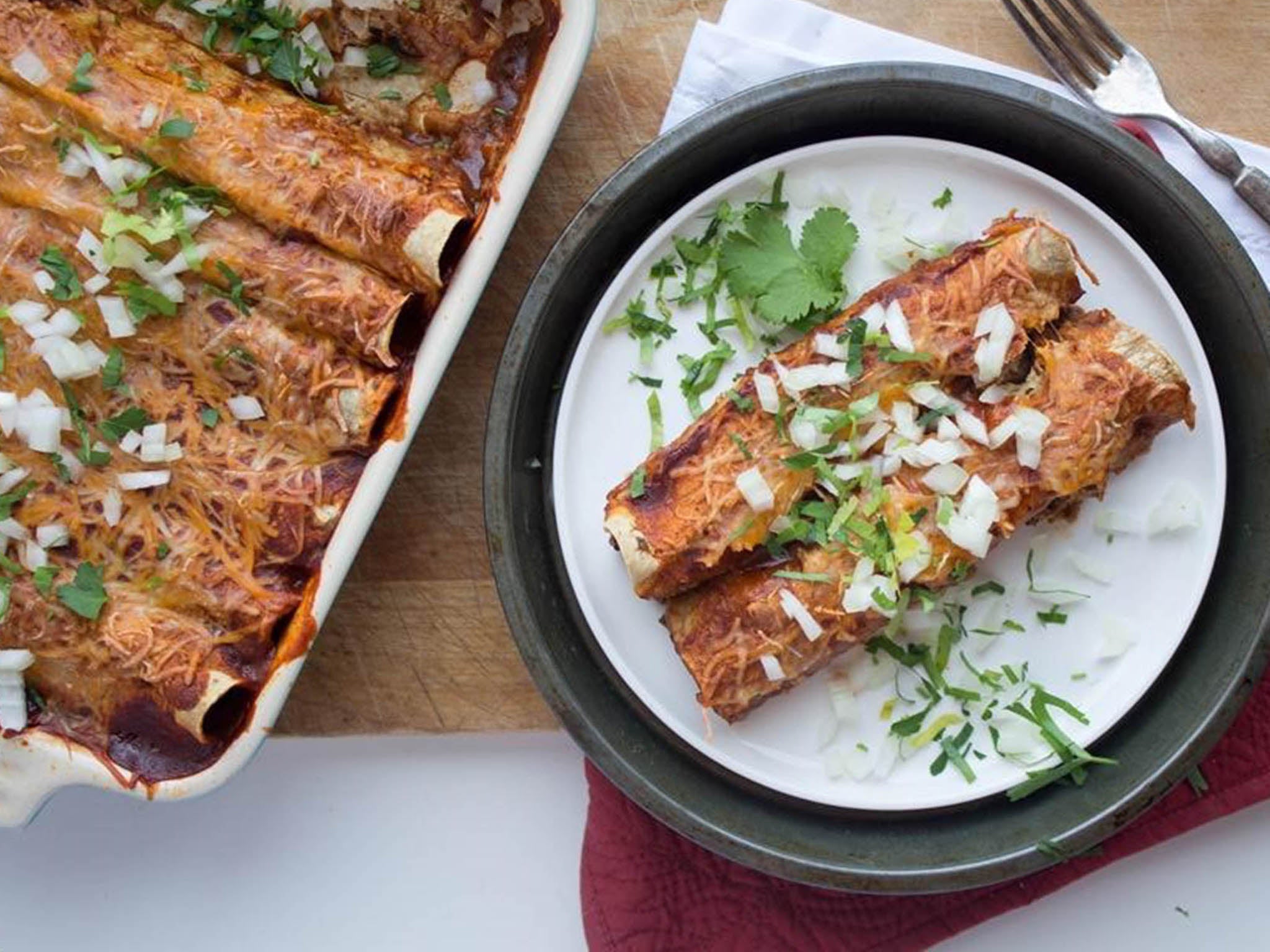 Walnut and mushroom vegetarian enchiladas 
Prep: 10 minutes
Cook: 30 minutes
Serves 2
150g walnuts
210g cauliflower florets 
6 whole mushrooms 
Half an onion, roughly chopped 
2 tsp smoked paprika 
2 tsp ground cumin 
1 tsp dried oregano 
2-3 green chillies, diced
570ml jar enchilada sauce
285g baby spinach 
8 corn tortillas 
75g grated Mexican cheese (optional)
Chopped onion and coriander to garnish (optional) 
Preheat the oven to 180C. Place the walnuts, cauliflower, mushrooms and onion into a food processor. Blend until the mixture is finely chopped, resembling the texture of ground meat.
Transfer this mixture to a large frying pan and add the smoked paprika, cumin, oregano, chillies and 120ml of the enchilada sauce. Cook over medium-high heat for around 10 minutes, or until the vegetables are tender and any liquid in the pan has evaporated. 
Stir in the spinach and cook for another 1-2 minutes, until wilted. Spread a thin layer of enchilada sauce evenly onto the bottom of a baking dish.
Spoon the mixture into each tortilla, roll up and place seam side down in the tray. Pour the remaining enchilada sauce evenly over the top. Top with cheese (optional), cover with foil and bake for 20-30 minutes, until heated through and the edges are slightly crispy. 
Serve immediately, then garnish with the chopped onion and coriander, if using. 
Recipe from California Walnuts (walnuts.org)