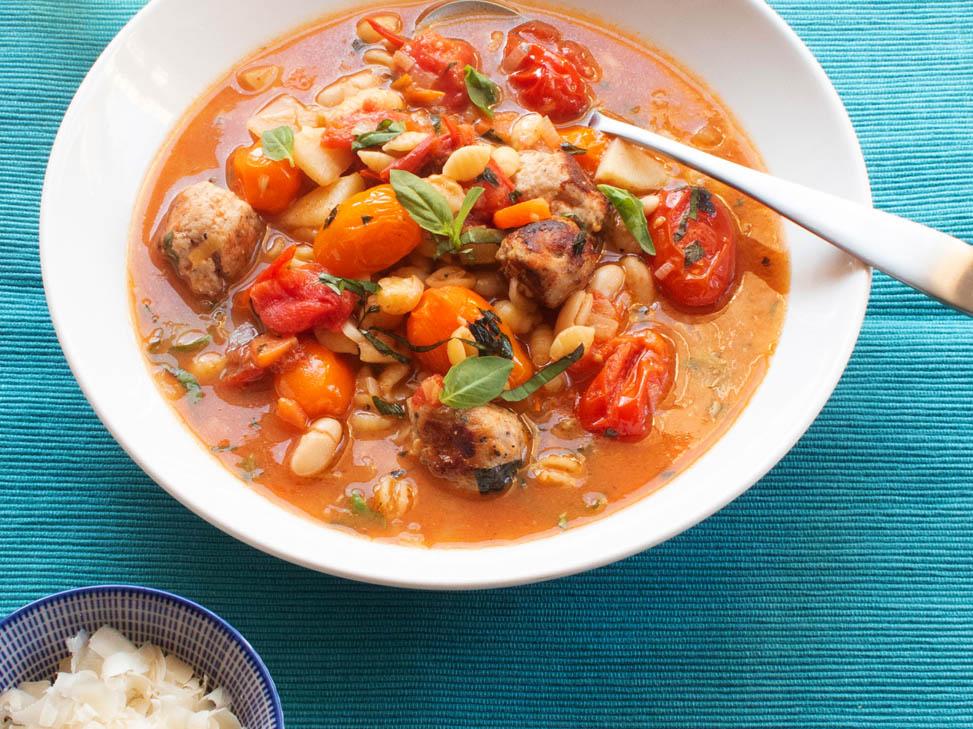 Tomato and sausage minestrone
Serves: 4-6
Prep: 10 minutes
Cook: 40 minutes
We'll tell you what's true. You can form your own view.
From
15p
€0.18
$0.18
USD 0.27
a day, more exclusives, analysis and extras.
3 tbsp olive oil
2 eschalion (banana shallot), chopped
1 carrot, peeled and diced
1 large potato, peeled and diced
1 garlic clove, crushed
1 stick of celery, diced
6 pork sausages
500g mixed cherry tomatoes
Salt and pepper
500ml chicken stock
150g pasta, a small shape is ideal, for example, mini shells
400g tin cannellini beans
Small bunch of basil, leaves chopped
75g parmesan grated
Preheat the oven to 200C.
In a large pan, heat the olive oil and sauté the eschalion, carrot, potato, garlic and celery until softened, around 10 minutes.
Snip the sausages into 3-4cm pieces and remove the skins. Add a drizzle of olive oil to a frying pan and allow to heat through. Add the sausages and fry until golden and cooked through.
Place the tomatoes on a roasting tray, drizzle with olive oil and season. Roast in the oven for 15-20 minutes until softened.
Pour the chicken stock in the pan with the sautéed vegetables and bring to a gentle simmer.
Once simmering add the pasta and leave to simmer until the pasta is cooked, around 20 minutes. When the pasta is cooked, add the roasted tomatoes, sausages and cannellini beans. Leave on the heat to allow the beans to warm through.
Stir through the fresh basil and serve in bowls topped with grated parmesan.
Recipe from thetomatostall.co.uk