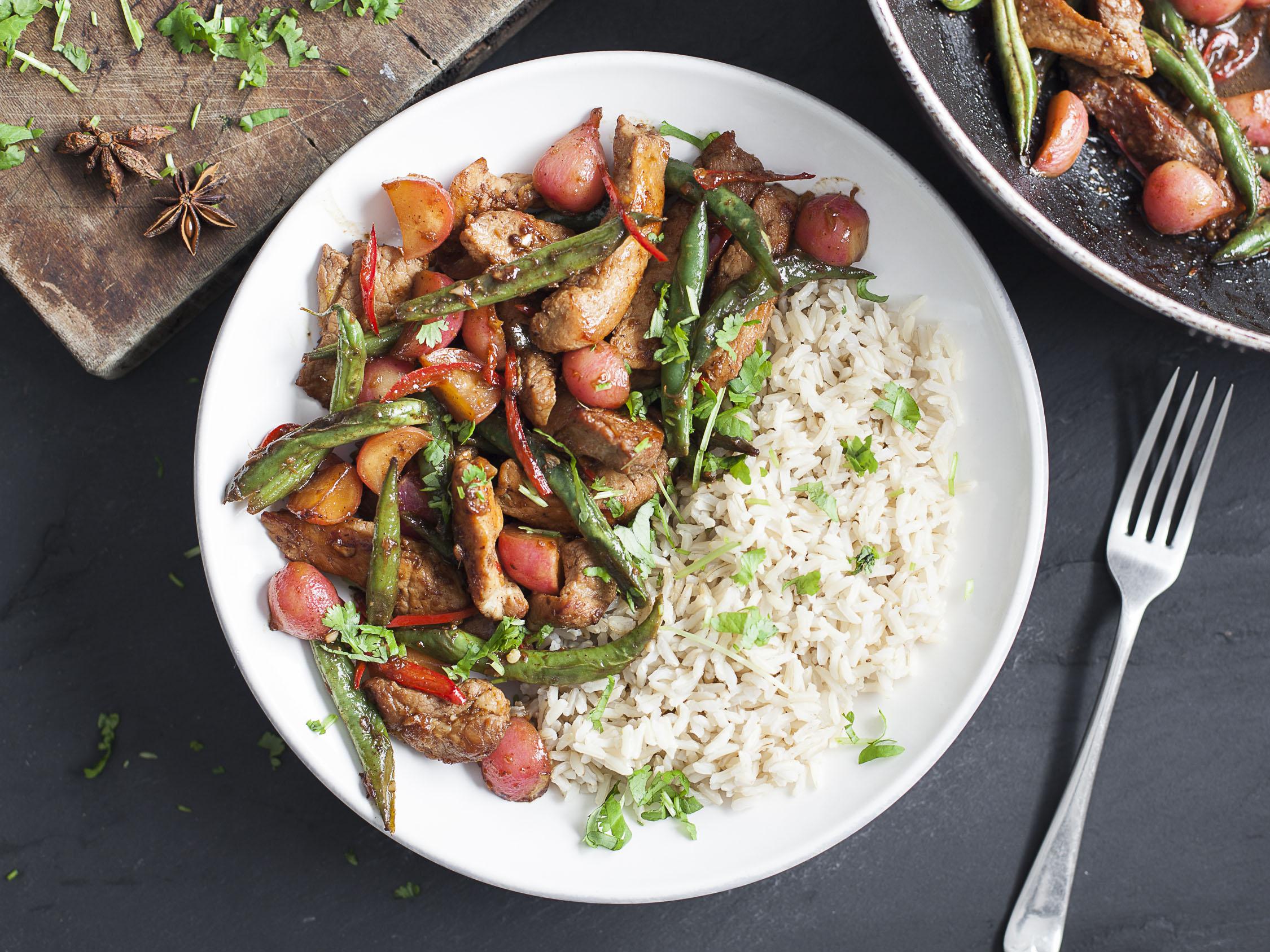 Teriyaki pork and braised radishes with green beans and star anise rice
Prep and cook: 30 mins
Serves 2
It may seem odd to cook a radish, as we are so used to eating them raw. They are wonderful lightly braised; they sweeten and soak up flavour, but still retain a distinct bite. In this dish, they stand in for a Japanese daikon radish, as they share the same light, peppery taste.
We'll tell you what's true. You can form your own view.
From
15p
€0.18
$0.18
USD 0.27
a day, more exclusives, analysis and extras.
100g brown basmati rice
2 star anise
25g ginger
1 garlic clove
1 fresh chilli
125g French beans
15g coriander
1 bunch radishes
1 tablespoon mirin
250g pork stir-fry strips
Oil for frying e.g. sunflower
2 tablespoons teriyaki sauce
Rinse the rice and add to a saucepan with a good pinch of salt and the star anise. Cover with plenty of boiling water, stir once and simmer for 20-25 mins, until tender but still with a little chew and "bite".
Meanwhile, peel and finely grate the ginger, finely chop 1 peeled garlic clove, remove seeds and slice the chilli.
Trim the french beans. Slice each one into 3 or 4 pieces, at an angle. Roughly chop the coriander, stalks and all.
Remove the green radish leaves. If any still seem perky, keep them to one side. Slice the smaller radishes in half and larger ones into quarters.
Put a wok on to heat. Add the mirin, 2 tbsp water, radishes and a pinch of salt. Cook on a high heat, stirring often, for 3 to 4 mins,  until the liquid has reduced to nothing.
The radishes should be partly cooked but still have a slight bite to them. Remove from the heat and keep to one side.
Season the pork with salt. Heat 1 tbsp oil in the wok. When hot, add the pork and beans. Stir-fry for 3-4 mins, until the pork has coloured and the beans softened.
Add the ginger, garlic, chilli and radishes (plus any reserved leaves). Fry for 30 secs before adding the teriyaki sauce and 2 tbsp water. Fry for 1 more min, until the sauce has reduced and looks glossy. Drain the rice, remove the star anise and serve with the pork, beans and radishes. Garnish with chopped coriander.
Recipe from Riverford.co.uk