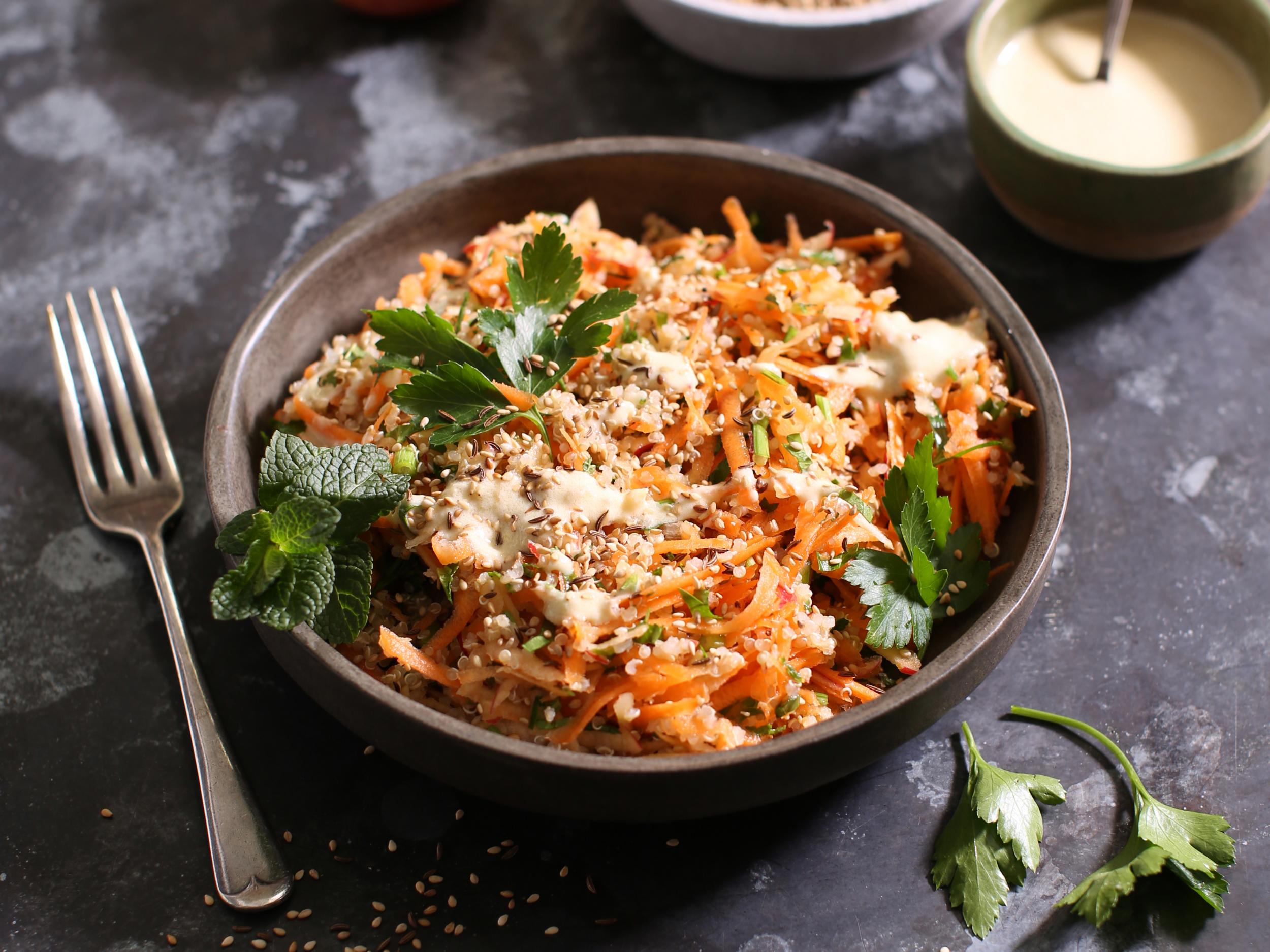 Tahini carrot and seed slaw
Get your crunch on and make the most of the British organic carrot season with this crisp slaw of carrot, apple, mint and quinoa, drizzled in a zingy tahini and lemon dressing and topped with a toasty mix of sesame and caraway seeds.
Prep: 30 mins
Serves: 2
We'll tell you what's true. You can form your own view.
From
15p
€0.18
$0.18
USD 0.27
a day, more exclusives, analysis and extras.
75g quinoa
150ml boiling water
40g tahini
1 lemon
1 tbsp olive oil
1 tbsp cold water
Sea salt
Freshly ground pepper
1 tsp caraway seeds
25g sesame seeds
Large handful of flat leaf parsley
Handful of mint, leaves only
2 apples
200g carrots
Boil a kettle. Tip the quinoa into a sieve and rinse under cold water for a few minutes to remove the soapy coating. Tip into a small pan. Pour in 150ml boiling water. Cover and bring to the boil. Turn the heat right down and simmer for 10-12 minutes until the water has been absorbed and the quinoa is tender. Take off the heat.
While the quinoa simmers, squeeze the tahini into a large bowl. Zest and juice in the lemon. Add a tablespoon of olive oil, a tablespoon of cold water, some salt and pepper and stir to make a dressing.
Place a small frying pan on the heat for 2 minutes, then add a teaspoon of caraway seeds and the sesame seeds. Toast for about 2 minutes until the seeds are nutty-smelling, popping and slightly darkened. Shake the pan regularly. Tip onto a plate.
Finely chop the parsley leaves and stalks and the mint leaves. Quarter the apples and slice out their cores. Coarsely grate the apples and add them to the dressing, stirring though to stop them browning. Trim, peel and coarsely grate the carrots and add them to the bowl. Add half the toasted seeds to the bowl and stir.
Tip in the cooked quinoa and most of the chopped herbs and fold through. Taste the slaw and add more salt or pepper if you think it needs it. Divide the slaw salad between 2 plates, top with the remaining toasted seeds and herbs to serve.
Recipe from Abel and Cole