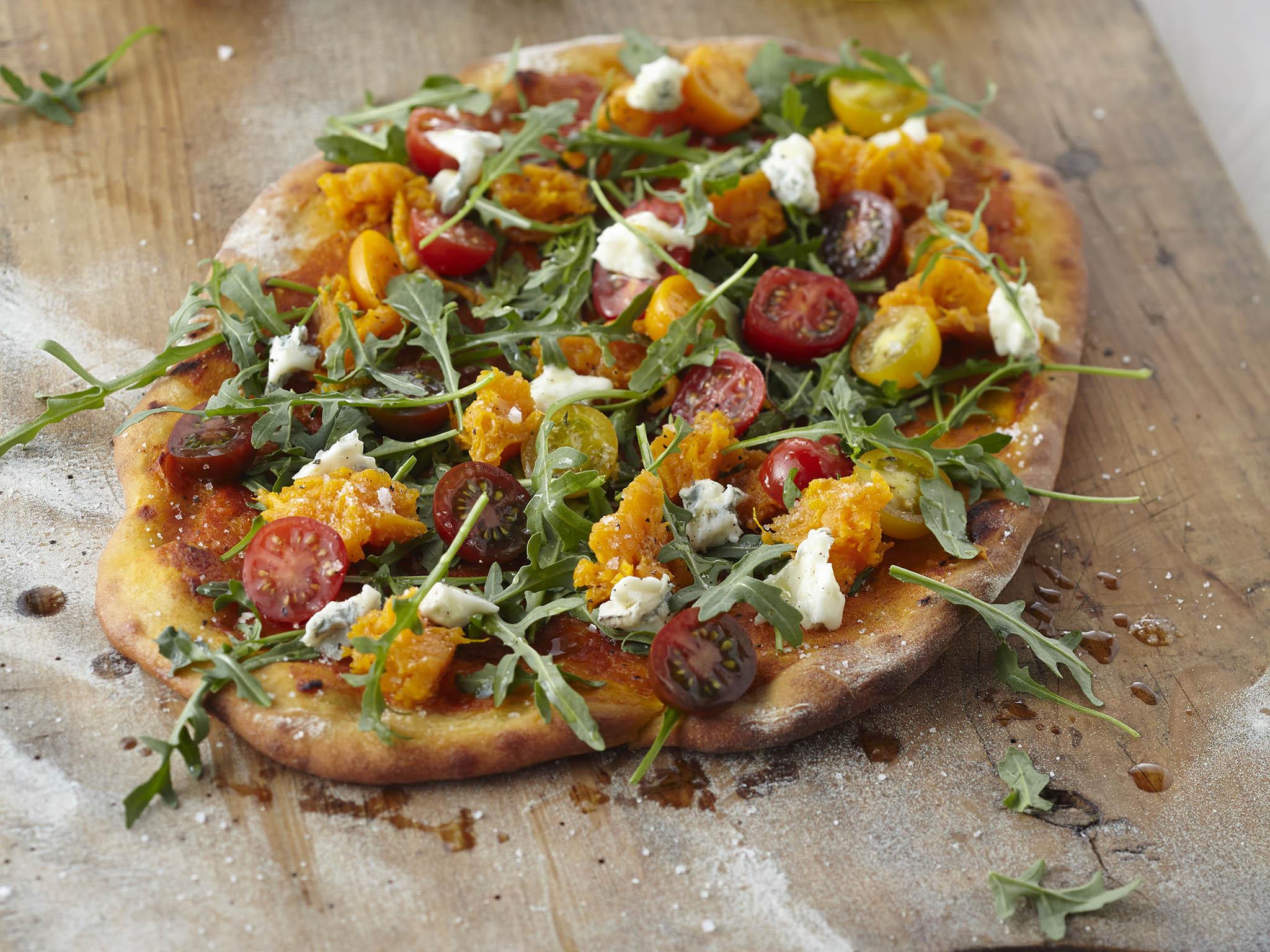 Sweet potato, gorgonzola and rocket pizza
Makes two pizzas
Prep time two hours
We'll tell you what's true. You can form your own view.
From
15p
€0.18
$0.18
USD 0.27
a day, more exclusives, analysis and extras.
For the base
40g sweet potato puree
7 grams instant yeast
200ml warm water
1 tsp sugar
300g flour
1 tsp salt
1 tbsp olive oil
For the sauce
1 tbsp olive oil
1 onion, diced
1 clove garlic, chopped
300 grams passata
Remainder of the American sweet potato puree
For the topping
2 sweet potatoes
1 punnet of ripe cherry tomatoes, halved
100g gorgonzola dolce, crumbled
50g fine rocket
1 tbsp olive oil
Salt and pepper
Preheat the oven to 200C. Prick holes in the two sweet potatoes with a fork, then wrap in foil and bake for 50 minutes. Once baked, peel and puree the sweet potatoes and set aside 40g of puree for the base. To make the pizza base, place the yeast into a bowl with the warm water and sugar and add the 40g of sweet potato puree. Stir the mixture until smooth.
Mix the flour and the salt together in a large mixing bowl, then make a well in the middle and pour the yeast mixture in. Pour in the oil and the remaining water. Mix by hand until it forms a dough that does not stick to the sides of the bowl. Remove the dough from the bowl and knead on a floured work surface until supple (for around 10 minutes).
Roll the dough into a ball, place into a large bowl and cover. Leave to prove in a warm spot for around one hour. Divide the dough in two and roll each into a ball. Dust the worktop with flour and roll the pizza dough out into two circles with a diameter of around 20cm each, making the edges slightly thicker so the sauce doesn't run off.
Place the pizza dough on a baking tray and set aside.Preheat the oven to 275C. Next, make the sauce. Pour the oil into a thick-bottomed pan and place the pan over a high heat. Sauté the onion and garlic for two minutes then add the passata – bring to the boil then lower the heat.
Leave the sauce to simmer for about 10 minutes then add the remaining sweet potato puree, which will thicken the sauce. Season with salt and pepper to taste. Leave the sauce to cool then divide between the two bases. Bake these for 15-20 mins with just the sauce until they are nice and crispy, and lightly browned around the edges. Once baked, remove from the oven, add the toppings and serve for a deliciously different homemade pizza.
Recipe from sweetpotatoes.eu/en