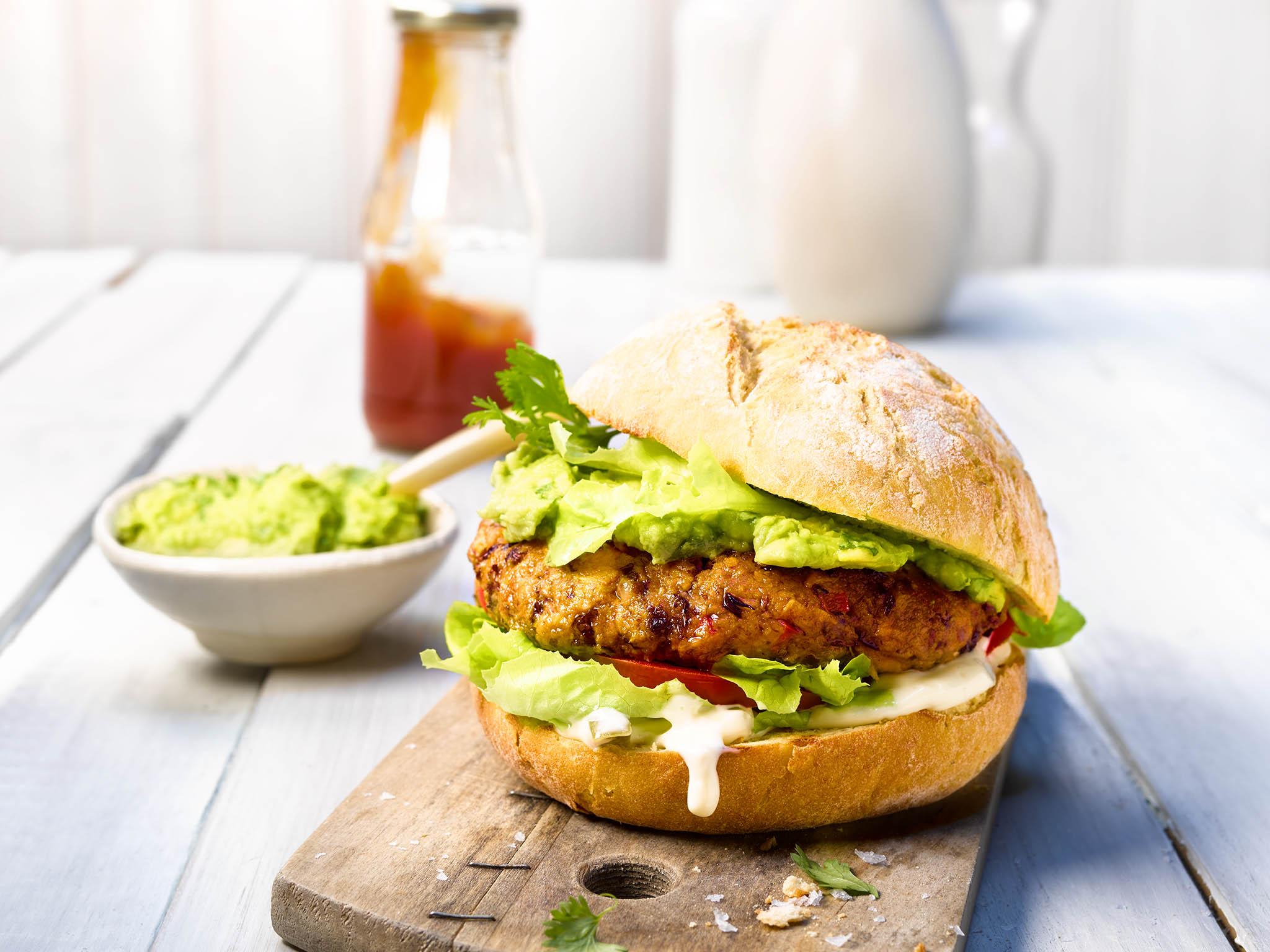 Sweet potato burger with avo cream
Serves 4
Prep time: 35 mins
We'll tell you what's true. You can form your own view.
From
15p
€0.18
$0.18
USD 0.27
a day, more exclusives, analysis and extras.
For the burgers:
500g sweet potatoes
240g can of black beans
2tbsp olive oil
½ red pepper, finely diced
1 onion, finely diced
1tsp cumin
½tsp cayenne pepper
5-6tbsp white bread crumbs
Salt and pepper, to taste
For the avo cream:
1 avocado
1-2tsp lime juice
1 garlic clove
Salt and pepper, to taste
Handful of coriander
To serve:
2 beef tomatoes
4 bread rolls
2tbsp mayo​
4 lettuce leaves
2tbsp jalapeños
Preheat oven to 200C. Peel the sweet potatoes, cut into chunks, spread onto a baking tray and bake for around 20 mins, or until tender. Rinse the black beans with cold water and leave to drain, then puree in a food processor along with the cooked sweet potato, then set aside in a large bowl.
Next, lightly fry the diced pepper and onion in a pan with 1tbsp of the olive oil, adding the cumin and cayenne pepper towards the end. Add to the sweet potato and bean puree, along with the breadcrumbs. Mix well and add salt and pepper to taste, then set aside for at least 30 mins to thicken.
Skin and stone the avocado and blend with the lime juice in a food processor. Peel and crush the garlic and stir in, then season with salt and pepper. Pick the coriander leaves from the stems, chop finely and stir into the avo cream.
Heat the remaining oil in a pan. Shape four patties from the sweet potato mix and fry on each side for 2 mins until golden brown.
To serve, thickly slice the tomatoes. Slice the jalapeños and mix with the mayo. Cut the bread rolls in half, toast and spread the bottom half with the jalapeño mayo. Garnish with the lettuce and tomatoes and add a sweet potato patty. Top with a blob of avo cream and place the other half face down on top.
Recipe from sweetpotatoes.eu/en