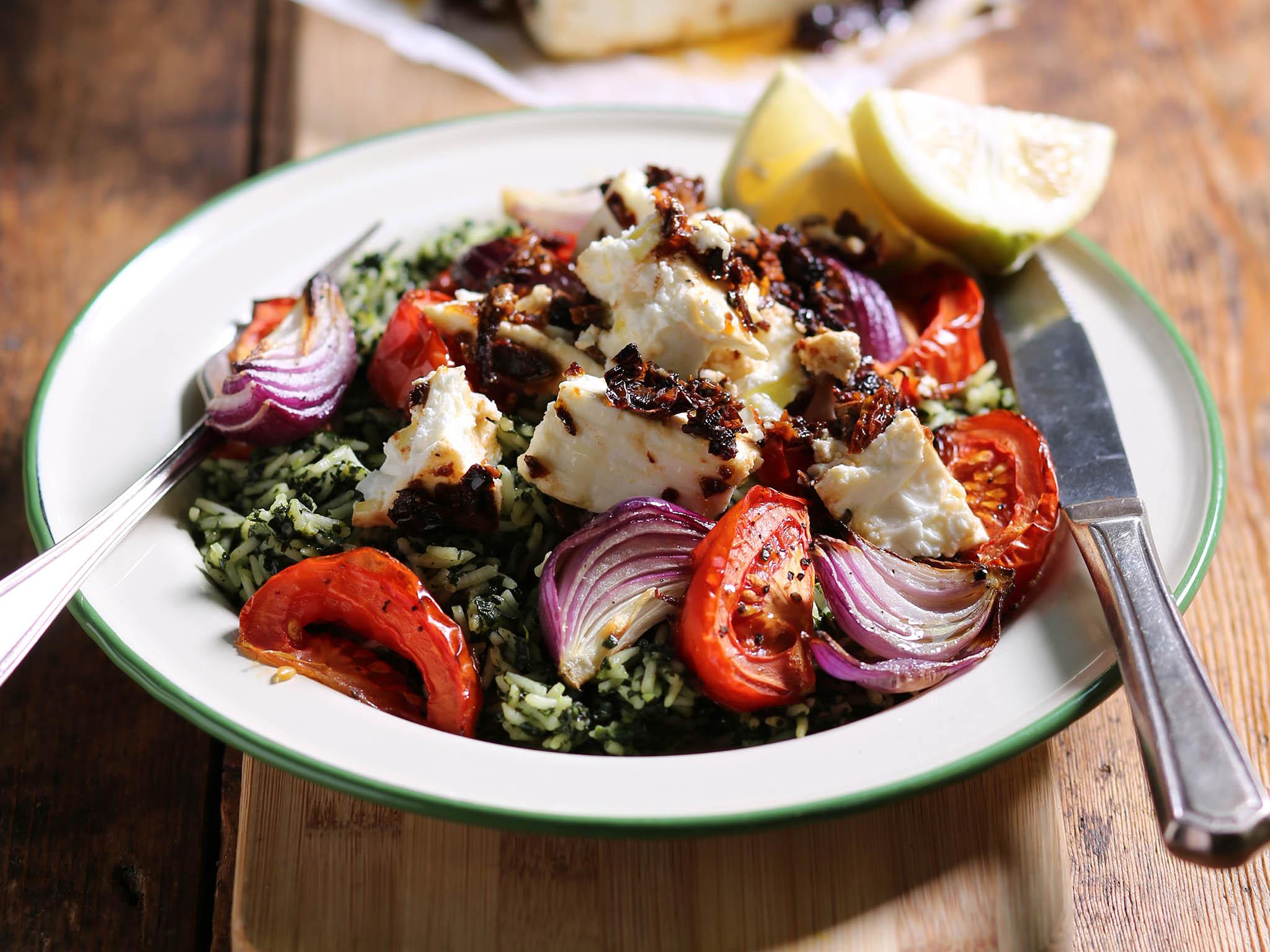 Sundried tomato roasted feta with arroz verde
Prep: 20 mins
Cook: 20 mins
Serves 2
We'll tell you what's true. You can form your own view.
From
15p
€0.18
$0.18
USD 0.27
a day, more exclusives, analysis and extras.
35g sundried tomatoes
600ml boiling water
2 red onions
2 tomatoes
3 tbsp olive oil
Sea salt
Freshly ground pepper
200g cavolo nero​
1 garlic clove
1 lemon
150g white basmati rice
200g feta
Pop the sundried tomatoes into a heatproof bowl and cover with 300ml boiling water. Set aside for 15 minutes to soften.
Preheat your oven to 200C/Fan 180C/Gas 6. Peel the red onions and slice them into 6 wedges each. Slice the tomatoes into wedges of a similar size. Scatter both into a roasting tin. Pour over 1 tbsp oil and add a pinch of salt and pepper. Lightly toss everything together until coated. Slide into the oven to roast for 20 minutes.
Trim any dry stalks off the cavolo nero and discard them. Tuck the cavolo nero leaves into a food processor. Peel and grate in the garlic and grate in the lemon zest. Add 1 tbsp oil and a pinch of salt and pepper. Blitz until very finely chopped. No food processor? Chop everything as finely as possible, then pop into a bowl and then stir in the salt, pepper and oil.
Pop a pan onto a medium heat and tip in the rice. Scoop in the chopped cavolo nero mixture and stir well. Cook for 2 minutes, stirring frequently. Pour in 300ml boiling water. Return to the boil, then cover the pan and reduce to a simmer. Cook gently for 8 minutes, then remove from the heat and allow to steam, covered, for a further 5-6 minutes.
The sundried tomatoes should have softened by now. Drain the water, finely chop the tomatoes and slide them into a bowl. Mix with 1 tbsp oil and a pinch of pepper. Line a small baking tray with baking paper. Lay the block of feta on the tray and pour over the sundried tomatoes. Turn once or twice until coated.
Slide the tomatoey feta onto the shelf below the veg and roast for 6-8 minutes, until slightly golden around the edges.
Squeeze the juice from half the lemon into the cooked rice and stir well. Taste and add more salt or pepper if needed. Spoon the rice onto plates and top with the roasted tomatoes and onions. Crumble over chunks of the roasted feta. Serve with wedges of the remaining lemon.
Recipe from Abel & Cole (abelandcole.co.uk)