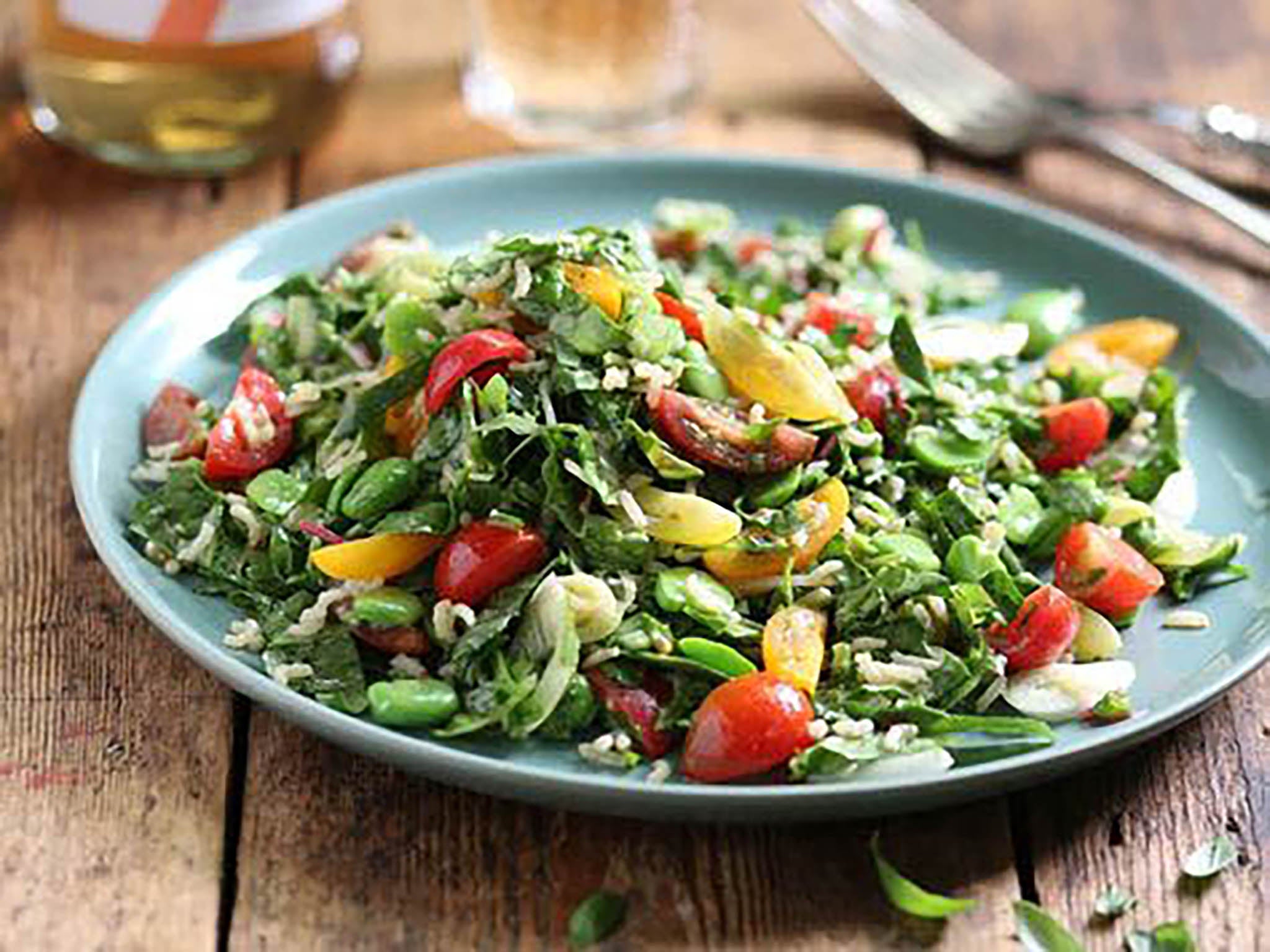 This salad of fluffy brown basmati is full of our favourite organic summer veg, including super seasonal broad beans, pretty-in-pink baby red chard, multi-coloured heirloom tomatoes and the fragrant green king of herbs, basil. Finished with a zingy mustard vinaigrette.
Prep time: 25 minutes
Cooking time: 20 minutes
75g brown basmati rice
500g broad beans
2 spring onions
200g heirloom tomatoes
100g baby red chard
1 garlic clove
1 tbsp Dijon mustard
2 tbsp red wine vinegar
A handful of basil, leaves only
150ml boiling water
Sea salt
3 tbsp olive oil
Freshly ground pepper
We'll tell you what's true. You can form your own view.
From
15p
€0.18
$0.18
USD 0.27
a day, more exclusives, analysis and extras.
Tip the rice into a bowl, cover with cold water and whisk for 1-2 mins till the water goes cloudy. Drain, rinse and tip into a small pan. Add 150ml boiling water and a pinch of salt. Pop on a lid, bring to the boil then turn the heat down very low. Gently simmer for 25 mins till all the water is absorbed, then take off the heat and leave to steam in the pan, lid on.
While the rice simmers, put another medium pan of water on to boil. Split the broad bean pods open and pop the beans out.
When the water is boiling, add the broad beans and simmer for 2 mins, without the lid on, to just blanch the beans. Drain them and rinse under cold water to cool them. You'll see the skins are loose on the broad beans. To pop out the green beans, pinch the loose skin and squeeze – the green beans will jump out. Set aside.
Trim the roots and top 3cm off the spring onions. Finely slice the spring onions (both the white and green parts). Pop the sliced spring onions in a large bowl. Quarter the heirloom tomatoes and add them to the spring onions. Roughly chop the baby red chard and add that too.
Peel and crush or grate the garlic. Pop it in a small bowl. Add 1 tbsp Dijon mustard, 2 tbsp red wine vinegar and 3 tbsp olive oil. Season with a pinch of salt and pepper. Whisk together to make a dressing.
Add the broad beans to the spring onions and tomatoes and pour in the dressing. Toss to mix.
Pick the leaves off the basil and tear them into pieces. Add to the veg in the bowls.
The rice should be cooked by now. Top into a sieve and rinse under cold water to cool it. Give it a good shake and add to the bowl with the veg and dressing. Toss everything together to make sure the dressing soaks everything, then serve.
Recipe from abelandcole.co.uk/recipes