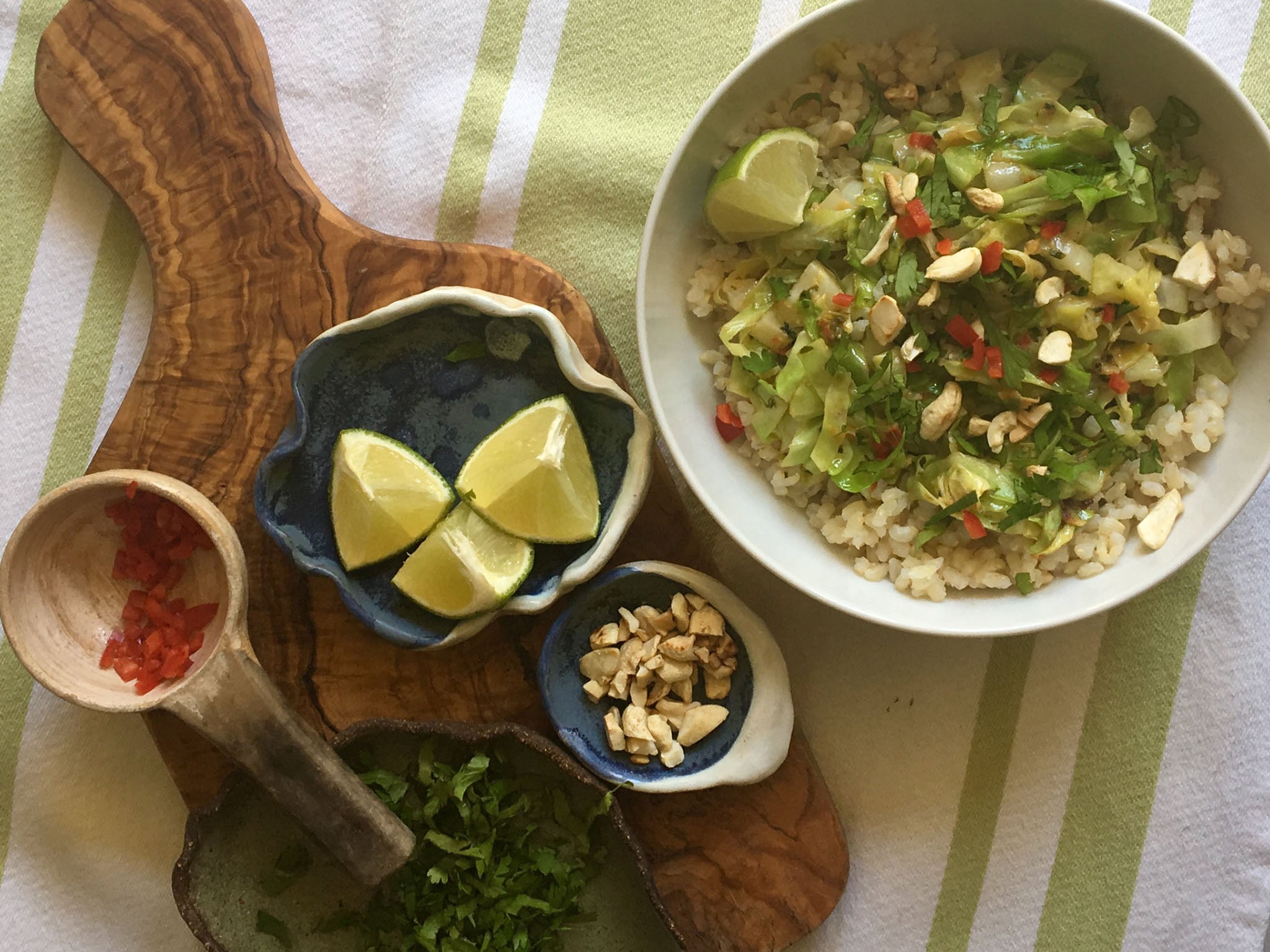 Hispi cabbage is sweet and mild with pale green leaves that you could happily eat raw.
But equally, hispi can handle heat in a gratin with lashings of cream and cheese or halved and roasted, then topped with garlicky breadcrumbs.
In a stir-fry, hispi cooks in minutes so you can serve it up as a main or a side in no time.
We'll tell you what's true. You can form your own view.
From
15p
€0.18
$0.18
USD 0.27
a day, more exclusives, analysis and extras.
If you can't find hispi cabbage, you could use spring greens instead or a bog standard cabbage but you'll need to cook it longer.
For a vegetarian/vegan dish, skip the fish sauce and instead up the amount of lime juice and add a dash of soy sauce for extra depth.
If you have any leftovers, fold them into an omelette.
Stir-fried hispi cabbage with cashews and chilli
Serves 2 as a main course or 4 as a side
1 hispi cabbage, about 250g​
Small knob of ginger, about 15g/2cm long, peeled and chopped
1 long red chilli, deseeded and diced
1 clove garlic, peeled and diced
10g cashews
Small handful coriander, about 7g, chopped
1 lime
1 tsp fish sauce
½ tsp sugar
1 tbsp vegetable oil
To garnish
Chopped coriander
Chopped cashew nuts
Chopped chilli
Lime wedges
Remove any bruised outer leaves then slice the cabbage in half, lengthways. Make a V-shaped cut at the base of each cabbage half to remove the core. Slice the cabbage thinly, into ribbons. Set aside.
To make the paste for the stir-fry, lightly toast the cashew nuts in a dry frying pan. Remove from the heat and allow to cool. Place the chopped ginger, half of the diced chilli (reserve the other half for garnish), the garlic and cashews in a mortar and pestle and pound into a rough paste. Add the chopped coriander and blend.
Slice the lime in half and add the juice from one half to the mixture. Save the other half to use as a garnish. Add the fish sauce and sugar and blend together. Taste and adjust the seasoning if needed.
Pour the oil in a wok or deep sided frying pan and place over high heat. Add the spice paste and stir in the oil for less than a minute. Add the cabbage and cook quickly until just starting to wilt. Remove from the heat, garnish and serve.
@juliapleonard