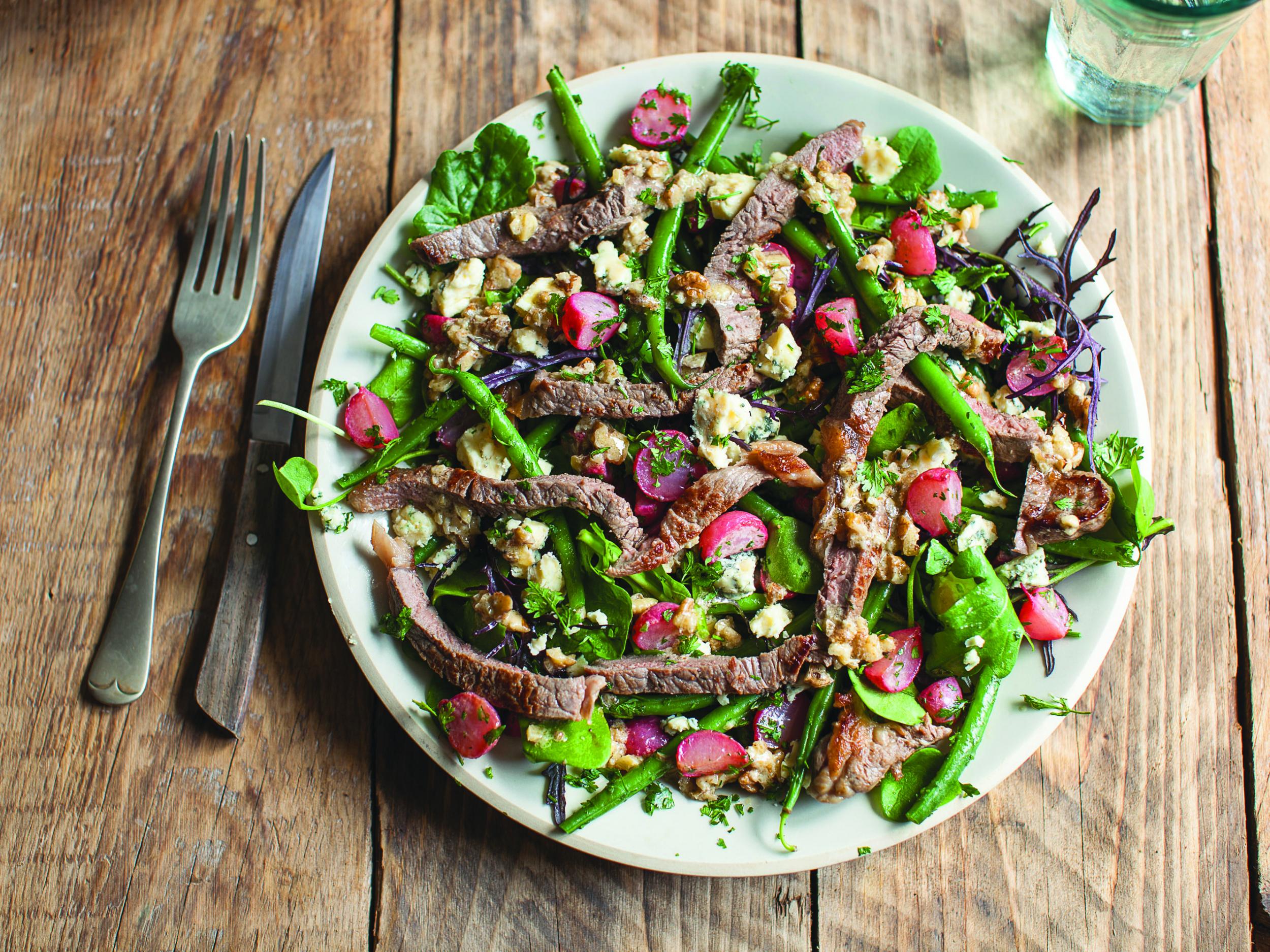 Steak and blue cheese salad with green beans, tomatoes and walnut dressing
Prep and cook: 35 mins
Serves 2
Lightly cooked radishes retain a satisfying crunch while soaking up richness and piquancy from the butter and vinegar in this recipe.
We'll tell you what's true. You can form your own view.
From
15p
€0.18
$0.18
USD 0.27
a day, more exclusives, analysis and extras.
Always, always rest a steak after cooking; at least 3-4 mins. It allows the fibres of the meat to relax, giving you a more tender steak. Turn the sliced steak in any juices before serving so you're not wasting any precious flavour.
2 sirloin steaks
1 bunch radishes
250g green beans
Oil for frying, eg sunflower
25g butter
2tbsp cider vinegar
15g chervil
40g walnuts
½tbsp dijon mustard
Olive oil
50g salad leaves
100g blue cheese
Remove the steaks from the fridge and leave them out to come to room temperature.
Remove the tops from the radishes, wash them before cutting large ones into quarters and smaller ones in half.
Trim and finely slice the green beans. Cook in boiling water for approximately 2 mins until just tender. Drain and cool immediately in cold water to stop the cooking process and lock in the colour.
Give the saucepan a wipe clean and return to the heat with 1tbsp cooking oil. Get the oil very hot, add the radishes with a good pinch of salt and fry vigorously for 1 min before adding half the butter, half the vinegar (1tbsp) and 3tbsp water. Cook on a high heat stirring often for 4-5 mins until the liquid has reduced down into a glossy, buttery glaze. The radishes should be partly cooked but still have a slight bite to them. Remove from the heat and keep to one side.
Toast the walnuts in a dry frying pan on a medium heat for a few mins, until lightly coloured – careful not to burn them. Tip onto a board and coarsely chop.
Make the dressing by mixing the mustard and remaining vinegar together. Whisk in 2-3tbsp olive oil, a little bit at a time, until you have an emulsified dressing. Stir in the walnuts and season with salt and pepper.
Return the frying pan to the heat with 1tbsp oil. Season the steaks with salt and pepper on both sides. Get the oil very hot, fry steaks for 1 min a side. Add the remaining butter halfway through cooking – they should be nicely browned. Remove the steaks and let them rest for 4-5 mins while you finish the salad.
Add the cooled beans to the pan of warm radishes and mix in finely chopped chervil leaves.
Divide the salad leaves between two plates, put on the beans and radishes then crumble blue cheese on top.
Slice the steaks into ½cm strips. Scatter the steak across the salad and spoon across the walnut dressing.
Recipe from Riverford.co.uk