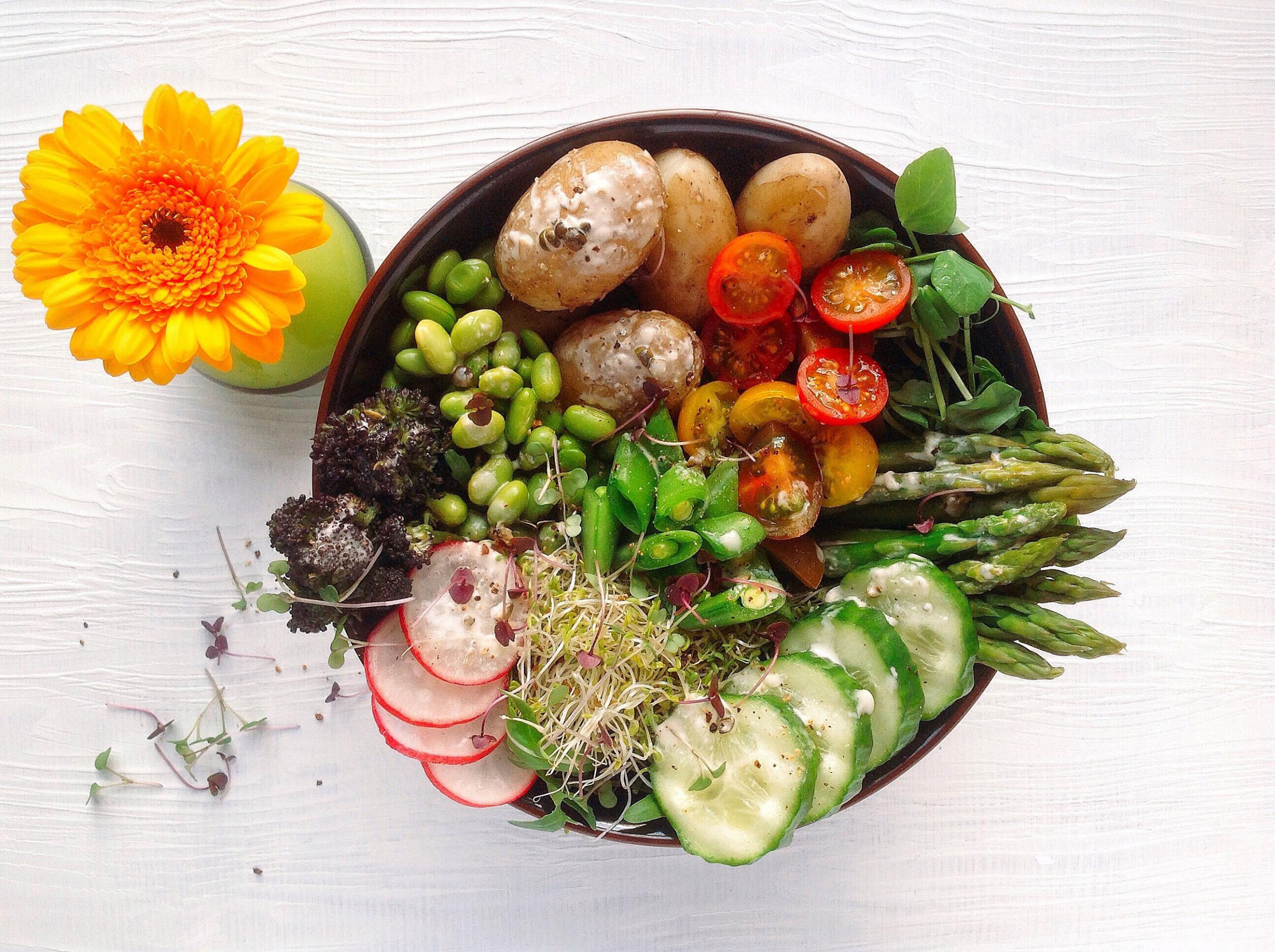 Spring vegetable bowl with lemon and green peppercorn dressing
A healthy bowl full of fresh, crunchy vegetables and tender cooked vegetables topped off with a zingy lemon and green peppercorn dressing.
Makes enough for 1 large bowl
We'll tell you what's true. You can form your own view.
From
15p
€0.18
$0.18
USD 0.27
a day, more exclusives, analysis and extras.
For the salad:
Half a bunch of asparagus
3-4 stems purple sprouting broccoli, trimmed
5-6 Jersey royal potatoes
100g frozen podded edamame beans
Small bag mixed salad leaves
¼ small cucumber, sliced thickly
50g sugar snap peas, trimmed and sliced
Large handful alfalfa sprouts
8-10 multi coloured cherry tomatoes, halved
3 radishes, finely sliced
For the dressing:
200 ml yogurt​
Zest and juice of ½ lemon
1 teaspoon green peppercorns in brine, finely crushed
½ teaspoon ground cumin
Salt and freshly ground white pepper
Water
To garnish:
Micro leaves
Lots of freshly ground black pepper
You will need:
3-tier steamer pot or similar
Deep serving bowl​
Trim the asparagus spears, cut off the woody bottom part and discard. Put into one of the steamer baskets along with the trimmed broccoli and leave to one side.
Wash the potatoes, but try not to remove the skin as it contains masses of nutrients as well as a lovely earthy flavour. Put the washed potatoes into the bottom pot of your steamer and pour on enough boiling water to just cover. Sprinkle over some salt and bring to the boil, and then turn down the heat so the water is barely simmering.
Fill a medium bowl with water and add lots of ice (this will be used to refresh the cooked vegetables later).
Put the frozen edamame beans into the remaining steamer basket and place over the potatoes with the lid on. After 2 minutes put the steamer basket containing the asparagus and broccoli over the edamame beans, and put the lid back on. The vegetables should take about 2 minutes more, after which time the potatoes will be tender and cooked.
Tip the asparagus, broccoli and edamame beans into the prepared ice water and leave for 20-30 seconds – this will ensure they keep their colour. Remove and drain well on kitchen paper.
To make the dressing, put all the ingredients for the dressing, apart from the water, into a bowl and mix well. Add as much water as you need to thin the dressing to your desired consistency. Taste and adjust the seasoning if necessary. Any remaining dressing can be kept in a screw-top jar in the fridge for 2-3 days.
To assemble, half fill your deep serving bowl with the mixed salad leaves then assemble your bowl using all the previously cooked and remaining fresh vegetables. Drizzle over the dressing – there's lots of ingredients in a deep bowl so you will need a lot of dressing. Garnish with some micro leaves and plenty of freshly ground black pepper.
Follow Beverley Hicks @littlechelseakitchen