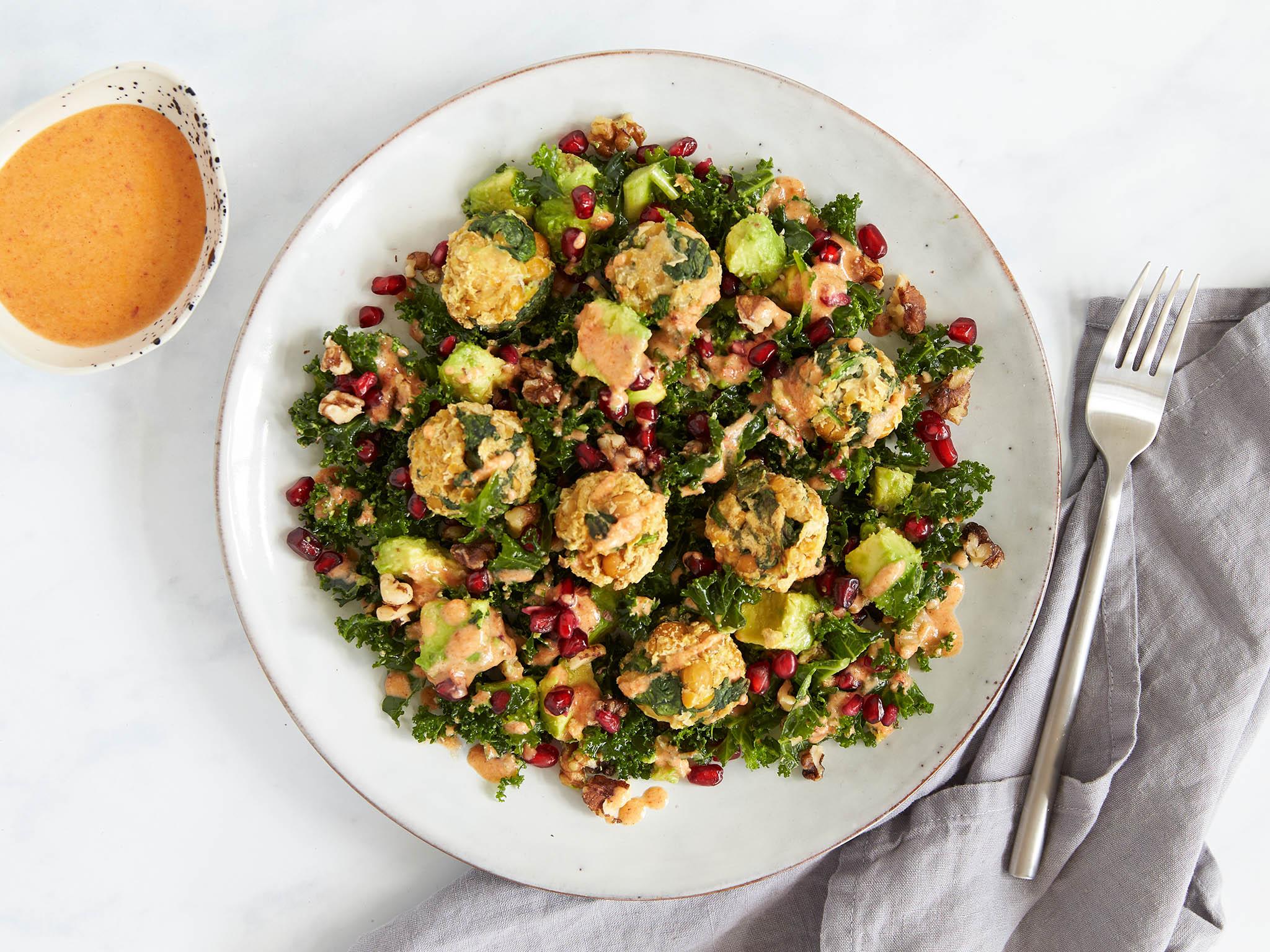 Spinach falafels with zingy kale salad
These falafels are green for a reason: they're packed with spinach. They're oven-baked and served with a coconut harissa sauce as well as a sweet and leafy kale, pomegranate and avocado salad.
1/2 pomegranate
15g creamed coconut
1 avocado
1 tsp harissa paste
20g walnuts
240g chickpeas (drained)
2 tbsp apple cider vinegar
2 tbsp chickpea flour
2 tsp oil
80g kale
80g spinach
We'll tell you what's true. You can form your own view.
From
15p
€0.18
$0.18
USD 0.27
a day, more exclusives, analysis and extras.
Preheat the oven to 200C/gas mark six and boil a kettle. Drain the chickpeas and place in a bowl, mash for one to two minutes with a potato masher or the back of a fork until all the chickpeas are crushed.
Place the spinach in a separate bowl. Pour boiling water over the spinach until covered and leave to wilt for one minute. Place the spinach in a sieve and squeeze out the excess water, then finely chop. Add the spinach to the bowl of chickpeas. Add the chickpea flour, one teaspoon of olive oil, one tablespoon of water, season with sea salt and black pepper and mix well. Form the chickpea mixture into 12 balls and place on a baking tray in the oven for 15-20 minutes, turning halfway through.
To make the kale salad, finely slice the kale (removing any tough stalks), cut the pomegranate in half and remove the seeds, peel and de-stone the avocado, cut into small pieces and roughly chop the walnuts. Mix all these ingredients together in a bowl, then mix in the apple cider vinegar and one teaspoon of oil. Season with sea salt and black pepper.
In a bowl, dissolve the creamed coconut with 30ml boiling water and mix with the harissa paste. Serve the kale and pomegranate salad on two plates and top with the falafels. Drizzle the coconut harissa sauce over the dish.
Recipe from mindfulchef.com