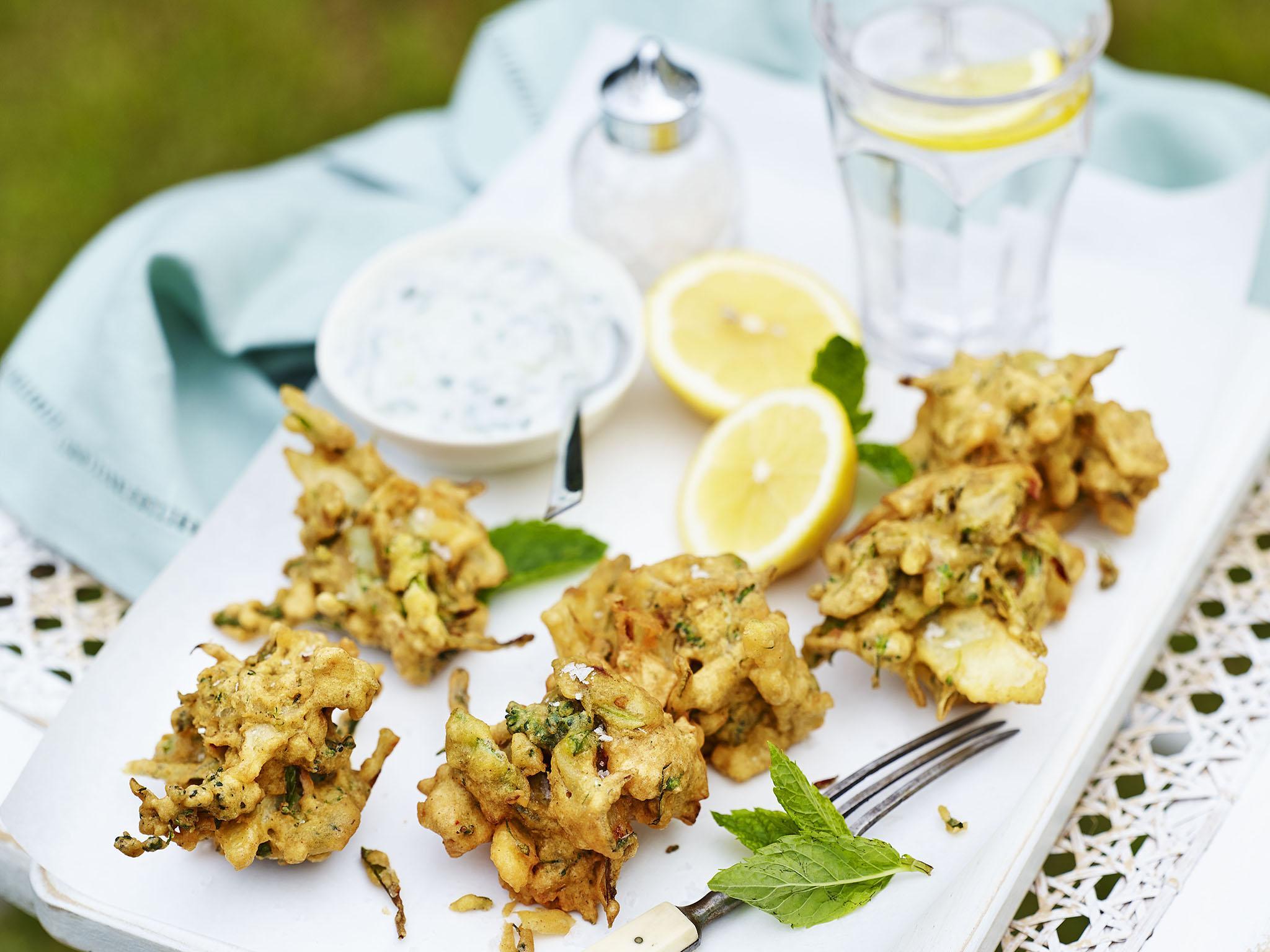 Spicy tenderstem pakoras with raita​ dip
Prep: 20 mins
Cook: 10 mins
For the pakoras
1 small baking potato (about 200g) peeled and cut very thinly, sliced into 1cm strips
1 large onion, finely sliced
200g tenderstem, stems cut into thin sticks and florets broken into small clusters
300g gram flour (chickpea flour)
½ tsp baking powder
1tsp each ground cumin, coriander, paprika and chilli flakes
1tbsp garam masala
2 eggs, beaten
1 litre groundnut or sunflower oil
For the raita
12cm chunk cucumber, deseeded, grated
170g fat free Greek yogurt
3tbsp chopped fresh mint
Heat oil in a deep medium saucepan. Mix vegetables together in a bowl. In a separate large bowl, blend flour, baking powder and spices with plenty of salt and pepper.
Toss vegetables into spiced flour mixture, then pour in the eggs and 100ml cold water. Mix well to a thick batter that coats but clings to the vegetables, adding a little more water if necessary.
Once the oil is hot (test it by adding a cube of bread – it should golden-brown in 15-20 seconds) you can begin adding the vegetable batter. Shape the mixture into portions, about a rounded tablespoonful at a time.
Lower the pakoras into the oil a couple at a time, being careful not to overload the pan. Fry for around 5 mins until the pakoras are golden brown and the veg is tender. Drain well and leave on kitchen paper for a few minutes. Repeat to use remaining mixture.
Meanwhile, mix together cucumber, yogurt and mint, season and set aside. Serve with the hot pakoras. 
Recipe from Tenderstem.co.uk