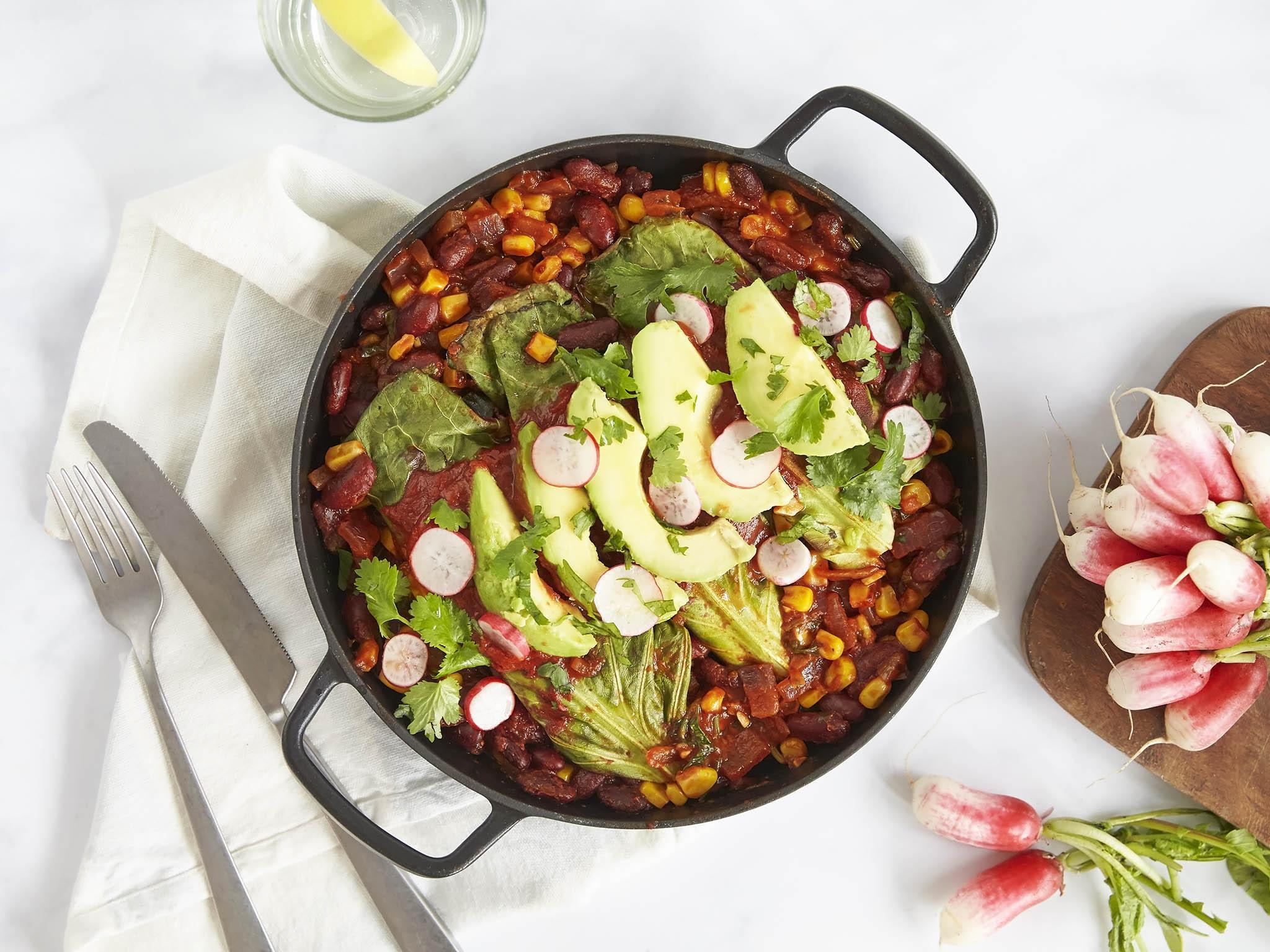 S

piced enchiladas wrapped in chard and avocado
100g rainbow chard
120g sweetcorn
1 avocado
1 red onion
1 tbsp oil
1 tsp ground coriander
1 vegetable stock cube
200g passata
240g kidney beans (drained)
2 garlic cloves
2 tsp chipotle paste
60g radishes
Medium handful of fresh coriander
Preheat the oven to 220C/gas mark 7 and boil a kettle. Finely chop the garlic and finely dice the onion. Roughly chop the coriander leaves. Cut the chard stalks from the leaves and finely chop them, but keep the leaves whole. Drain the sweetcorn and the kidney beans. Dissolve the vegetable stock cube in a jug with 100ml of boiling water.
Heat a medium-sized frying pan with 1 tbsp of oil on a medium heat, and cook the garlic, onion and chard stalks for 5 minutes, until softened. Add the ground coriander, chipotle paste, passata, vegetable stock, sweetcorn, kidney beans and half the fresh coriander. Cook for a further 5 minutes, until the sauce thickens.
Place the chard leaves in an oven-proof dish – you only need the middle section of the leaves to fit in the dish. Then spoon the kidney bean mix into the middle of each leaf to form the enchilada, and fold the ends over to form a roll – the number of enchiladas you have will depend on how big the leaves are. Repeat with all the leaves, keeping a few spoonfuls to go over the top.
Place the enchiladas in the oven for 10 minutes, until the chard has softened slightly. Meanwhile, thinly slice the radishes. Peel and de-stone the avocado and slice thinly. Serve the enchiladas on two warm plates and top with the sliced avocado, radish slices and remaining fresh coriander.
Recipe from Mindfulchef.com