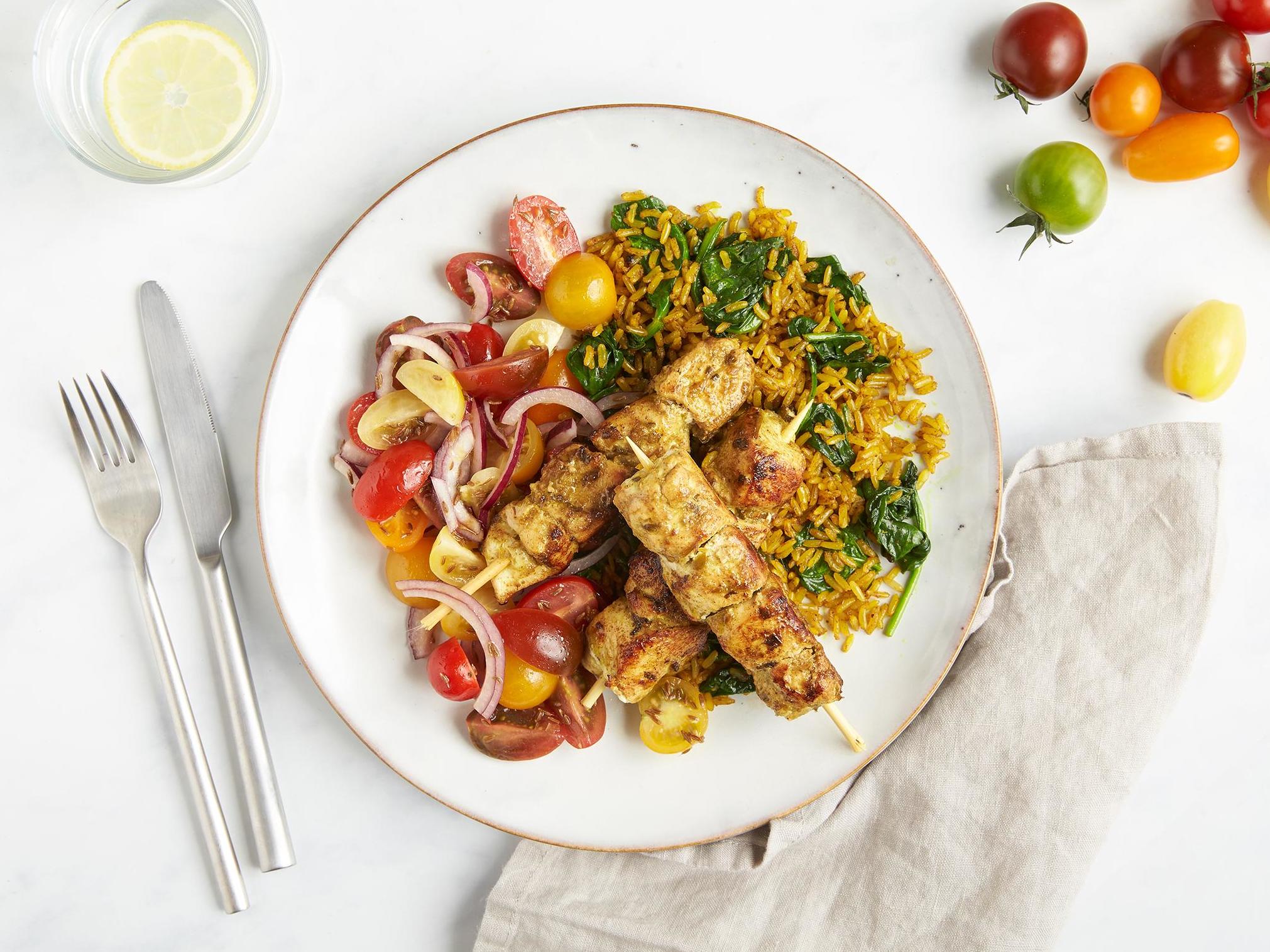 These tender chicken kebabs are marinated in zhoug, a Yemenite spice paste, popular in Israeli street food. This fragrant herbal spice paste is made with fresh coriander, cloves, parsley and a kick of green chilli.
½ red onion
½ tsp turmeric
180g heritage cherry tomatoes
1 tbsp apple cider vinegar
1 tbsp oil
1 tsp ground cumin
2 tbsp Belazu Zhoug paste
2 tsp cumin seeds
2 x 170g free-range chicken breast
40g spinach
80g brown rice
8 skewers
Boil a kettle. Rinse the brown rice and place in a saucepan with 400ml boiling water and a pinch of sea salt. Simmer for 20-25 minutes.
We'll tell you what's true. You can form your own view.
From
15p
€0.18
$0.18
USD 0.27
a day, more exclusives, analysis and extras.
In a bowl, mix together the zhoug spice paste with 1 teaspoon of oil and a pinch of sea salt. Cut the chicken into bite-sized pieces, place them into the bowl and coat with the paste. Leave to marinate while you make the salad.
To make the heritage tomato salad; roughly chop the heritage tomatoes and finely slice the half of red onion. In another bowl, mix the tomatoes and onions with the apple cider vinegar, 1 teaspoon of olive oil and the cumin seeds.
Thread the chicken on to the skewers and brush with any remaining zhoug from the bowl. Preheat a frying pan on a medium heat and cook the chicken for 10-15 minutes until the chicken is turning golden brown and cooked through. Remove the chicken kebabs and keep warm.
Drain the brown rice. Heat the same frying pan with 1 teaspoon of oil on a medium heat. Add the turmeric and ground cumin to the pan along with the cooked rice and the spinach leaves. Season with sea salt and black pepper, mix well and cook for 3-4 minutes, until the spinach has wilted.
Spoon the spinach rice on to two warm plates, top with the chicken kebabs and serve alongside the heritage salad.
Recipe from mindfulchef.com