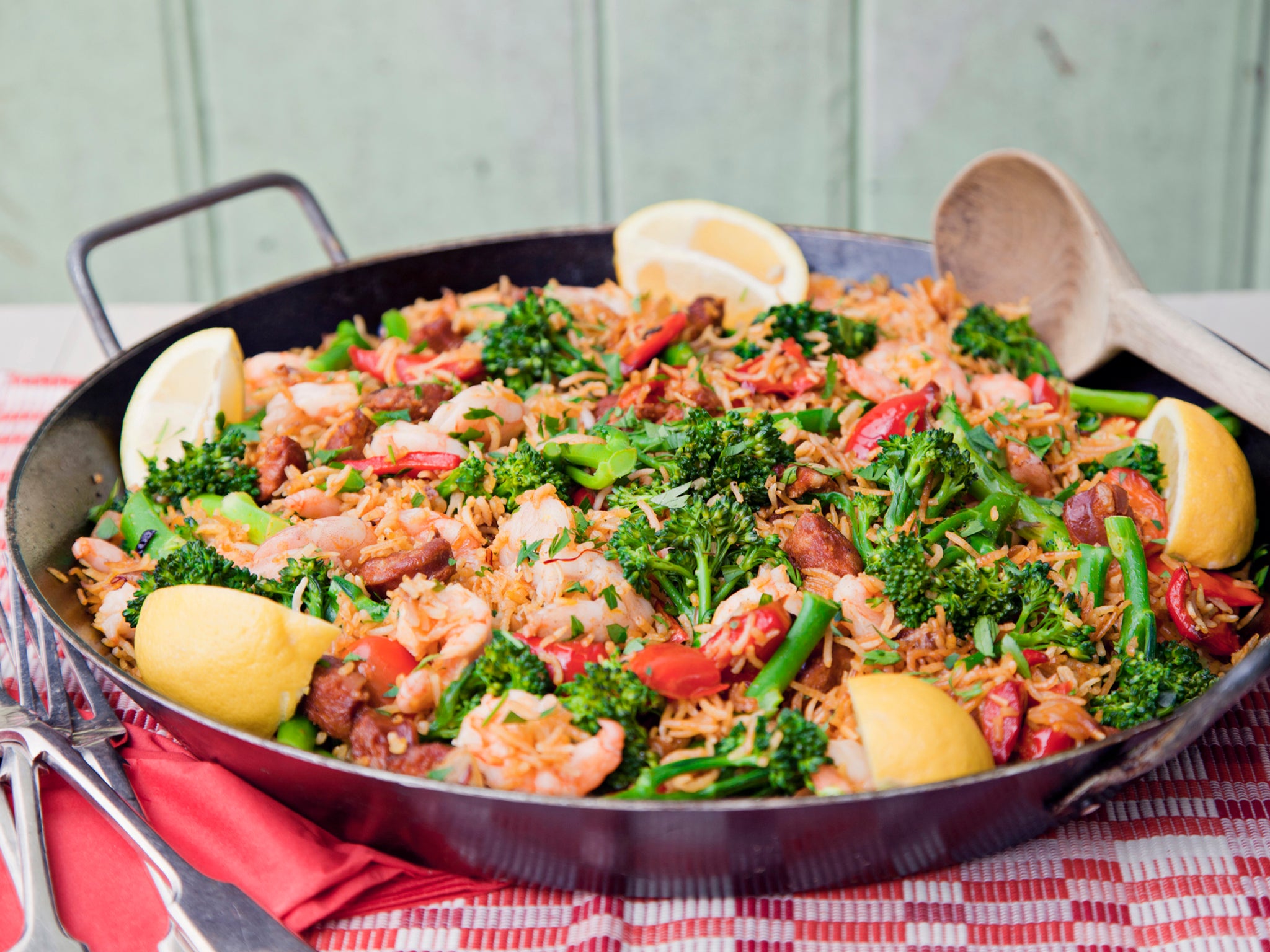 This treasured dish doesn't need much to remind you why you fell in love with it in the first place. It's colourful, easy and mildly spiced with saffron.
Prep: 5 minutes
Cook: 50 minutes
Serves 4
We'll tell you what's true. You can form your own view.
From
15p
€0.18
$0.18
USD 0.27
a day, more exclusives, analysis and extras.
A pinch of saffron threads
2 tbsp olive oil
200g cooking chorizo, diced
2 medium onions, chopped
2 red peppers chopped
2 cloves garlic, crushed
250g white rice, ideally paella rice, or if not basmati is good
450ml chicken stock
Salt and freshly ground black pepper
300g tenderstem broccoli, each stem cut into 2
300g raw king prawns
A small bunch of flat-leaf parsley, chopped
1 lemon, cut into wedges, to serve
Preheat oven to 200C/180C fan/gas 6. Sprinkle the saffron threads into a small heatproof glass or bowl and pour over 2 tablespoons of boiling water. Set aside to infuse.
Add the oil to a large, heavy-based heatproof casserole and set over a medium-high heat. When it is hot, add the chorizo, onions and peppers and fry together for 10 minutes, stirring frequently until they are a little coloured at the edges.
Reduce the heat a little before stirring through the garlic and rice. Fry for a couple of minutes, making sure all the rice grains are well coated in the juices. Pour in the stock, and saffron, along with its soaking water, stirring well to mix. Season with a little salt and freshly ground black pepper, cover with a tight-fitting lid or snuggly tucked piece of foil and bake in the oven for 25 minutes.
Blanch the tenderstem broccoli in a pan of boiling water for 2 minutes. Drain well.
Remove the paella from the oven, stir through the broccoli and prawns and most of the parsley, recover and return to the oven for a further 10-15 minutes, until the prawns are pink and cooked and the tenderstem​ broccoli cooked but with a little bite. Serve immediately, with a little extra parsley scattered on top and lemon wedges to squeeze over.
Recipe from Tenderstem.co.uk