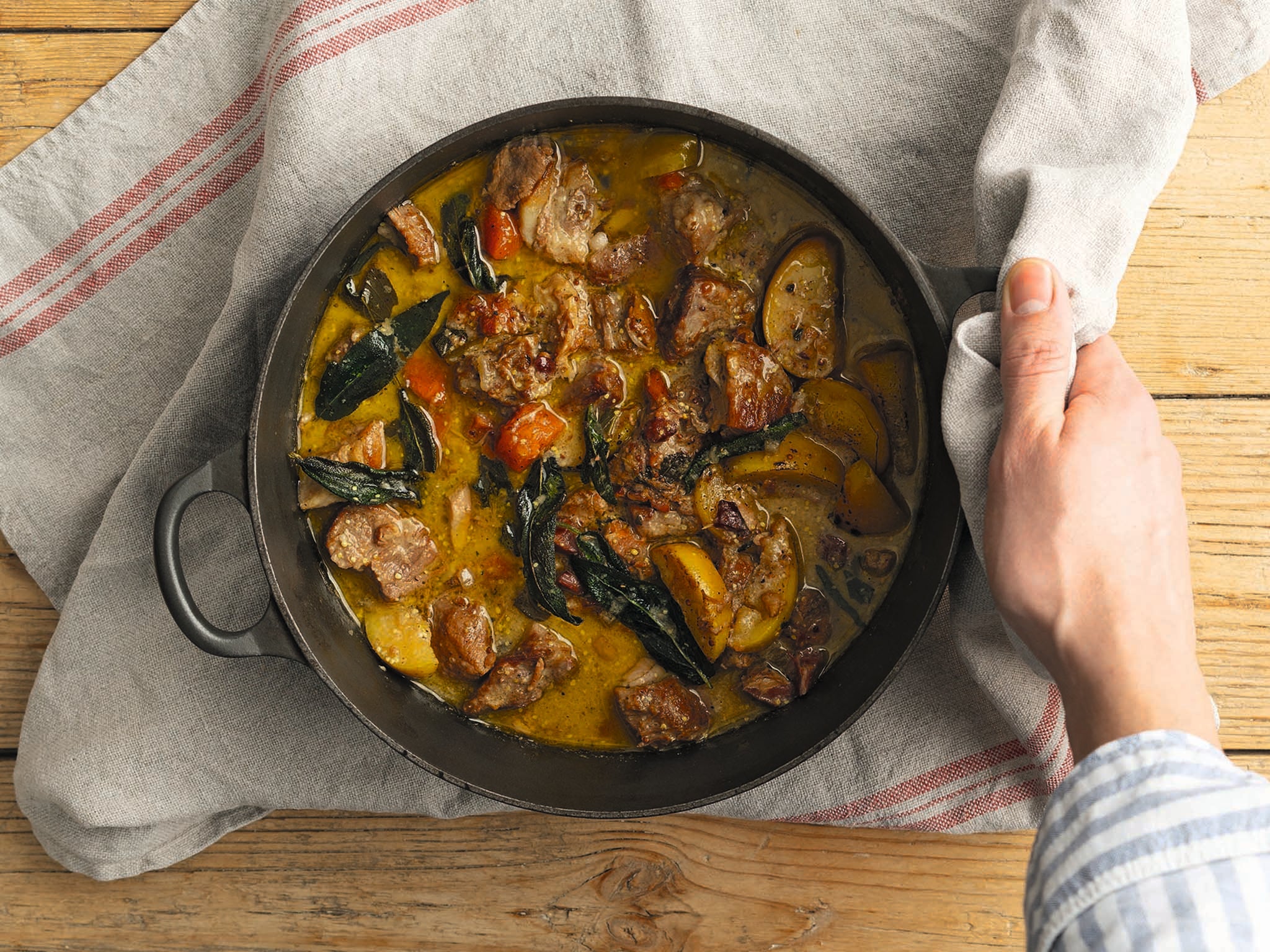 Slow-cooked pork and cider
Pork cooked very slowly in a cider alongside a selection of vegetables and herbs makes a delicious, and actually very easy to prepare, meal. Plus, pork and cider only get better when you cook mthe dish a day ahead, and it freezes beautifully – just omit the crème fraîche until you're ready to reheat and serve.
Serves 4
We'll tell you what's true. You can form your own view.
From
15p
€0.18
$0.18
USD 0.27
a day, more exclusives, analysis and extras.
Prep 10 mins
Cook 2 hours 30 mins
50 g (2 oz) butter
150 g (5 oz) smoked bacon lardons​
1 kg (2 lb 4 oz) pork shoulder, excess fat removed and chopped into 2.5 cm (1 in) chunks
salt and freshly ground black pepper
1 large onion, sliced
2 celery stalks, cut into
2 cm (¾ in) chunks
2 carrots, peeled and chopped into 2 cm (¾ in) chunks
small handful of fresh sage leaves
1 teaspoon juniper berries
2 crisp, sweet eating (dessert) apples, such as Cox's or Chivers Delight, cored and cut into wedges
500 ml (17 fl oz/2 cups) dry cider, ideally traditional scrumpy
300 ml (10 fl oz/1¼ cups) chicken stock
2 tablespoons wholegrain mustard
4 tablespoons crème fraîche
To serve
steamed new potatoes
greens
Preheat a fan oven to 140°C (280°F/gas 3).
Put half the butter in a large, flameproof casserole dish (Dutch oven) over a medium heat. Add the lardons and fry for a couple minutes until they brown and start to crisp up. Remove with a slotted spoon and set aside.
Add the pork to the casserole dish, in batches, and season generously with salt and pepper. Fry until the pork is brown all over and also beginning to crisp on the edges. Set aside with the lardons.
Add the rest of the butter to the dish and melt with the fat from the meat, turning down the heat to medium-low. Add the onion and fry for 1–2 minutes until beginning to soften and brown before throwing in the celery and carrots. Stir thoroughly and allow to fry together in the fat for a good 5 minutes until softened and just beginning to brown.
Add the sage, juniper berries and apple wedges and stir for another minute. Increase the heat slightly and return the pork and lardons back to the dish.
Stir everything together. Pour in the cider and bring to the boil for 2 minutes, then add the stock and reduce to a simmer, ensuring everything is mixed in well. Put the lid on the casserole dish and pop in the oven for 2 hours.
Return the casserole dish to the hob, remove the lid and give everything a good stir. The vegetables and meat should be tender and succulent. Next, heat to a simmer and let it bubble gently for 5–10 minutes until the liquid has reduced to two-thirds its original volume.
Stir in the mustard. (At this point you can leave the casserole dish to cool and freeze or keep in the refrigerator for a couple days before reheating to serve.) Finally, stir in the crème fraîche and serve with steamed new potatoes and greens.
'Apple' by James Rich (Hardie Grant £20) Photography ©Jacqui Melville