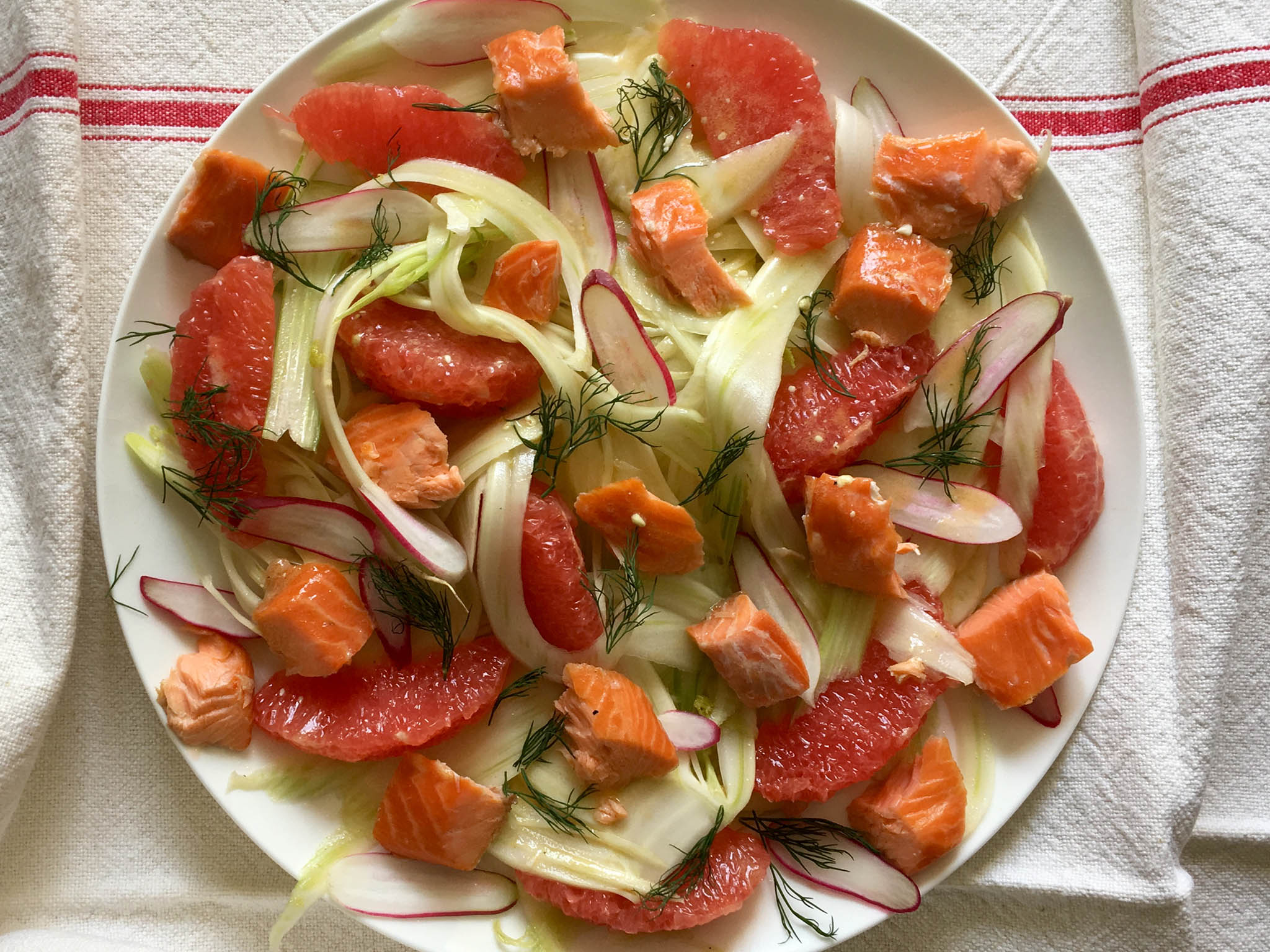 If you've been avoiding looking at – let alone turning on – your oven, then you're not alone. The recent hot weather has made the idea of cooking anything particularly unappealing.
It's not only the fact that we're reluctant to pump more heat into our already overheated homes, it's that hot food feels – well – too hot.
We want something cool and refreshing and restorative. No wonder we're craving crispy salads and juicy wedges of watermelon and ice cream that melts the moment it hits our mouth.
Best not to fight it – go for bowls of icy gazpacho soup or cold breakfast radishes dipped in butter and sea salt. 
This salad is the ideal main course for the heat-hampered cook. It combines anise-flavoured fennel with sweet and sour pink grapefruit.
Serve as it is or topped with hot smoked trout. If you do add the trout, then go for the best quality you can find as smoking is a subtle art and a little smoke goes a long way. RR Spink and Sons have been smoking Scottish fish for more than 300 years and their skill shows.
A packet of their hot smoked trout is enough for two to share and the perfect antidote for the hottest of days.  
Shaved fennel and grapefruit salad with hot smoked trout
Serves 2-3
1 bulb fennel
1 pink grapefruit
120g hot smoked trout
Dill sprigs
2-3 breakfast radishes
Dressing
5 tbsp pink grapefruit juice
6 tbsp olive oil
1½ tsp heavy cream
1 tsp dijon mustard
Salt and pepper
Take a sharp knife and cut a slice off the stem end of the grapefruit. Do the same on the opposite end of the fruit. Place the grapefruit cut side down on a chopping board. Slice the skin off by making cuts that follow the contour of the fruit.
Hold the fruit in your hands over a small bowl so you can capture any juices. Make V-shape incisions to release each of the grapefruit segments. Squeeze the remains of the grapefruit over the bowl to release as much remaining juice as possible.
Measure the juice – you should have about 5 tablespoons. Mix the juice with the remaining ingredients for the dressing. If you have less juice, adjust the amounts down; if you have more adjust up. Set the dressing aside.
Slice the fennel as thinly as you can or use a mandoline. Place the shaved fennel in a bowl and toss with a few spoonfuls of the dressing to coat. Pile the fennel on a plate, decorate with thinly sliced radish, dill sprigs and finish with the hot smoked trout. Drizzle a bit more of the dressing on top and serve at once.
@Juliapleonard