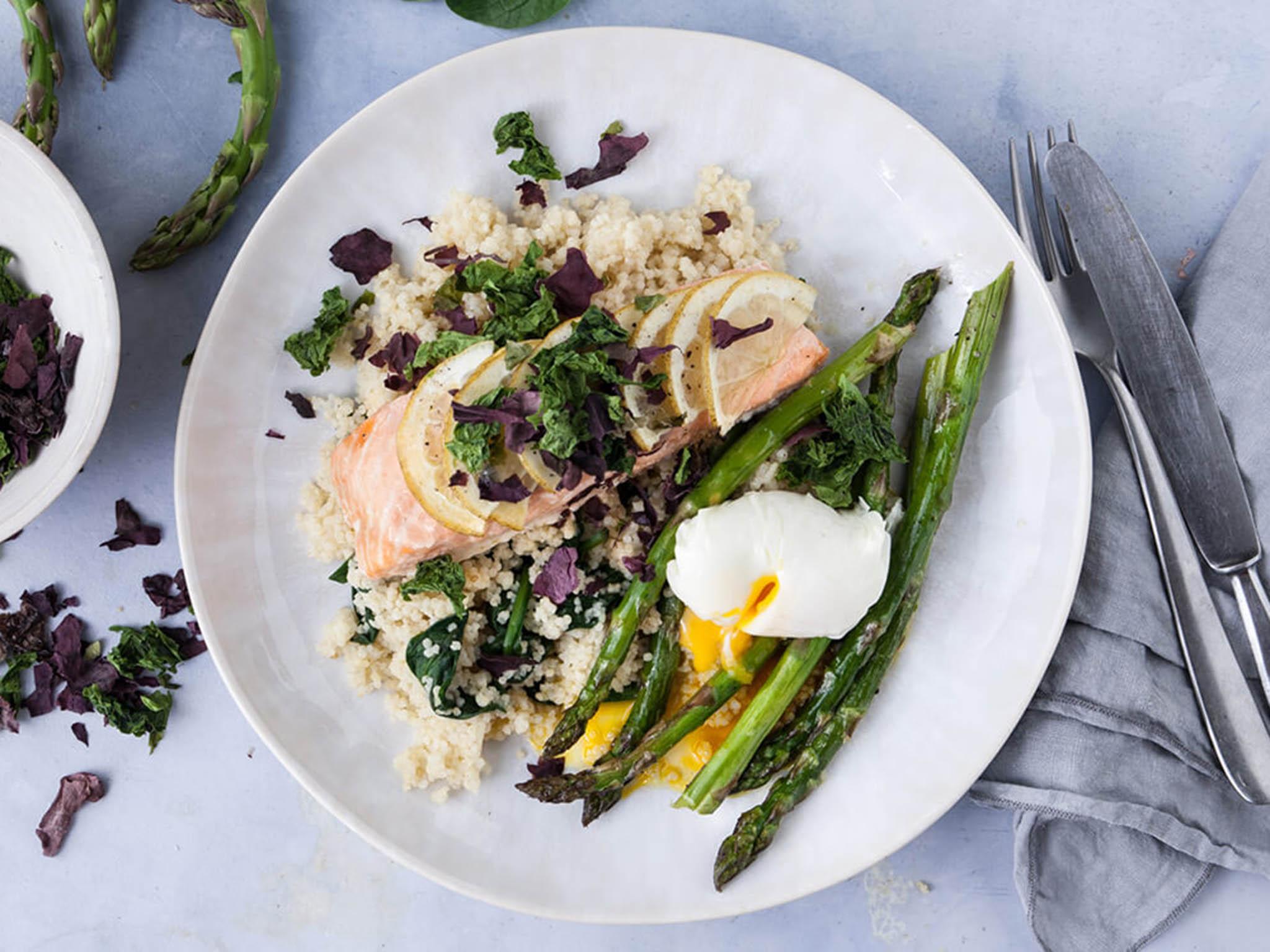 Salmon, poached egg, asparagus and seaweed
These delicate salmon fillets are served with tender, farm-fresh asparagus over quinoa with a poached free-range egg. A light sprinkling of Cornish seaweed adds a complex, marine taste we can't get enough of.
1/2 vegetable stock cube
140g asparagus
1 lemon
1 tbsp oil
1 tbsp organic seaweed salad
2 eggs
2 x 150g salmon fillet (skin on)
40g spinach
80g quinoa
We'll tell you what's true. You can form your own view.
From
15p
€0.18
$0.18
USD 0.27
a day, more exclusives, analysis and extras.
Preheat the oven to 180C/gas mark four and boil a kettle. Dissolve the half stock cube in a jug with 400ml boiling water. Rinse the quinoa and place in a saucepan with the stock and simmer for 15 minutes. Add the spinach to the pan for the last two minutes of cooking. Thinly slice half of the lemon and cut the slices in half. Trim the asparagus.
Place the salmon fillets on a baking tray, layer over the lemon slices, sprinkle with a pinch of sea salt and drizzle over one teaspoon of oil on each fillet. Place the asparagus alongside, drizzle with one teaspoon of oil and season with black pepper. Place the baking tray in the oven for 12-15 minutes until the salmon is cooked through.
Heat a separate saucepan with water and bring to a gentle simmer. Create a gentle whirlpool in the pan with a spoon then break an egg into the middle, one at a time. Cook for four minutes. Remove from the pan. Drain the spinach quinoa and stir through the juice from the remaining half lemon.
Spoon the spinach quinoa onto two warm plates and place the salmon on top, then sprinkle over the crispy seaweed salad. Serve alongside the asparagus, topped with the poached egg and a sprinkle of sea salt.
Recipe from mindfulchef.com