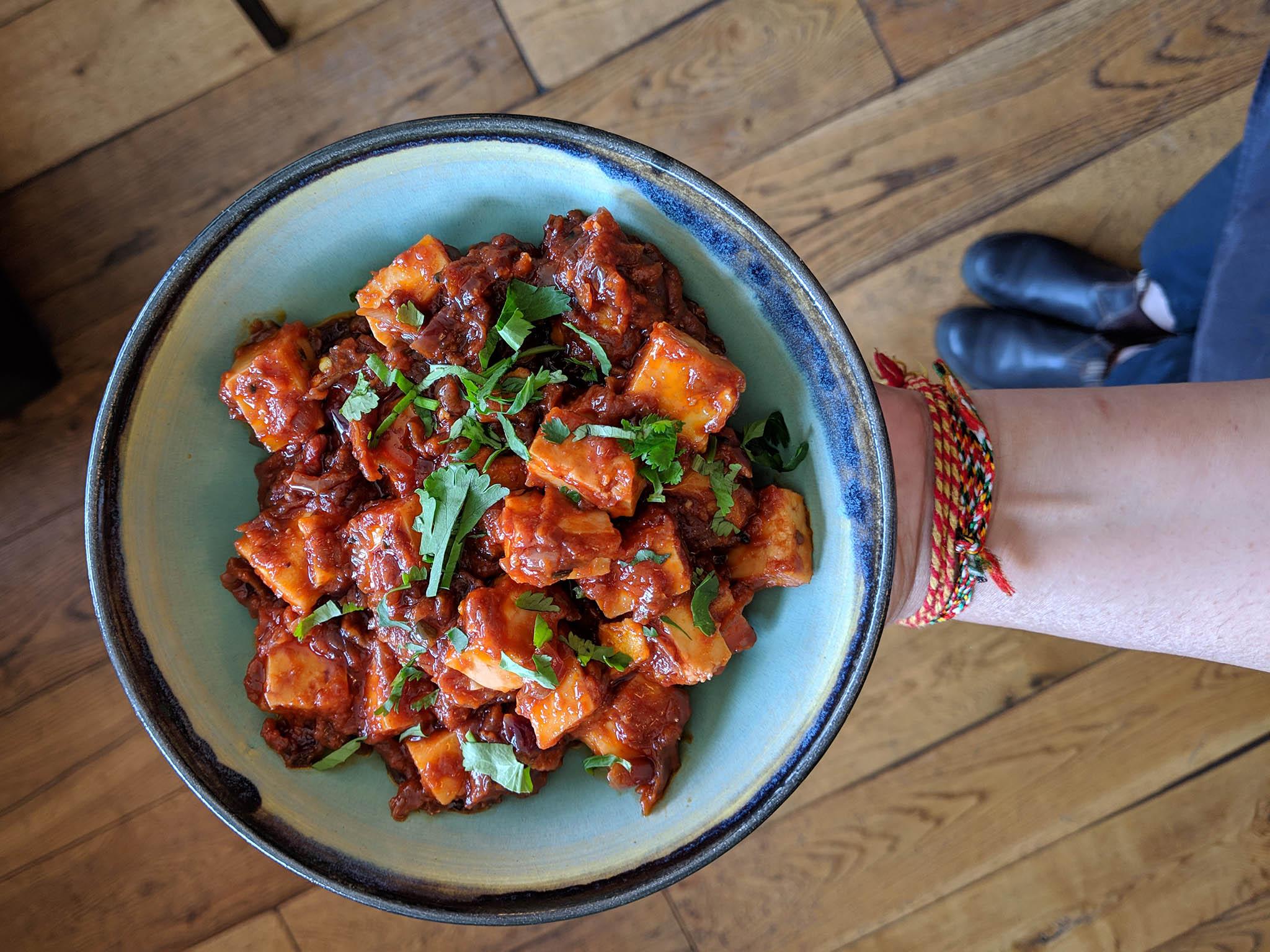 Growing up in West Bengal, my upbringing was very multicultural.
My mum would cook us paneer, as that was what Punjabi families would eat, but my Chinese friends would cook tofu with lots of soya – steamed, fried or cooked with spices.
I was not a great fan of tofu while growing but, somehow, now this recipe is so comforting. I go back to it all the time by tweaking with a few ingredients here and there.
We'll tell you what's true. You can form your own view.
From
15p
€0.18
$0.18
USD 0.27
a day, more exclusives, analysis and extras.
Here, I've combined tofu with the flavours of India and China to create a truly multicultural dish.
Chilli tofu
200g tofu, diced into chunks
2 large red onions, sliced
2 green chillies, chopped
15g thinly sliced ginger
4tsp soy sauce
3tsp pomegranate molasses
2tsp tomato puree
1tsp ground cumin
1tsp ground coriander​
1tsp salt
1tsp cornflour
6tsp sunflower oil
Handful fresh coriander for garnish
In a bowl, add all the spices, salt, ginger, chillies, soy sauce, pomegranate molasses, corn flour and tofu. Mix all the ingredients together and keep aside .
Heat oil in a pan and add the sliced onions once the oil is hot. Cook for 10 minutes on medium heat. Keep stirring, so that the onions don't get burnt.
Add tomato puree, mix it well, and cook for another 2 minutes.
Add the marinated tofu and cook further on low heat for another 20 minutes.
Sprinkle with chopped fresh coriander and serve as a sharing dish.
Romy Gill is a chef and food writer. Follow her @Romygill