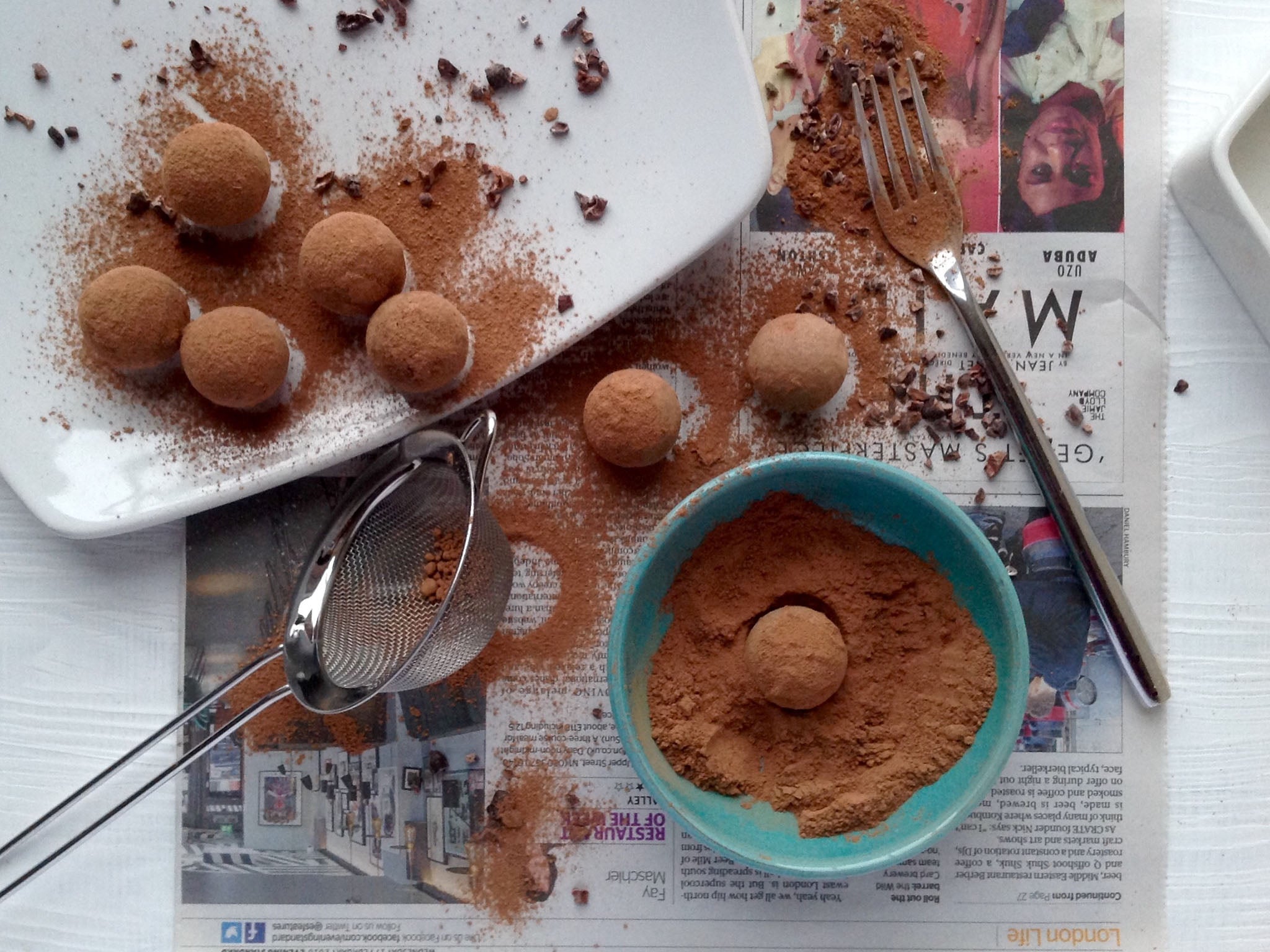 Raw chocolates
Makes 15 chocolates
100g cacao butter, roughly chopped
6 rounded tbsp cacao powder plus extra for dusting
90-130g coconut blossom nectar
1 tsp vanilla extract
Pinch of salt
We'll tell you what's true. You can form your own view.
From
15p
€0.18
$0.18
USD 0.27
a day, more exclusives, analysis and extras.
Preperation
Make sure your bowl and all other utensils are completely clean and dry before use as water can make the chocolate mix separate.
Sieve some extra cacao powder into a large bowl for dusting the chocolates later and have a sieve and more cacao to hand.
To make the chocolates
Put the cacao butter into a heatproof bowl over a pan of water on a very low simmer. Make sure the bowl is not touching the water; the steam will be hot enough to melt the butter. When completely melted, turn the heat off but leave the bowl on the pan and add the cacao powder. Mix well with a balloon whisk until completely combined. Now add the coconut blossom nectar, salt and vanilla and mix again.
Remove the bowl from the pan and place on a folded tea towel on your work surface as the base will still be quite hot. The mixture will be very runny at this stage but will firm up when chilled.
Spoon into silicone moulds and put in the freezer to set for 30 minutes.
When set, carefully remove the chocolates from the moulds and drop into the bowl of sieved cacao powder, sieve more on top and shake the bowl to cover the chocolate shapes completely and prevent them sticking together. Alternatively, when the mixture has cooled down, put into the fridge for 5 minutes until firm enough to scrape out with a melon baller and roll into balls in your hands (plastic gloves recommended as this can get very messy!). Drop the balls into the bowl of sieved cacao powder and repeat the above process.
With a fork, transfer the shapes/balls to a plastic box and put back in the freezer. Your chocolates can be kept for 1-2 months in the freezer for a sweet treat whenever you fancy.
These chocolates with be chewy, if you would like a firmer consistency experiment with less coconut blossom nectar, this will sacrifice some sweetness, but will make your chocolates less fudgy.
Additional flavourings
The mixture is delicious on its own but is a perfect base for your favourite fillings, just add to the mixture before you pour in the moulds or mould in your hands. Here are a few ideas:
Chilli powder, chopped goji berries, cacao nibs, crushed toasted cardamom seeds, chopped nuts and seeds, fleur de sel, freshly ground coffee.
Follow Beverley Hicks @littlechelseakitchen