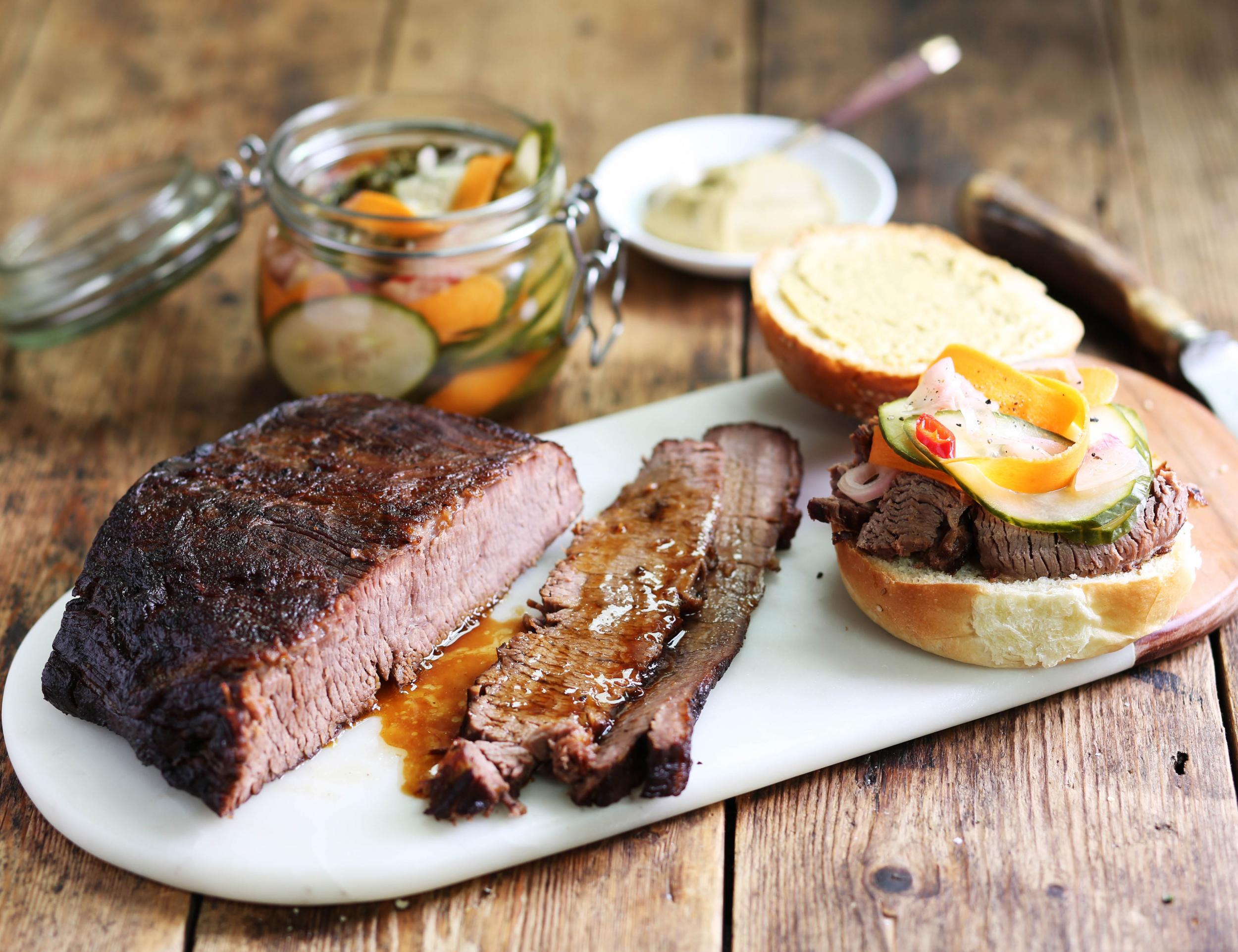 Organic smoked brisket and quick pickle buns
Prep: 20 mins
Cook: 3 hrs 30 mins, plus resting
1kg organic smoked flat brisket
1 tbsp olive oil
1 beef stock cube
½ a cucumber
1 red onion
1 carrot
1 garlic clove
1 chilli
A bunch of tarragon
3 tbsp caster sugar
1 tsp yellow mustard seeds
175ml white wine vinegar
6 brioche buns
6 tsp English mustard
Sea salt and freshly ground pepper
600ml boiling water
We'll tell you what's true. You can form your own view.
From
15p
€0.18
$0.18
USD 0.27
a day, more exclusives, analysis and extras.
Heat your oven to 160°C/Fan 140°C/Gas 3. Unwrap the beef brisket and pat it dry. Leave it to come to room temperature (about 30 mins).
Place a heavy-based casserole dish or large, ovenproof pan on a medium heat for a few mins. When smoking hot, add 1 tbsp oil and the brisket. Sear for 3-4 mins on each side, turning often, till well browned.
While the brisket is frying, pour 500ml boiling water into a jug and crumble in the stock cube, setting aside the remaining water for the pickle. Whisk well with a fork till dissolved.
When the meat has browned, remove the pan from the heat and pour over the stock. Pop a lid on or cover with foil, and slide into the oven and cook for 3 ½ hours, turning two or three times, till the meat is very tender. If the pan starts to look dry during the cooking, top up with an extra 200ml water.
Meanwhile, make the quick pickled veg. Peel the onion and carrot and slice thinly. Trim the cucumber and thinly slice on an angle. Slide into a large, heatproof bowl and toss together.
Crush the garlic clove lightly with your thumb, leaving the skin on. Slice the chilli thinly (use half for a little less heat). Add both the chilli and garlic to a pan along with the sprigs of tarragon, caster sugar, mustard seeds, vinegar and water. Spoon in 1 tsp salt and stir well. Put the pan onto a medium heat and bring to a gentle simmer.
When the pickling liquid is beginning to boil, remove it from the heat and pour the contents over the sliced vegetables and stir well. Set them aside while the brisket finishes cooking.
Allow the cooked brisket to rest in a warm place for 30 mins before carving into thin slices or pulling apart with forks. Serve in the brioche buns with dollops of English mustard and a few of the pickled vegetables.
Recipe from abelandcole.co.uk