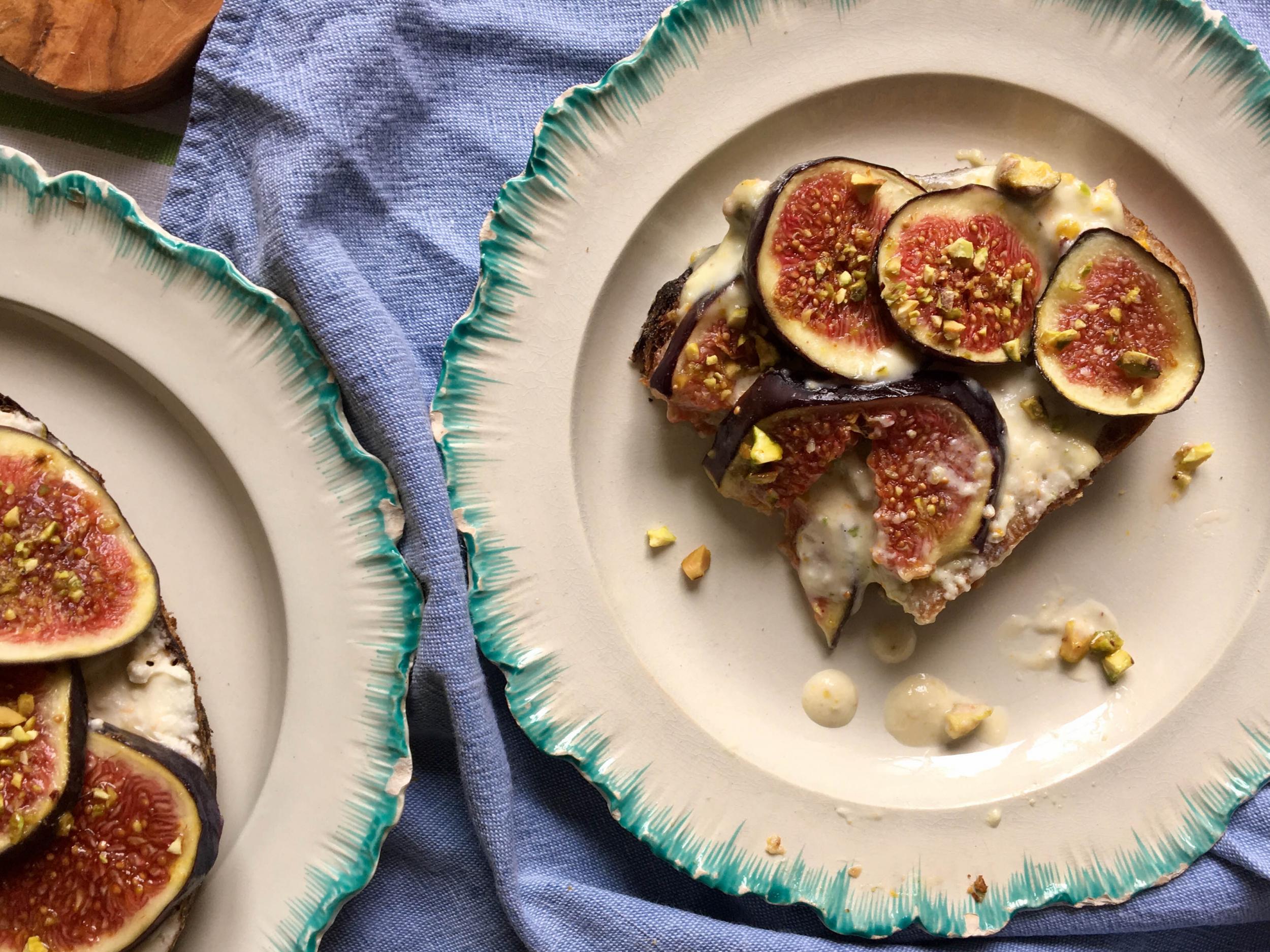 We're spoiled in September with berries, plums, tomatoes and courgettes all vying for our attention.
Figs are at their best now too and only need a slice of cheese, some bread and bit of prosciutto to make a meal. They also have a natural affinity for nuts and creamy cheeses and a dash of honey enhances their natural sweetness.
For this recipe, I've made a spread for slices of sour dough bread using mascarpone cheese – a buttery-rich cow's milk soft cheese. Mascarpone pairs particularly well with fruit and a splash of orange juice and grated orange zest cuts through the richness while chopped pistachios add bite.
Figs with pistachio-orange mascarpone on sour dough bread
Serves 2-4
4 ripe figs
4 slices sour dough bread
250g mascarpone​
1 orange, zested and 1 tbsp orange juice
2 tsp runny honey
20g pistachios, plus additional to garnish
Salt
Preheat oven to 220C. To make the mascarpone spread, mix the mascarpone together with the zest of the orange, 1 tablespoon of orange juice and 1 teaspoon of the honey.
Roughly chop the pistachios and add them to the mixture along with a sprinkle of sea salt. Taste and add more honey if you'd like it sweeter. 
Place the four slices of bread on an ovenproof pan. Spread the mascarpone mixture generously on the four slices. 
Slice each fig into about 6-7 rounds. Lay the fig slices on top of the mascarpone mixture, slightly overlapping the figs so they cover the entire slice of bread. Drizzle or brush the tops of the figs with some of the remaining honey. Repeat with the other figs and bread. 
Top with some chopped pistachios, place in the oven and cook for a few minutes until the figs are lightly browned and the mascarpone is hot and bubbly. Remove and eat warm.   
@Juliapleonard