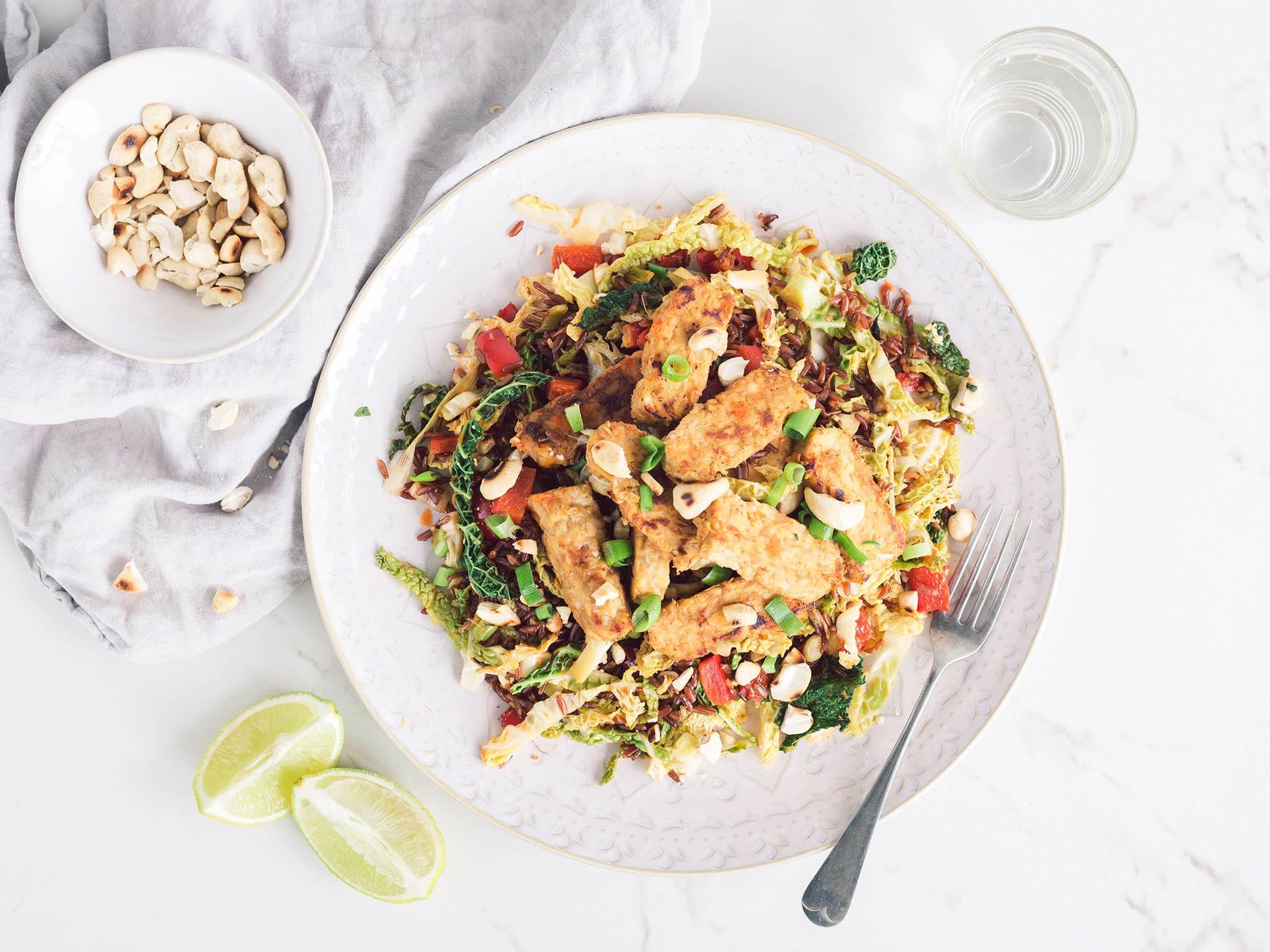 Nasi goreng with ginger tofu and red rice
A plant-based twist on the Indonesian favourite, we've topped red rice with stir-fried tofu, fresh ginger, shredded Savoy cabbage and a sprinkling of antioxidant-rich cashew nuts.
100g red rice
15g cashew nuts
1 lime
1 red pepper
1 tbsp tamari​
2 garlic cloves
2 spring onions
2 tbsp oil
300g firm tofu
300g Savoy cabbage
4cm fresh ginger
Boil a kettle. Rinse the red rice and place in a saucepan with 500ml boiling water and a pinch of sea salt. Simmer for 25-30 mins until cooked, then drain.
Rinse the tofu and pat dry with paper towel. Cut the tofu block in half horizontally and slice each half into long 2cm wide rectangles.
To make the sauce, peel and grate the ginger and garlic. In a bowl, mix the ginger with the garlic, tamari and juice from the lime. Split the sauce into two bowls and add the tofu in one of the bowls. Leave to marinate while you cut the vegetables.
Trim the root of the Savoy cabbage and finely slice. Dice the red pepper. Finely slice the spring onions, separating the white and green parts. Roughly crush the cashew nuts.
In a small frying pan (ideally non-stick), heat half a tbsp oil on a medium heat and cook the tofu for 10 mins, turning occasionally until golden brown.
Meanwhile, heat a large dry frying pan on a high heat and toast the cashew nuts for 3 mins until turning golden. Remove from the pan and set aside. Heat the same pan with half a tbsp oil on a medium heat and cook the white spring onions, the red pepper and Savoy cabbage for 5 mins. Stir through the sauce and the red rice and cook for a further 2 mins, stirring frequently.
Spoon the vegetable rice onto two warm plates, top with the tofu, toasted cashew nuts and green spring onions.
Recipe from mindfulchef.com