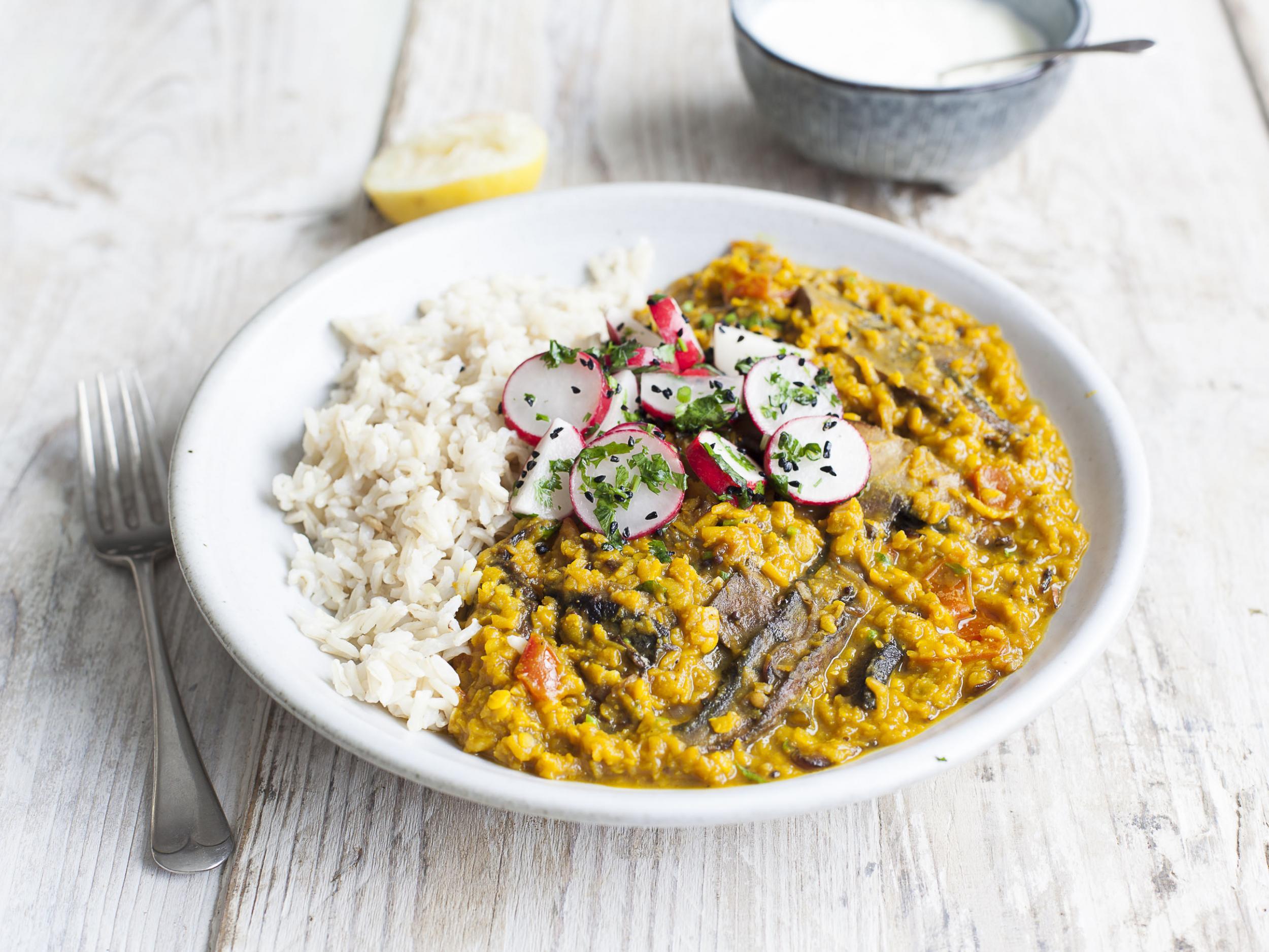 Mushroom dahl with radishes, rice & yoghurt
Prep & cook: 30 mins
Serves 2
Cook the lentils on a low heat; if too hot they will stick to the base of the pan. Add more water if they start drying out; you want a loose, porridge-like consistency. Adding chilli at the end is optional; it adds an extra kick of heat for the more tolerant.
We'll tell you what's true. You can form your own view.
From
15p
€0.18
$0.18
USD 0.27
a day, more exclusives, analysis and extras.
150g red lentils
100g brown basmati rice
Salt & pepper
2 tomatoes
2 tablespoons medium curry powder
1 teaspoon bouillon powder
1 onion
200g portobello mushrooms
1 garlic clove
Oil for frying e.g. sunflower
1 bunch radishes – use ½
15g coriander
1 teaspoon black onion seeds
Mushroom spice pot:
1 tablespoon curry leaves
½ teaspoon mustard seeds
½ teaspoon cumin seeds
1 lemon
Yoghurt, to serve
Rinse the rice, cover well with boiling water, add a good pinch of salt, pop on the lid & simmer for approx. 25 mins or until tender.
Rinse the lentils to remove excess starch & tip into a saucepan. Add roughly chopped tomatoes, curry powder, bouillon powder & 600ml boiled water. Bring to a simmer. Gently cook for approx. 20-25 mins, until soft.
Meanwhile, peel & finely slice the onion. Slice the mushrooms, not too thinly. Peel & finely chop 1 garlic clove.
Heat 2 tbsp oil in a frying pan. Add the onion & a pinch of salt. Fry gently for 3-4 mins, until starting to soften.
Increase the temperature, add the mushrooms & cook for 5-6 mins until both are softened & coloured.
Add the garlic & the mushroom spice pot to the mushrooms, turn up the heat & fry for another 2 mins. Remove from the heat.
Clean half the bunch of radishes & slice into chunky rounds or wedges. Chop the coriander leaves.
Mix the radishes with the black onion seeds & half the coriander. Season with a pinch of salt. Keep to one side.
When the lentils have cooked, stir in the mushrooms & remaining coriander. Season with salt & pepper to taste. A squeeze or 2 of lemon juice will enliven it too.
Drain the rice & serve with the dahl, alongside the radishes & yoghurt.
Recipe from Riverford.co.uk