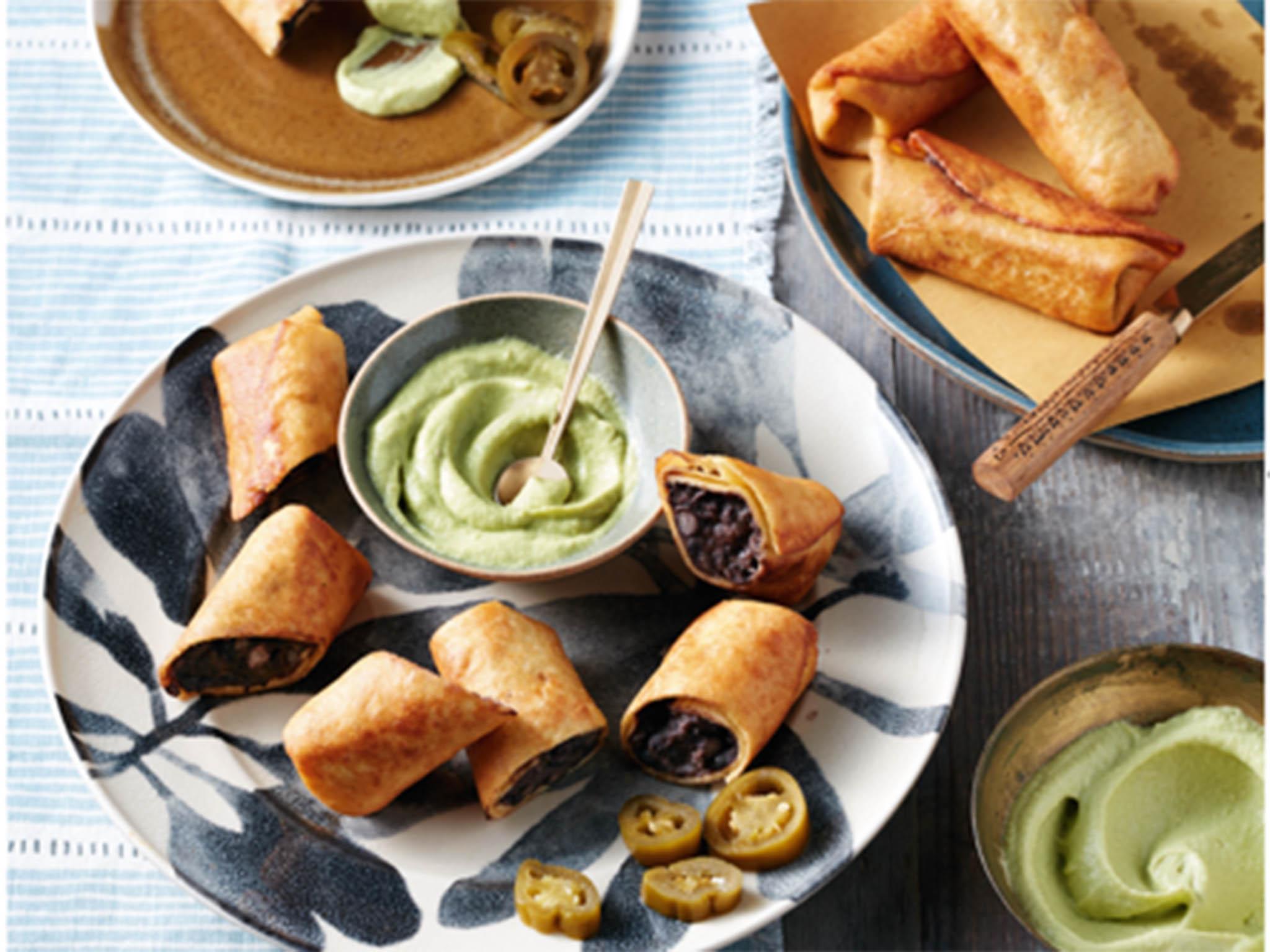 Mini black bean chimichangas with avocado dip
Serves 2-3
Black beans and avocado are a timeless pairing, and one I have a particular fondness for. While I've occasionally tampered with the filling and the dip concoction here, nothing comes remotely close to the addictiveness of this combination (garlicky white beans and pesto has been the closest contender). I tend to think the old adage "if it ain't broke…" is particularly applicable here: not exactly groundbreaking chimichanga territory, but when it tastes this good, who cares?
We'll tell you what's true. You can form your own view.
From
15p
€0.18
$0.18
USD 0.27
a day, more exclusives, analysis and extras.
75ml olive oil
6 taco-sized tortillas
Refried black beans
1 tablespoon olive oil
1 onion, finely chopped
1 garlic clove, minced
300g canned black beans, with their liquid
1 bay leaf
1 tablespoon minced pickled jalapeños​
sea salt flakes and black pepper
Avocado dip
½ ripe avocado
1 tablespoon plain coconut or soy yogurt​
1 tablespoon tahini
juice of ½ lime
1 garlic clove, minced
sea salt flakes and black pepper
For the refried beans, heat the olive oil in a saucepan over a medium heat. Add the onion, season and sweat for 2-3 minutes, or until translucent.
Add the garlic to the pan and sauté until aromatic, then add the black beans and their liquid together with the bay leaf and jalapeños. Season generously and simmer for 20 minutes until the mixture is relatively thick and the beans have softened further, then remove from the heat and roughly mash, leaving a few beans whole for texture. Set aside until needed.
To make the avocado dip, place the avocado, yogurt, tahini, lime juice and garlic in a blender. Season, add a splash of water and blend until completely smooth. Refrigerate until needed.
Heat the olive oil in a small frying pan over a medium-high heat. Add a small piece of tortilla to check the temperature – if it is crispy and golden after 30 seconds then the oil is at the right temperature for frying.
Place a tortilla on a work surface, add a spoonful of the black bean mixture to the lower half and tuck in both sides before folding over the nearest edge. Carefully but firmly roll the tortilla up into a log and dampen the edges with a little water to secure. Repeat with the remaining tortillas and filling.
Carefully lower the chimichangas into the hot oil in batches and fry for 2-3 minutes on each side until crispy and golden (being careful not to overcrowd the pan). Remove from the pan and drain on a plate lined with kitchen paper, then serve immediately alongside the avocado dip.
Recipe from Cook Share Eat Vegan: Delicious plant-based recipes for Everyone by Áine Carlin. Published by Mitchell Beazley. £20