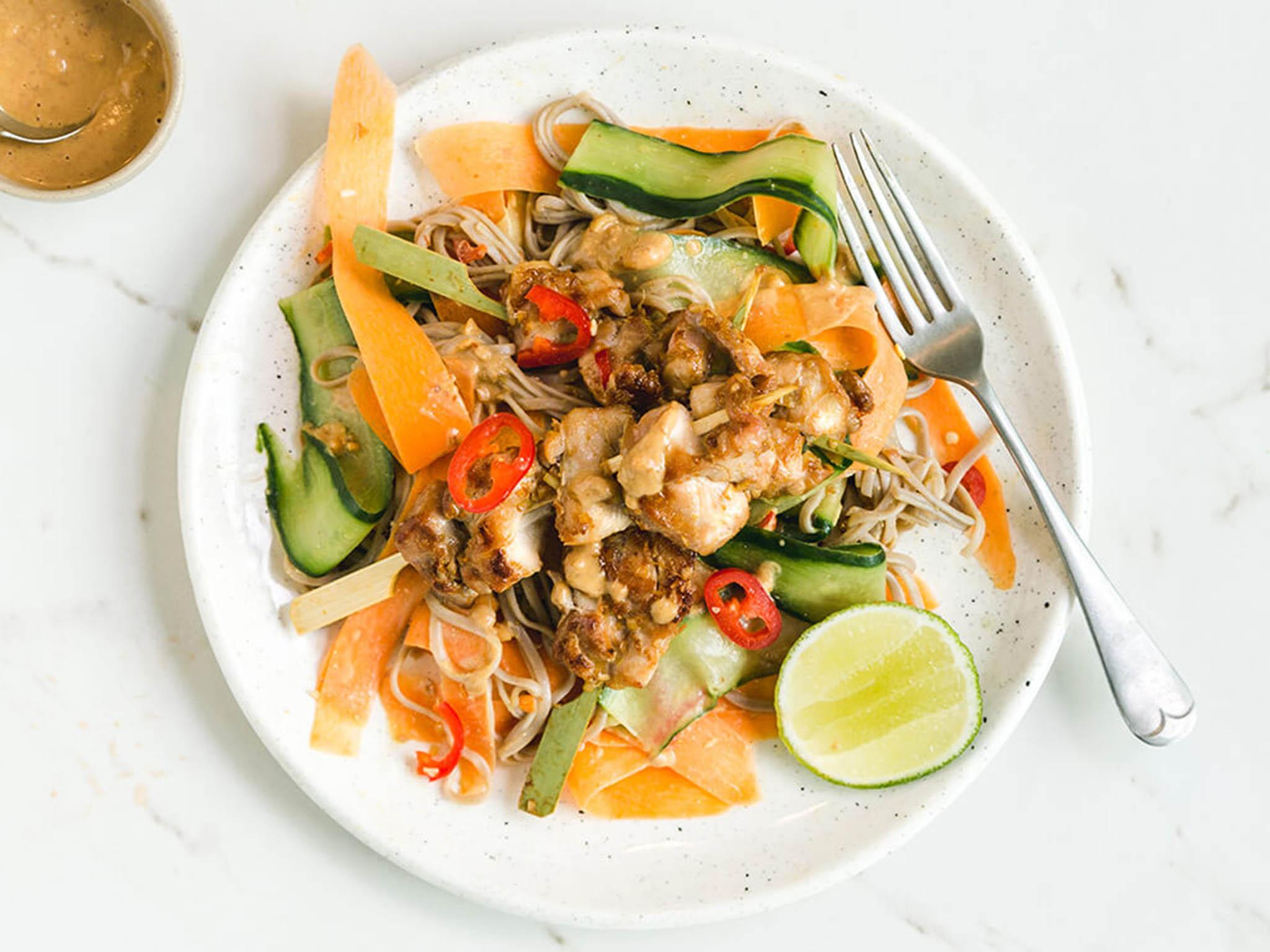 Indonesian chicken skewers with peanut sauce
Marinate Norfolk chicken thighs in a fragrant sauce, thread them on to skewers then griddle them for this satay-style recipe. Served over buckwheat noodles and vegetable ribbons with a maple peanut dressing.
1 cucumber
1 fresh lemongrass stalk
1 lime
1 red chilli
1 tbsp oil
1 tsp maple syrup
200g carrot
2 tbsp peanut paste
2 tbsp tamari​
2 x 150g free-range chicken thighs
4cm fresh ginger
80g buckwheat noodles
8 skewers
We'll tell you what's true. You can form your own view.
From
15p
€0.18
$0.18
USD 0.27
a day, more exclusives, analysis and extras.
Trim the lemongrass, remove the outer layer and finely chop. Peel and grate the ginger. Slice each chicken thigh in half lengthways to make two long ribbons (8 in total). In a bowl, add the lemongrass, ginger, half of the tamari, the chicken and 1/2 tbsp oil, stir and leave to marinate.
To make the vegetable noodles, peel the carrots and trim the ends of the carrots and cucumber. Using a peeler, thinly slice the carrots and cucumber into long thin strips. Thinly slice half of the red chilli (remove the seeds for less heat) and finely chop the remaining half.
To make the peanut sauce, mix the peanut paste with 1-2 tbsp cold water, the maple syrup and the remaining tamari to make a smooth sauce. Add the finely chopped chilli.
Thread each slice of chicken onto a skewer lengthways, weaving in and out of the skewer. Heat a griddle pan (or frying pan) with 1/2 tbsp oil on a medium-high heat and cook the chicken skewers for 10-15 mins, turning occasionally, until cooked through and golden brown.
Boil a kettle. Pour 500ml boiling water into a saucepan and bring to the boil, then add the buckwheat noodles and simmer for 5 mins (stir often to prevent sticking). Once cooked, rinse briefly in cold water.
In a large bowl, add the vegetable noodles, buckwheat noodles, juice from the lime and half of the peanut sauce. Stir well to combine. Place the noodles in two bowls and top with the chicken skewers. Sprinkle over the sliced chilli and drizzle over the remaining peanut sauce.
Recipe from mindfulchef.com