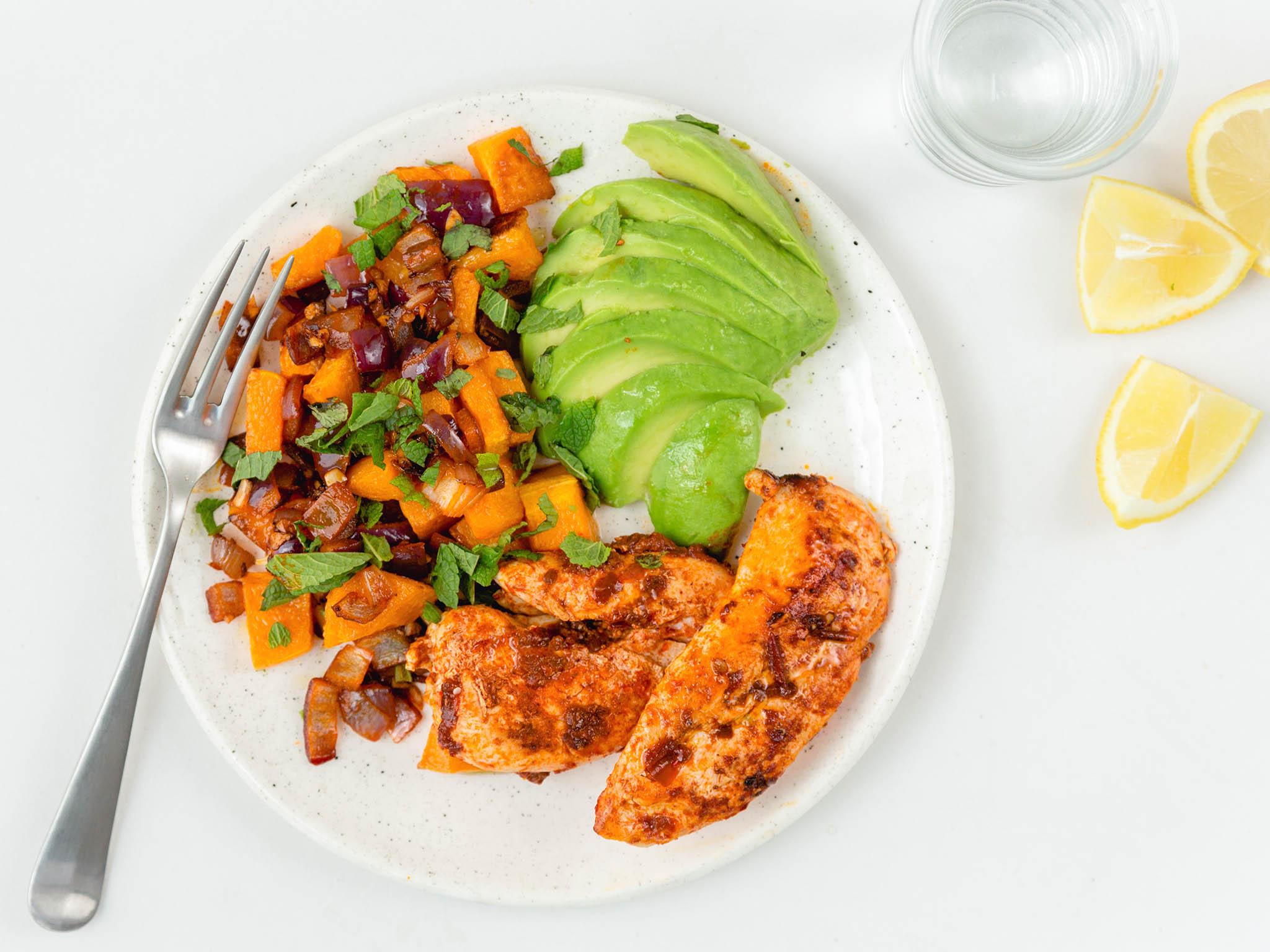 Harissa chicken, avocado, squash and  mint
½ lemon
1 avocado
1 red onion
1 tbsp oil
1 tsp smoked paprika
2 garlic cloves
2 tsp harissa paste
2 x 170g free-range chicken breast
400g butternut squash
Medium handful of fresh mint
Preheat the oven to 200C / gas mark 6. Peel the butternut squash and cut into 2cm cubes. Place the squash on a baking tray, drizzle over 1/2 tbsp oil and toss to coat. Season with a pinch of sea salt and place in the oven for 15-20 mins, turning halfway through.
Meanwhile, dice the red onion and crush or finely chop the garlic. Carefully slice each chicken breast in half horizontally to form 2 thin fillets and place in a bowl with the harissa paste, half of the smoked paprika and a pinch of sea salt.
Heat a frying pan on a medium heat with 1 tsp oil. Add the 4 thin chicken fillets and cook for 4-5 mins each side until golden brown and cooked through, remove from the pan and cover to keep warm.
Add 1 tsp oil to the same pan, then add the red onion and garlic and cook for 3 mins. Then add the remaining smoked paprika and season with sea salt and black pepper, cook for a further 2 mins.
Peel and de-stone the avocado and slice thinly. Thinly slice the mint leaves.
Serve the roasted squash on two warm plates, top with the onion and the chopped mint. Serve alongside the chicken fillets and sliced avocado. Squeeze over the juice from the half lemon, to taste.
Recipe from Mindfulchef.co.uk