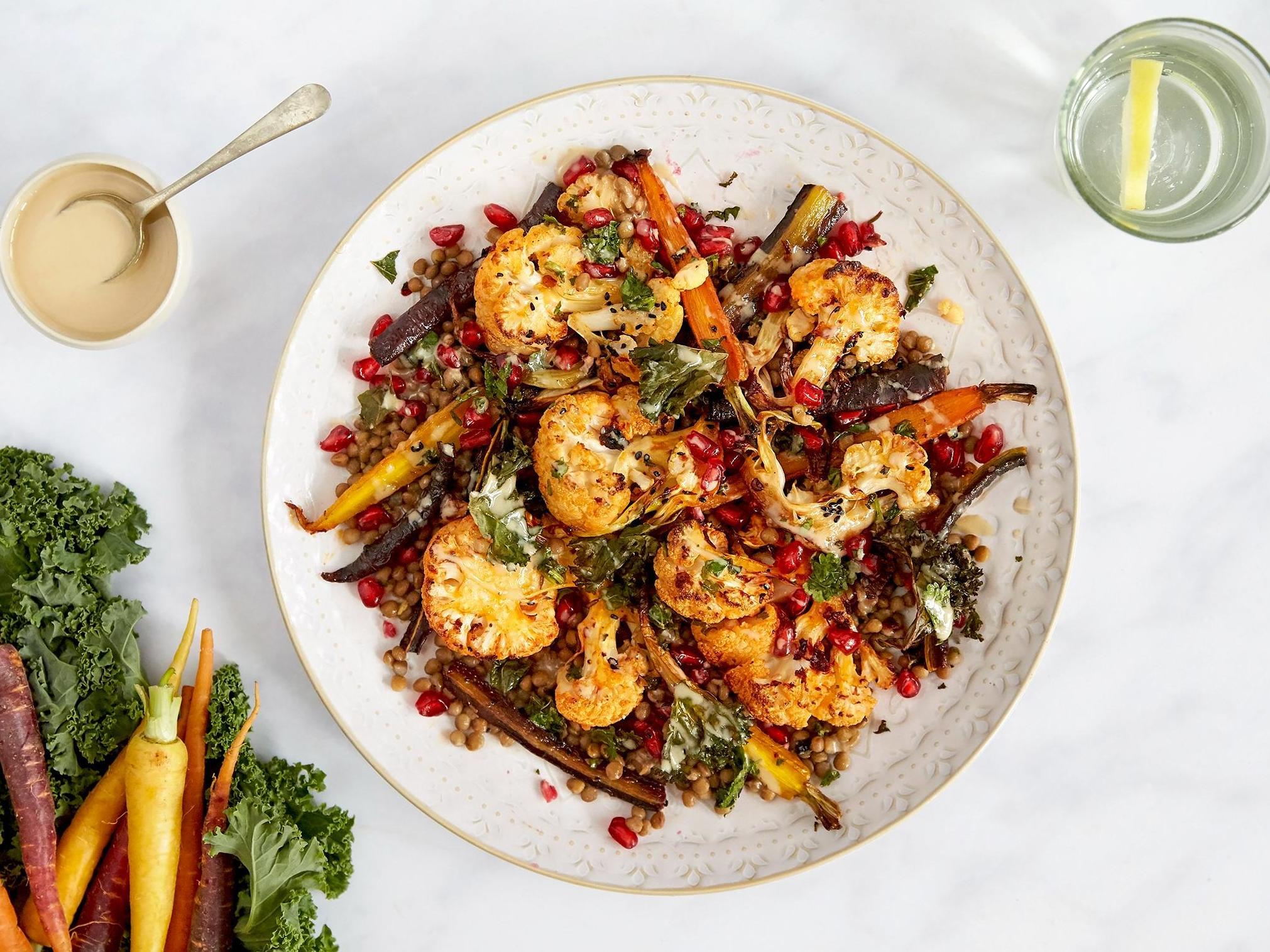 Tahini and cauliflower always pair well, particularly if the cauli's roasted with sweet-scented rose harissa. Juicy pomegranate seeds, rainbow carrots and a fresh herb dressing make this meal feel particularly gourmet.
½ lemon
1 cauliflower
1 pomegranate
1tbsp tahini
1tsp nigella seeds
200g rainbow carrots
240g lentils in water (drained)
2tbsp oil
2tsp cumin seeds
2tsp rose harissa paste
40g kale
Medium handful of fresh coriander
Medium handful of fresh mint
Preheat the oven to 200C.
We'll tell you what's true. You can form your own view.
From
15p
€0.18
$0.18
USD 0.27
a day, more exclusives, analysis and extras.
Roughly chop the kale. Remove the leaves from the cauliflower, slice any thick stalks in half and reserve for later. Cut the cauliflower into small florets. Rub the cauliflower with the harissa and ½​tbsp oil and place on a baking tray. Sprinkle with the nigella seeds.
Cut the rainbow carrots into thin batons and place on another baking tray, drizzle with ½​tbsp oil and sprinkle over the cumin seeds and a pinch of sea salt. Place both baking trays in the oven for 25 mins, turning the veggies halfway through until golden brown and softened.
After 15 mins, add the cauliflower leaves and kale to the cauliflower tray with 1tsp oil. Cook for 10 mins.
Drain and rinse the lentils. Finely chop the coriander and mint leaves and place into a bowl with 1tsp olive oil and a squeeze of lemon juice. In a small frying pan, heat 1tsp oil on a medium heat and cook the lentils for 5 mins until heated through. Add a pinch of sea salt and black pepper and stir in half of the herby sauce.
Slice the pomegranate in half and remove the seeds, reserve these for later. In a small bowl, mix the tahini with 1-2tsp cold water to make a smooth sauce.
Spoon the herby lentils onto two warm plates and top with the carrots, cauliflower, crispy kale and cauliflower leaves. Sprinkle over the pomegranate seeds and drizzle over the tahini and remaining herby dressing.
Recipe from mindfulchef.com