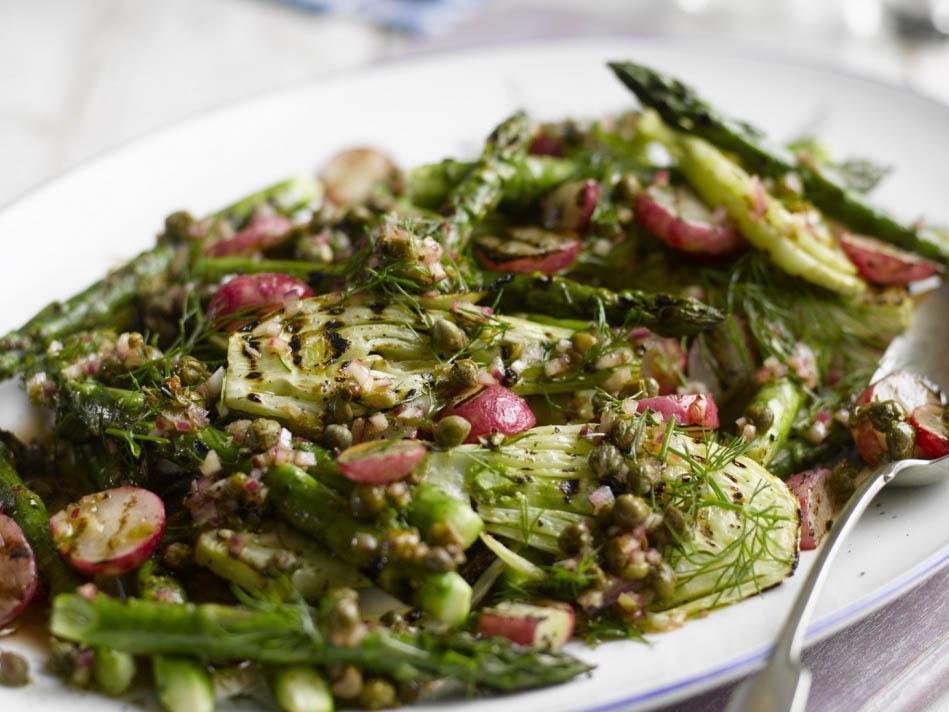 Grilled radish, fennel and asparagus salad with a caper dressing
Radishes are packed full of vitamins, iron and potassium so this is a really healthy, but warming option, ideal as a side dish or starter for a family meal or a meal with friends.
Serves 4 as a side
We'll tell you what's true. You can form your own view.
From
15p
€0.18
$0.18
USD 0.27
a day, more exclusives, analysis and extras.
Prep: 10 minutes
Cook: 5 to 10 minutes
2 tbsp olive oil
150g radishes cut in half
1 large bulb fennel, sliced
200g asparagus, trimmed
4 tbsp extra virgin olive oil
1 tbsp sherry vinegar
½ red onion, finely chopped
2 tbsp baby capers
Salt and pepper
Small bunch of dill chopped
Preheat a large griddle pan and lightly dress all the vegetables in olive oil.
While you are waiting for the griddle to warm up:
Mix together in a small bowl the olive oil and sherry vinegar, then add the onion and capers, season with salt and pepper and set aside.
Grill the vegetables on both sides in a single layer in the griddle pan, until the bar marks start to appear. This usually takes a couple of minutes. You may need to do this in a couple of batches if all the vegetables do not fit on the grill.
Once cooked, arrange on a serving dish, season with salt and pepper, drizzle over the dressing and scatter with the chopped dill. Serve at once.
Recipe from loveradish.co.uk